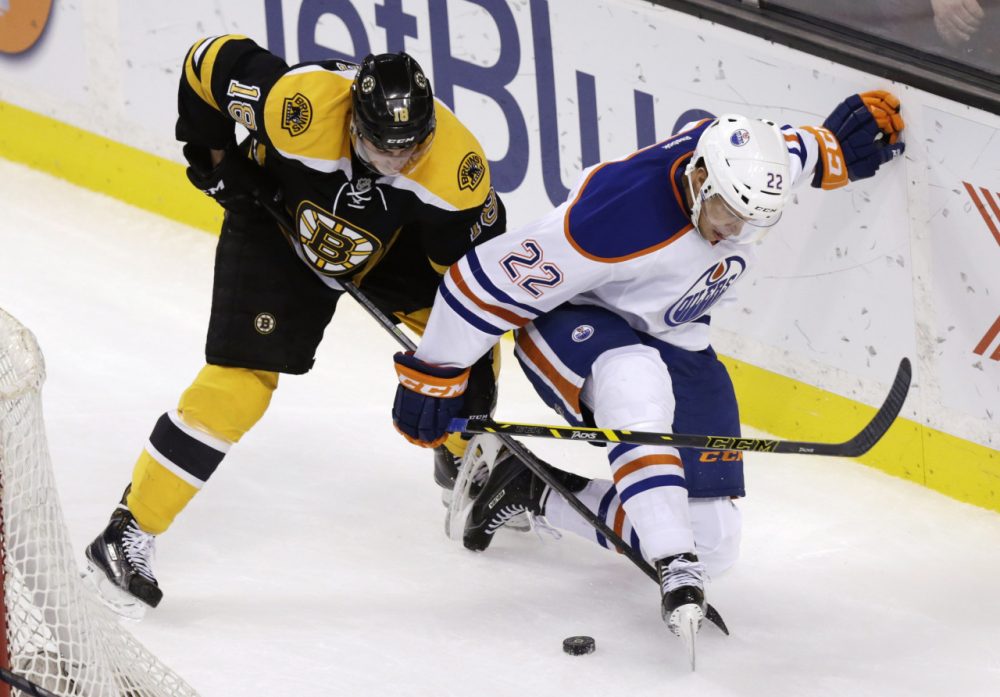 This article is more than 5 years old.
The Boston Bruins have plenty of time to develop consistency. For now, scoring in spurts seems to be working just fine.
The Bruins scored three goals in a span of 2:34 on Thursday night and rode the third-period flurry to a 5-2 victory over the Edmonton Oilers that extended Boston's winning streak to four games.
"Those games aren't always perfect, but you like the way your team responds to different situations," coach Claude Julien said. "We're down 2-1, instead of panicking we just picked up our game and put our foot on the gas pedal and found a way to get some goals here."
A pair of Edmonton penalties helped, and Boston improved to 5-1 since losing captain Zdeno Chara to a knee injury. The Bruins are still adjusting to playing without the big defenseman - and winning while doing it.
It took barely 2 1/2 minutes for the Bruins to turn a 2-1 deficit into a 4-2 lead. Louie Eriksson tied it at 2, Carl Soderberg gave Boston the lead 1:25 later and Dougie Hamilton scored just 1:09 after Soderberg.
"We didn't play a really good game, but as soon as we got that goal we started to get going and I think finished off pretty strong," said Soderberg, who assisted on Eriksson's goal with 8:56 left in the third.
Soderberg was initially credited with the next two goals, but officials reviewed the video and concluded that Hamilton's slap shot from the point was not deflected in by Soderberg. With a 4-2 lead at that point, the Bruins didn't care much about who got the goal.
"It doesn't matter. I'm just happy it went in the net," Hamilton said. "I didn't really look at the goalie. I knew Carl was in front and I just tried to shoot low. Wherever it went, it went. I didn't even see it go in."
Boston won its 13th in a row against the Oilers, who have not beaten the Bruins since Oct. 17, 2000.
Tuukka Rask finished with 24 saves for Boston, which also got goals from Reilly Smith and Milan Lucic.
Ben Scrivens made 27 saves for Edmonton, which lost its fourth consecutive game.
Boyd Gordon scored in the first period and Mark Arcobello deposited a rebound 1:44 into the third to give the Oilers a 2-1 lead.
Hamilton and Soderberg assisted on Eriksson's goal that tied it, then Soderberg put Boston ahead 1:25 later with a power-play goal off a centering pass from Patrice Bergeron.
Bergeron made the pass while being taken down by Edmonton's Nikita Nikitin, who was called for tripping on the play. Boston capitalized on the power play again when Hamilton scored with 6:22 remaining.
"We had a critical mistake off the rush," Edmonton coach Dallas Eakins said. "A bad decision, one that cost us and led to the next one as well. That's a hard one to frame. It goes to the mindset that every moment is critical."
Lucic, playing his 500th career game, added an empty-netter with 7 seconds left.
Smith scored late in the first to tie it 1-all.