With Liberian Schools Closed Over Ebola, Mass. Nonprofit Puts Lessons On The Radio
Play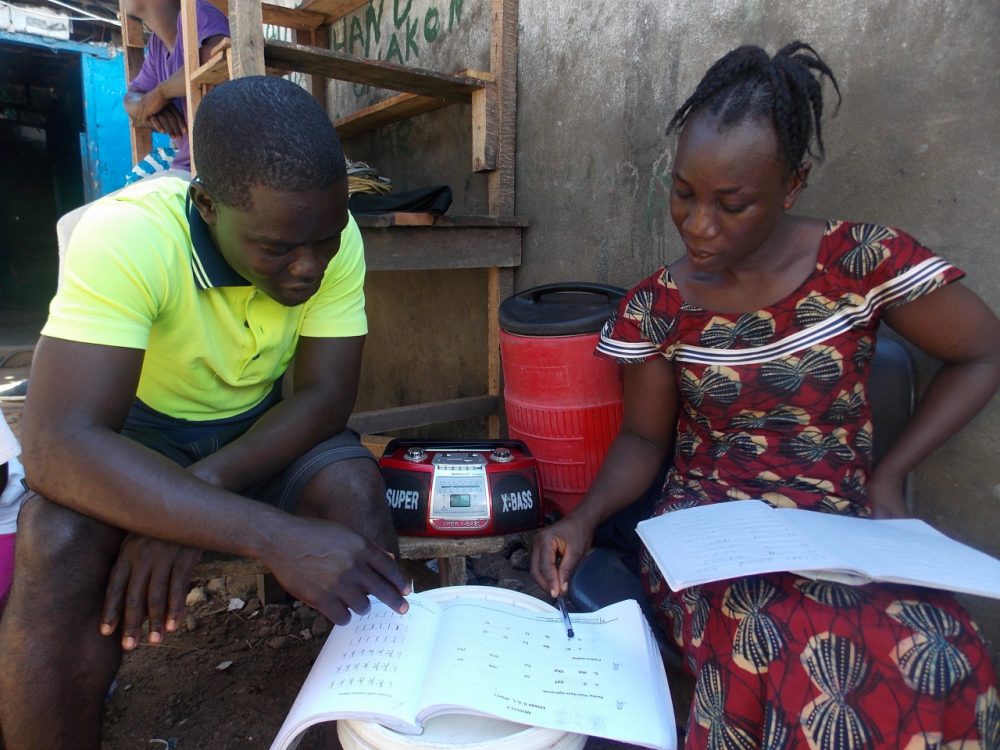 This article is more than 8 years old.
Schools are shut down in the West African nations of Liberia, Sierra Leone and Guinea — where some 9,000 people have confirmed cases of Ebola and more than 5,000 have already died. That means children are losing valuable learning time.
But the Waltham-based nonprofit Education Development Center (EDC) is using the radio to take the place of classroom teachers in Liberia.
Every morning and night on 10 community radio stations, which reach half the counties in Liberia, instructors in recorded lessons teach literacy and numeracy. The English lessons cover letter sounds and basic reading, and math classes start with things like counting by twos and work up to fractions.

The program, which is funded by the U.S. government's USAID program, started a few years ago as a classroom-based initiative known as the Advancing Youth Project.
Before the Ebola epidemic hit, close to 12,000 people were enrolled in night classes through the program — many of them young adults who lost out on schooling and dropped out because of Liberia's two civil wars. Organizers created recorded audio components for certain lessons, which were played on MP3 players in class.
When the Ebola epidemic reached a crisis level and schools were shut down in August, EDC worked with USAID and Liberia's Ministry of Education to start broadcasting those recorded lessons on radio.
Though the program was originally designed for older youth and young adults with limited or no schooling, EDC is hearing from parents that they are using the radio school program with their young children.
So EDC is now working to develop a second set of radio lessons directed at primary school students. Approximately 370,000 of them are currently out of school due to Ebola, based on numbers from Liberia's 2013 school census.
Lisa Hartenberger Toby, an EDC development specialist who's worked for most of the last three years in Liberia, says the main goal of the program is for students not to fall back in their schooling.
"I think it's also really important in this time to give people a sense of normalcy, like their lives are continuing," Hartenberger Toby said. "So the idea [is] that you can sort of still go to school, even if it's at home, every day, same time, turn on your radio and you're in school."
Listen to our full interview with EDC's Lisa Hartenberger Toby above.
This segment aired on November 20, 2014.