Foggy Days, Sleepless Nights: When Alzheimer's Care Goes Nocturnal
This article is more than 6 years old.
By Jessica Alpert
Marion Tripp was what you might call a quintessential "Yankee." From impeccable pie crusts to crackshot deer hunting, she regularly impressed people with her wide range of skills. When her daughter and son-in-law started an organic farm in rural Maine, she'd bundle up in a snowmobile suit and sell their rutabagas at the local farmer's market. I never knew Marion but her grandson — my husband — loves to remember her this way.
Not the way she was at the end.
Alzheimer's ravaged Marion's brain and left her confused, "mean," paranoid, and violent. The last three years of her life, she had round-the-clock care since she rarely slept more than a few hours at a time. Her nocturnal habits were not unique. Indeed, in the world of Alzheimer's, this tendency toward nighttime wakefulness is known as "sundowning."
"Several things go awry with Alzheimer's that affect the person's brain chemistry and changes their circadian rhythm," says Dr. Paul Raia, vice president of clinical services for the Massachusetts/New Hampshire chapter of the Alzheimer's Association. He says there are various reasons for this nocturnal shift including lack of melatonin, diminished access to natural light and less rapid eye movement or REM sleep.
But it's not just about being unable to sleep for long stretches of time. Like Marion Tripp, many Alzheimer's patients are often agitated, angry, even violent. "During that period [of REM sleep], you are ridding the toxins from your brain and you're stabilizing memory and you're dreaming and essentially you are paralyzed with your body in a relaxing mode," says Raia. "[The patients] may take a series of small naps throughout the day and when they wake up, they may not be fully awake. They can't navigate well or negotiate well in their environment."
When Patients Don't Sleep, Nobody Sleeps
So, instead of coaxing patients back to sleep, one program has decided to flip things around, and turn nights into days with patients arriving at 7 p.m. and leaving at 7 a.m.
Here's the backstory:
According to the Alzheimer's Association, more than 5 million people in the United State had Alzheimer's in 2013 and more than 15 million family members or friends provided 17 billion hours of unpaid care to someone with Alzheimers or a similar dementia.
The Hebrew Home in Riverdale, New York, spotted caregiver burn-out early on and 15 years ago started a program to address it.
According to Deborah Messina, vice president of strategic planning and business development at the Hebrew Home, family caregivers looking for services simply didn't know where to turn. "They would put locks on the top of the doorjambs so their family members couldn't get out or they would sleep right outside their door." So it was decided that in addition to typical adult day care services for patients, the Hebrew Home would offer the same type of program — at night.
The idea is, says Messina, to "engage the behavior. We want to keep people in the community as long as possible. It's the goal of the families, the goal of the individual and the goal of the regulatory bodies who are paying for these services."
So how does this work?
When patients arrive at night, their hours are filled with activities, medical monitoring, recreation, physical therapy and more. On an average overnight, the program will accommodate 28-35 patients. There is a bed for each one in case someone wants to rest. The program is open seven days a week, 365 days a year. Most patient care is paid for by a long-term care provider — while a very small minority pay privately.
But it's not just about keeping people busy at night. Since those suffering from the disease are often agitated by medical exams, Messina explains that the program tries to "take the exam table out of the exam. If we have a spa night, it's a full pedicure, manicure and light massage. At that point, we are checking their skin integrity. A week after spa night, the podiatrist comes. So we know who will need to be seen. What we're trying to do is give someone complete care."
Rhoda Cohen has been in the Hebrew Home program since 2013. Suffering from dementia, Cohen hasn't slept normally for years — rarely sleeping through the night. Carol Bauman, Cohen's daughter, explains that the family had no choice but to look into institutional care options. "We were told by Medicaid that...the aid couldn't work around the clock without sleep. We were pushed into it" says Bauman. Now Cohen goes seven nights a week.
"When she started the program she was a little more cognitively able to talk about it. She liked the activities...it was stimulating," remembers Bauman. But seeing the decline of other patients was never easy. "It was hard for her to see people who were much more impaired."
When Caregiving Hurts
When patients are offered alternatives in nighttime care, everyone can benefit. Dr. Raia of the Alzheimer's Association has worked in the field for 27 years counseling families, professionals, programs and institutions. At the point when Alzheimer's patients stop sleeping at night, he says, family members literally increase their chances of getting the disease. "Caring for someone with dementia is the most stressful caregiving condition that causes depression [and] depression is a risk-factor for the disease itself," he says, adding: "Alzheimer's doesn't just attack the individual, it attacks families."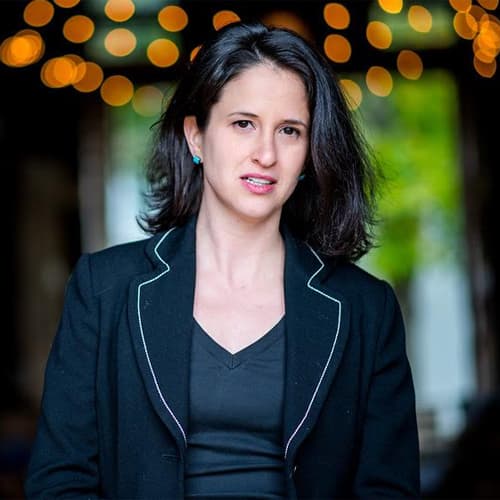 Jessica Alpert Managing Producer, Program Development
Jessica Alpert is the managing producer for program development at WBUR. In this position, she develops new podcasts and programs while also launching and nurturing WBUR's newest projects.