Boston Leaders Hope NYPD Shootings Don't Derail Police-Community Relations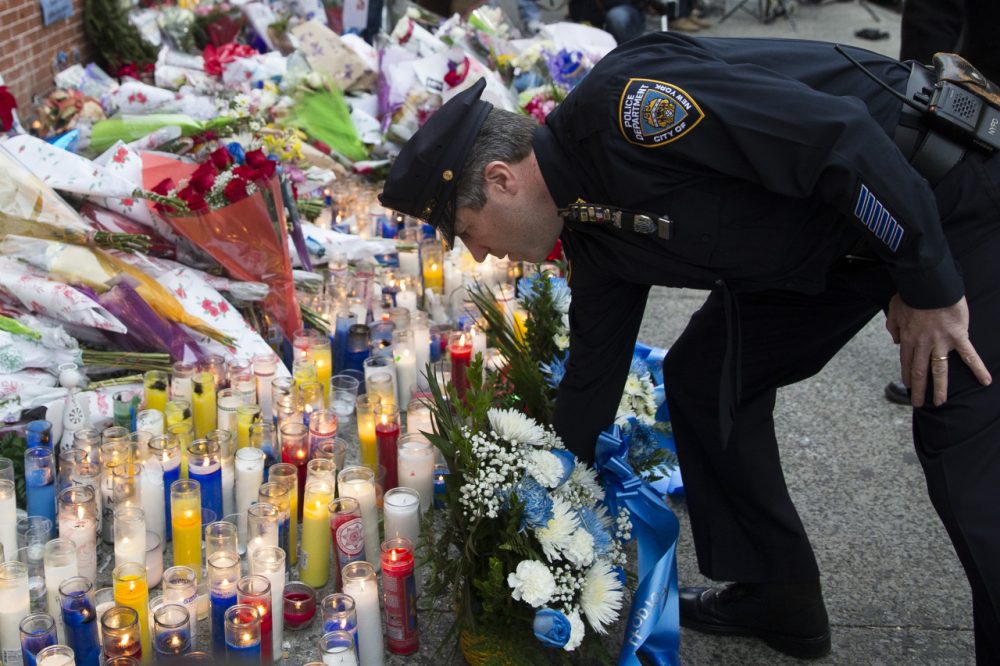 This article is more than 6 years old.
Tensions have flared in New York City and beyond after two police officers were fatally shot in Brooklyn Saturday.
The officer slayings come after weeks of nationwide protests against grand jury decisions not to indict white police officers in the deaths of two unarmed black men, in Staten Island and Ferguson, Missouri.
Police-community interaction has been a central topic of discussion following the widespread protests. With Saturday's shootings some worry there will be added strain on those relations.
Local ministers and civic leaders gathered at Twelfth Baptist Church in Roxbury Monday to call for continued calm in the wake of the shootings. They said they do not want to see the killings derail a long overdue conversation around race, WBUR's Delores Handy reports.
Michael Curry, president of the Boston chapter of the NAACP, said this is a chance to address longtime systemic issues.
"We do have excessive force here," Curry said. "We do have incidents of police brutality, we do have systemic issues. Let's embrace the opportunity to lead the nation on embracing those issues."
Curry also commended Boston leadership for willing to have a conversation about policing and how to address issues in the criminal justice system.
The Brooklyn gunman, identified as Ismaaiyl Brinsley, began his shooting spree early Saturday when he shot and wounded his ex-girlfriend in Maryland before traveling to New York. After allegedly killing the cops, he died of a self-inflicted gunshot wound.
The police officers' deaths prompted strong reaction from law enforcement.
In New York, the head of the police union blamed Mayor Bill de Blasio and demonstrators protesting the Eric Garner grand jury decision for the slayings. In Boston, Police Commissioner William Evans said Sunday that officers here are on alert.
"There is a lot of anger, there is a lot of frustration at police officers, so we can feel the tension out there," Evans said. "People take us for granted — when we are good they love us, when something bad happens they are very quick to throw us under the bus."
Former Boston Police Commissioner Ed Davis said Monday that the reaction to the officers' deaths was a natural reaction to the stereotyping of police.
"We've been working really hard to make sure that police officers keep their biases in check," Davis told WBUR's Newscast Unit. "And we've trained them not to paint people with a broad brush. But those same cautions are not being used by those individuals who are out protesting against the police right now."
Davis also said there has been an anti-police rhetoric until now.
"Everybody is a little bit extreme right now because of the death of these officers, and that's totally appropriate," Davis said. "The police are mad right now. They are angry, and they have a right to be. And they have a right to be heard. But for the last few months, no one's been listening to the police side of this."
Since the fatal shooting of the New York officers, many have been calling for calm and understanding.
"Everybody, the police unions as well as the mayor and the leaders of our, political leaders, have a responsibility to tone down on both sides," Davis said. "And I think that after the funerals, I think you'll see that happening."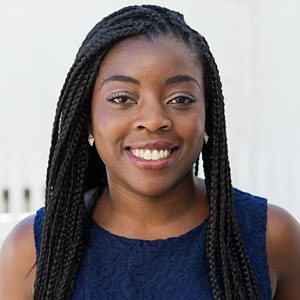 Zeninjor Enwemeka Reporter
Zeninjor Enwemeka is a reporter who covers business, tech and culture as part of WBUR's Bostonomix team, which focuses on the innovation economy.