Walker Scores 33, Carries Hornets Past Celtics 104-95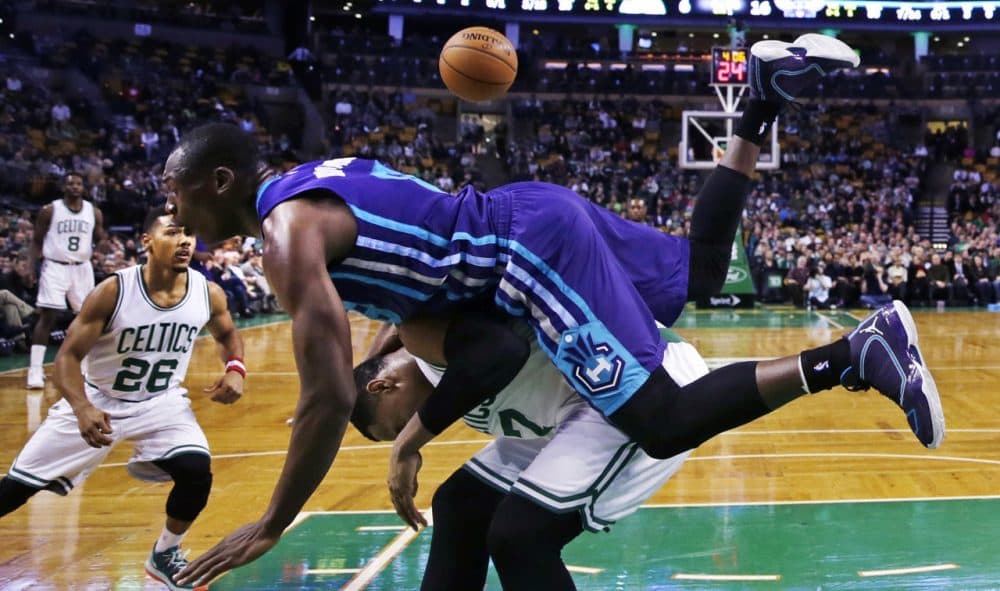 This article is more than 6 years old.
Kemba Walker scored 20 of his 33 points in the second half and Cody Zeller finished with a career-high 20 points on a perfect shooting night, carrying the Charlotte Hornets to a 104-95 win over the Boston Celtics on Monday.
It was just the second win in seven games for the Hornets, who learned last week that leading scorer Al Jefferson will be sidelined for about three more weeks with a left groin injury.
Zeller went 8 for 8 from the floor, hit all four of his free throws and improved to 6-0 against his older brother Tyler, who plays for the Celtics. Tyler Zeller had just two points in 16 minutes.
Walker added five assists and five rebounds.
Jared Sullinger led Boston with 22 points and eight rebounds. Reserves Jae Crowder and James Young each had 13 points for the Celtics, who have dropped three straight and seven of eight.
The Celtics trailed 88-72 with just under eight minutes to play before scoring 10 unanswered points.
But Marvin Williams' three-point play and Walker's driving basket sandwiched around a free throw by Marcus Smart pushed the lead back to double digits with 3:19 to play.
Charlotte led by 14 at halftime and increased it to 68-47 on Walker's 3-pointer from the top of the key, his second in just more than a minute.
Walker scored 12 of Charlotte's 16 points during a stretch from midway in the third quarter to the final minute, helping the Hornets maintain a comfortable lead.
The Hornets led 79-62 after three quarters.
In the first half, Charlotte opened a 46-32 lead on Zeller's layup late in the second quarter en route to a 50-36 halftime edge.
Boston's only lead came on the game's initial basket before the Hornets went on a 15-2 run.
---
TIP-INS
Hornets: They were minus two key players again. Jefferson missed his fourth straight game and G Lance Stephenson his 11th due to a pelvic strain. Coach Steve Clifford said the team has had to change its approach offensively without Jefferson's low-post play. "We were so reliant, probably more than any other team, on how we posted the ball with Al," Clifford said. "Now we're more of a dribble, handoff, pick-and-roll team."
Celtics: G Jameer Nelson was sidelined with a sprained right ankle. ... It was "Seats for Soldiers Night." ... The team held a pregame moment of silence for former ESPN anchor Stuart Scott, who died Sunday after a long battle with cancer.
UP NEXT
Hornets: Host New Orleans on Wednesday.
Celtics: At Brooklyn on Wednesday.