Bruins Snap Losing Streak, Top Penguins 3-2 In Overtime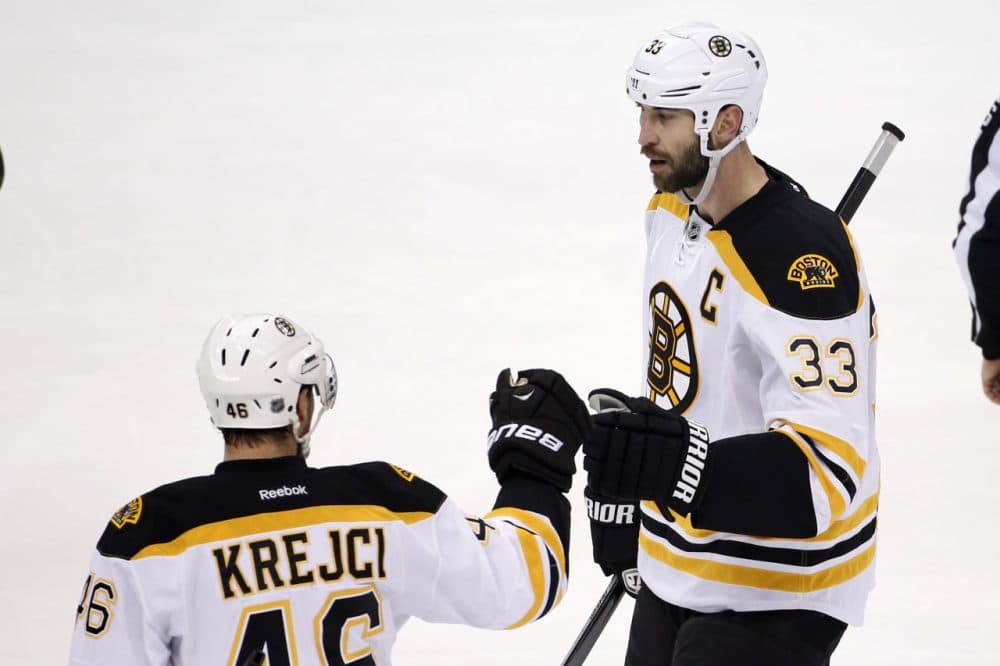 This article is more than 6 years old.
Patrice Bergeron scored twice, including a deflection past Pittsburgh's Marc-Andre Fleury 2:43 into overtime to lift the Boston Bruins to a 3-2 victory over the Penguins on Wednesday night.
Bergeron got just enough of Milan Lucic's blast from the point to put it past Fleury as the Bruins ended a three-game losing streak. Officials spent several minutes reviewing the play to make sure Bergeron's stick was below the crossbar when it made contact with the puck.
Zdeno Chara scored his third goal of the season for Boston. Tuukka Rask stopped 37 shots. The last eight meetings between these teams have been decided by one goal.
Beau Bennett and Evgeni Malkin scored for Pittsburgh. Fleury made 21 saves but had no chance on Bergeron's winner.
The Bruins have scuffled through the first half of the season, hardly looking like the team that has spent most of this decade as one of the NHL's elite. They went just 5-6-3 in December, their first losing month in nearly two years and limped into Pittsburgh coming off three straight overtime losses.
Charlie Jacobs, who took over as the team's top executive on Tuesday, called Boston's current state "unacceptable."
For most of three periods, it kind of looked it. The Penguins have managed to avoid Boston's mini-swoon despite a rash of injuries - including a handful of players coming down with the mumps - and began Wednesday tied atop the Metropolitan Division. They controlled play for long stretches, holding onto the puck and keeping Rask plenty busy.
Bennett's brief career has been pockmarked by injuries, including a lower-body ailment sustained in the previous meeting with Boston in November and a bout with the mumps, a combination that forced him to miss more than a month.
He scored for the first time since Nov. 18 thanks to a dazzling feed from Malkin, who chased down Simon Despres' errant shot and flicked a no-look backhand to Bennett on the doorstep. Rask was well out of position, and Bennett's wrist shot split Rask's pads to make it 1-0 just 3:37 into the game.
Boston tied it late in the first when Chara leaned into one from the top of the left circle. Fleury had little chance, the puck making a distinct "plink" as it smacked off the far post and into the net.
The Penguins appeared to reclaim the lead 3:28 into the second when Craig Adams sent a backhand by a sprawled Rask, but the goal was waved off when officials ruled Pittsburgh's Zach Sill bowled over Rask. Replays showed Sill tried to hold up before colliding with the goalie, only to be pushed into Rask by Boston's Adam McQuaid.
Pittsburgh dominated the period - ripping off the first eight shots not including a handful that slipped just wide of the net - but Boston counterpunched effectively. The Bruins jumped ahead when Fleury's poke check to thwart a Boston rush landed on Bergeron's stick and he buried a wrister over Fleury's glove 15:37 into the second.
Malkin tied it 14 seconds into the third, blasting a shot by Rask during a rush for his team-high 18th goal.
NOTES: Boston scratched forwards Jordan Caron and David Pastrnak and defenseman Matt Bartkowski. Penguins scratched forwards Bobby Farnham and Marcel Goc and defenseman Derrick Pouliot. ... Pittsburgh defenseman Paul Martin played 20:17 in his return after missing eight games with an undisclosed injury.