How To Talk To Parents Who Oppose Measles Vaccines? We Don't Know
Suddenly, measles is political. The Disneyland outbreak has turned the long-simmering issue of parents who decline vaccinations for their kids into a political hot potato, to the point that the New York Times just did a round-up of where potential presidential candidates stand on vaccination. (Classic Hillary Rodham Clinton tweet: "The science is clear: The earth is round, the sky is blue, and #vaccineswork. Let's protect all our kids.")
My thought: Great. The topic is already rife with fear and anger and parental conflict, and now we're adding politics? And I wondered: Is there, in fact, a known way to discuss vaccine resistance constructively? When a pediatrician faces a hesitant parent, or when I encounter a parent in my community who fails to get a child vaccinated?
I asked Dr. Barry Bloom, an infectious diseases expert at the Harvard School of Public Health, who co-authored an editorial in the journal Science — "Addressing Vaccine Hesitancy" — and was also recently featured here: "Talking The Talk On Vaccines." His reply:
One of the amazing things is that we don't know the answer to your question. I chaired a meeting at the American Academy of Arts and Sciences on the subject of trust in vaccines. We brought in lots of people — from state governments, doctors — to find the answer to your question: What do we know about how to persuade people that it is in kids' best interest to protect them against diseases they've never seen?
My take is that the answer is two-fold:
One, not everyone is the same. There are a myriad of reasons that people give when questioned about why they don't vaccinate kids, or delay vaccinations. So there's no one-size answer that will fit all.
The vast majority of people listen to their doctors — they're very important — and they do what is recommended because they believe doctors wouldn't want to harm their kid.
Then there's a very small group of people who, for a variety of ideological, certainly not scientific, reasons, are opposed in any manner, shape or form to being told what to do, to having government make requirements for school entry, and so on.
The third part of that is people who are responding to discredited publications claiming that vaccines cause bad things to happen. I have to say when I saw one of the physicians in Congress, Rand Paul, say that he had heard vaccines cause neurological or psychological damage, I was absolutely stunned, because there's no data to support that whatsoever.
It's very hard for me personally — and for many people interested in childhood immunizations — to believe that a lot of those people will respond either to scientific data or scientific and medical arguments. So the focus, I would think, has to be on people who genuinely are concerned about how to do best for their kids and are hearing conflicting things: one set from the doctors and their staffs, who tell them how important vaccines are, the other set from their neighbors, their friends, the Internet networks, the crunchy moms that believe everything has to be 'natural' and if you survive an infectious disease somehow you'll be more immune than if you get a vaccine.
Those people are the ones, I think, who are at least sufficiently open-minded to have a conversation.
The second half of this is a curious thought: not only have we not seen, for the most part, the ravages of the diseases we've wiped out in this country by vaccines (measles was declared eradicated in 2000) but the doctors now being graduated from medical school haven't seen them either. So the conviction of how important it is, in a short, healthy-child visit with many questions to be covered, to take the time to really engage parents in their concerns, and to learn how to do that, is by no means clear.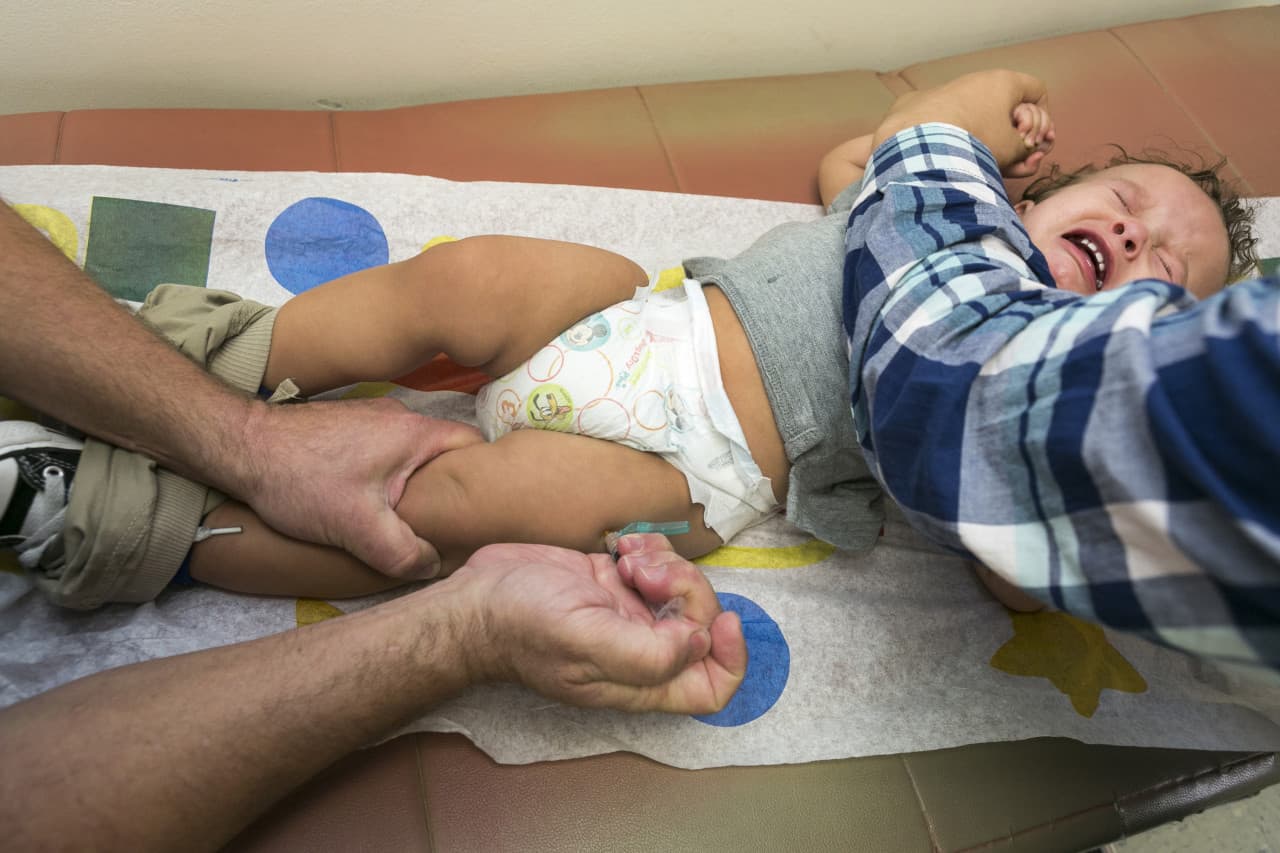 We have to train doctors to do better, and to listen to some extent — but also not to cave.
So the question is how to identify the people who are really what we would call 'vaccine hesitant' and engage them in a way that they don't feel they're being told what to do, but also not allow them to engage in delusions — that doctors not nod and agree because it's easier to get them out of your office, or give them vaccines at a different time. There are no data to say if a kid gets six shots on the same day or one shot, it makes a difference. The immune system is seeing zillions of bugs and proteins and antigens; a few more proteins on a needle stick is not going to perturb the immune system in a bad way.
So how, I asked, do you think this new politicization will play out?
I think it's just gone up to a higher level of politics. It's interesting because in a sense, some people would accept that if you want to withhold vaccines from your kid and put them at risk, maybe that's okay. Where we in this country have drawn the line in many areas — smoking, in many states, being good example — is that if you want to kill your kid, that's your privilege, but if you want to kill my kid, that's murder and we don't allow it.
So the case in California will be a very important case: The parent of the child with leukemia who has sued to prevent any child who's not vaccinated from being in a classroom with his kid. These parents live every minute of every day terrified that the slightest infection is going to kill their child. They've already suffered a great deal to get the child through leukemia or HIV — and this is a threat from someone else's kid.
At the political level, I don't understand why we don't more often hear the argument that not only is a vaccine protecting your kids against disease, they're also protecting your community. They're protecting every other kid, some of whom have conditions you're not aware of. Why don't people — if they're on the borderline — find it more acceptable to say, 'I have reservations, but I don't want anyone to die because my kid comes near them'?
We haven't done a terrific job in the business: Numbers don't dazzle most people; saying with the authority of the priesthood of science that we know all the answers doesn't do much good either. We have data and evidence that we need to know how to share with parents, and we're not doing that awfully well. And the occasions [of pediatrician visits] aren't great for doing that, whereas the back fence and the Internet are always here for anyone who wants to find all the doubters.
Readers, thoughts? The report from the meeting that Dr. Bloom mentioned is here: "Public Trust in Vaccines: Defining a Research Agenda."
- Further reading: