'SexyFunTime': Can A 'Kids Party For Adults' Build A Better, Happier World?
"Basically AFHI is about building a better world," explains Be Be (who is sometimes also known as Brenda Be).
AFHI stands for American Family Happily Institute, which is presenting "SexyFunTime" at Arts at the Armory in Somerville on Feb. 7. It's "a kids party for adults only," according to advertisements for this "interactive conceptual performance art and immersive theater."
What does that mean exactly? "It's a giant party. There is dancing, there is a comedy show, and it's participatory," Be explains. Also popcorn, candy, a cash bar, and music with "secret themes in it." Plus "unusual games" including a Hippity Hop relay race, team Twister, and something in which "You talk to each other people and exchange dating stories." And, of course, the American Family Happily Institute's Glamorous OmniAmorous Cheerleaders—"it comes from this idea that everyone needs their own cheerleader because life is so difficult"—"will be getting people who don't know each other to meet each other." In part, by passing on the "Six Secrets of Happily," which somehow or other involve science, psychology, exploration, culture, games and sex.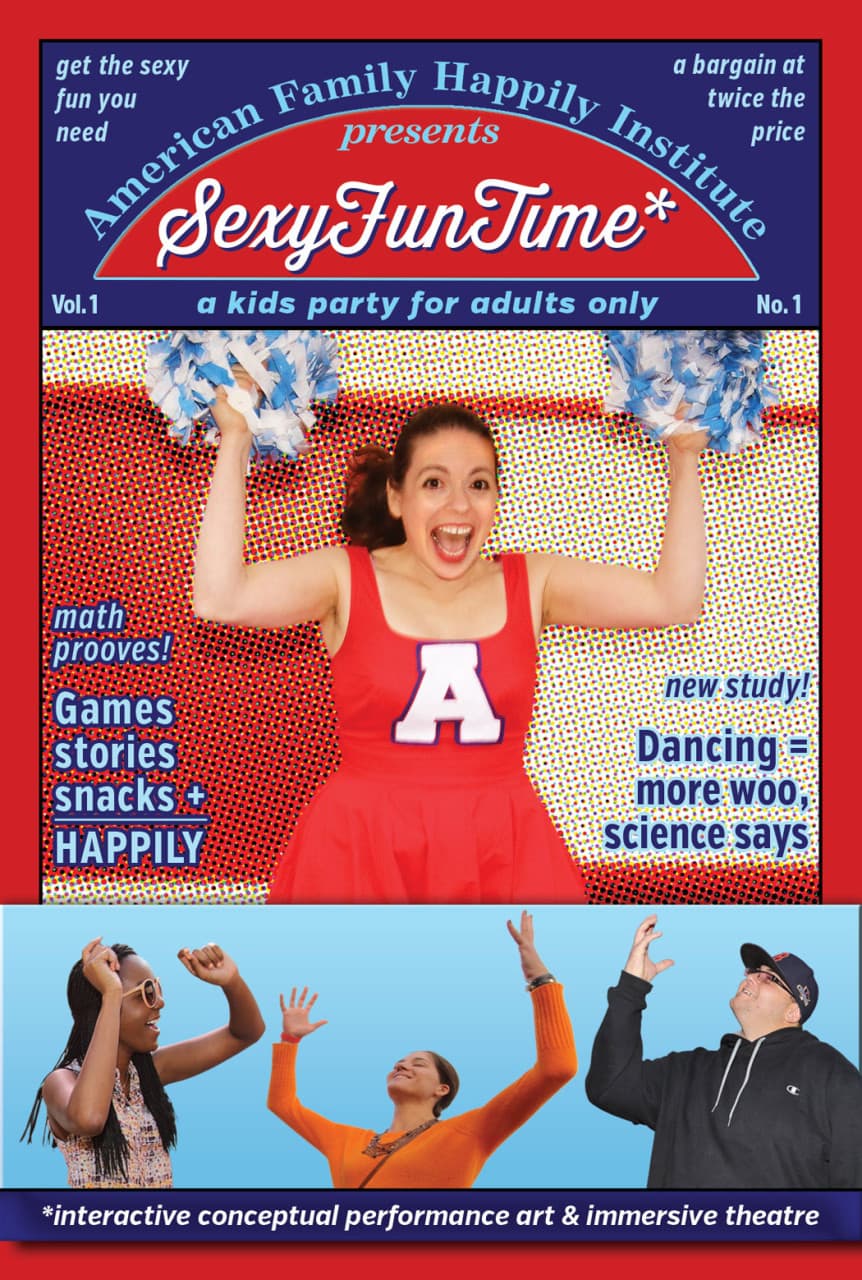 So where does the "Sexy" come into "SexyFunTime"?
"We're talking about dating, relationships and sex, but we're doing it in a PG-13 way," Be says. "Our aesthetic is very 1950s based. It's all very modest. … This is about what I call playful intimacy. It's a different approach to sexuality. It's designed to help make some people who are more uncomfortable about sex, make them more comfortable about being able to talk about it with their partner. A new way of approaching sexuality that is more integrated into human life and is less siloed into some special thing that's out there and it's weird and bad and dangerous."
"This entire event and especially these games are based on a couple of scientific studies that came out this year," Be says. "The team [games] one is related to this study that showed that when people have life experiences in which their success is tied to the success of others they become more in favor of, let's just say, programs that help those in need. So it's designed to create life experiences for people that show them that their success is tied to the success of others. So it's cooperation as a way of viewing the world instead of competition."
Be goes on, "We have a lot of pain and suffering in our world. We have a lot of poverty. We have homelessness. We have people who don't have enough food to eat. And we have a huge debate going on in our society about whether that kind of stuff is just fine and dandy and not really a problem and not really something that society should work to eradicate in any kind of usefully high-functioning centrally driven way or rather it should just be something that everybody, maybe you give a couple bucks to that homeless guy on the corner and it's all fine."
"It's time for it to get better," she says. "A lot of the problems that we have as a society about homelessness and unemployment and people in need, we feel at AFHI those problems are solvable."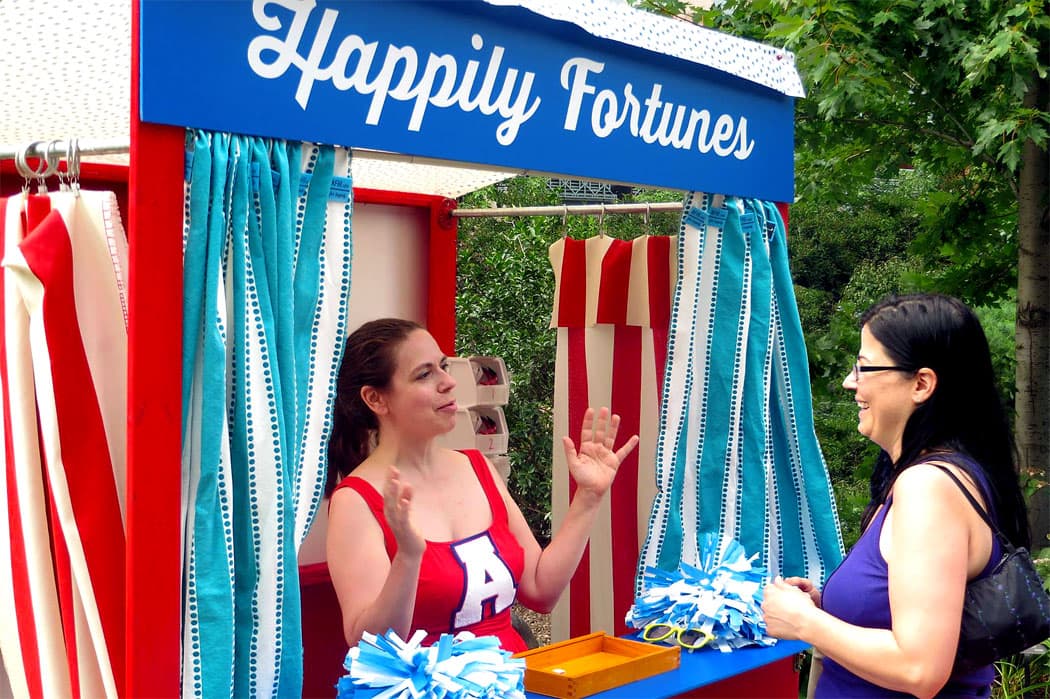 The story of the American Family Happily Institute, all of this, begins, in a way, Be tells me, with an only child growing up, feeling isolated in Oklahoma and Arkansas. From there, it passes through: "I have clinical depression and anxiety disorder. These are really common. They affect over 10 percent of all Americans."
"I grew up an outsider to typical society," she says. By the time, she was 20, she says, "I already had developed most of the ideas I have about life. We have to be responsible for our own happiness. No one's going to do it for us. We have to seek it out and find it and work for it. It's probably not going to come naturally. And it's okay to be selfish in that way. You have to take responsibility for your happiness just like you have to take responsibility for everything else in life."
The 47-year-old tells me that she came to Boston (she says she now lives just south of the city) as a 22-year-old single mom. She studied at the University of Massachusetts at Dartmouth and then says she began American Family Happily Institute, in 1999. "That was working on it privately. It's only in the past two years that I've started putting it out in public" via the Internet, and then in the past year via performances at Figment and First Night in Boston.
The American Family Happily Institute's, um, official history, though is that it "was founded by myself and my five identical sextuplet sisters," Be explains. "My sisters and I started out by studying unhappily. We studied that for quite a while. We studied that extensively. Then we realized that it wasn't leading anywhere in terms of bringing more happily. So we ditched that completely. Then we decided to study the ways that happily gets formed and we founded the Institute, AFHI, which has hundreds and hundreds of scientists, psychologists, educators, all coming together to discover and spread the world about how people can increase their happily."
"Happily at its shortest definition is that it's inner peace and self-actualization," Be explains. "So it's having peace within yourself and being the best person you can be. That's quite different from happy. It's a concept that's more complex than happy. Also, you can't be happy all the time. You have to have some other emotions that conflict with happy. Sometimes you need to be sad or angry. But you can hold a little happily in your heart no matter what else is going on."
"We're just trying to lead people towards an understanding that we're all in this together," Be says. "Now obviously, some people already understand that. For those, people we're just trying to give them a great time."
Greg Cook, a co-founder of WBUR's ARTery, has on occasion been known to be sad. Cheer him up by following him on Twitter @AestheticResear or being his friend on the Facebook.