ARTery Notebook: Of Saint Joan, Saint Peggy And Saintly Detectives
This article is more than 8 years old.
The two policemen couldn't be much different. Raylan Givens, the neo-cowboy hero of "Justified," a heartbreaker among ladies, the scourge of any man (or in one famous scene, woman) who's foolish enough to draw a gun on him, a former Kentucky coal miner who has a unique way with words as well as with women and guns.
Not so, Christopher Foyle. His game is afoot in post-World War II London — the earlier seasons came during the war — but he wears a homburg to Raylan's Stetson, wouldn't be caught dead in a fistfight or gun battle, speaks more with a cock of the head or frown than with a well-turned phrase. He's along in years and his interest in women has grown more and more paternal over the years.
Yet the similarities are more interesting than the differences as they enter their final seasons, "Justified" on FX Tuesday nights and "Foyle's War" streaming its last three episodes on Acorn TV. Along with "Elementary" on CBS, they're the three best crime shows on the small screen. They are each masterfully acted. The "Justifed" actors give career performances, from stars Timothy Olyphant and Walton Goggins to secondary characters like Nick Searcy. For "Foyle," need we say more than Michael Kitchen in the title role?
The writing is impeccable. "Justified" takes inspiration from Elmore Leonard and then raises it a notch or two. "Foyle," over its eight seasons, traces the gradual shift of moral clarity in England to something murkier after that.
Which is what separates these shows from the others. Network crime shows start with the smug self-righteousness of their heroes. Shows at the cable end of the spectrum almost erase the differences between good and evil — witness Carey's duplicity with the young Pakistani in "Homeland" and Saul's capitulation to the forces of murk at the end of last season. "The Sopranos" and "Breaking Bad" had viewers all but rooting for killers (though the creators were too skillful to enable that behavior, ultimately). "The Americans" follows suit in making American actions as questionable as that of the Soviets'.
"Justified" and "Foyle's War" occupy a more satisfying middle ground. Givens' and Foyle's superiors are not evil or weak men and women; they have their own strong moral codes. But they're also, in the case of post-war Foyle, not above playing footsie with right-wing tyrants to battle the Soviets or endangering British citizens to gain an upper hand against their perceived foes.
Foyle accepts that moral clarity is hard to find in life during wartime, whether the war is hot or cold. But it's there. Beyond whodunit, there is a line that shouldn't be crossed when it comes to right and wrong. Kitchen's quiet self-assurance in that regard is something to emulate as well as to cheer for during each episode.
Here's a sense of all that:
But, mama, don't let your sons grow up to be Raylan. In the first episode of this final season his ex-wife looks at their infant daughter and wonders aloud, "Oh, Raylan, what in the world is worth missin' this for?"
And that's the moral dilemma for Raylan. His wife, sick of Raylan (Olyphant) constantly putting his life on the line to do battle with the nogoddnicks of Harlan County, Ky., has left him twice, even though he's still the man of her dreams.
Raylan, like Rick of "Casablanca" and any number of other post-WWII heroes, is driven to do the right thing even when it takes him into Eastwood territory and even when it means the loss of family. That he never loses his sense of humor about it separates him from the pack. For Holmes, in "Elementary," it's the thrill of the chase. For Raylan, as articulate as he is in an Elmore Leonard kind of way, it's something harder to put a finger on.
Part of it is his strange bond with Boyd Crowder (Goggins), who's equally charismatic and even more articulate. They grew up together in the coal mines and both worked their way out on opposite sides of the law. They've shared the same girlfriend and Raylan has now turned her against Boyd in exchange for her release from prison. The dynamic among the three seems to be leading to one tragic outcome or another this season.
Here are Raylan and Boyd together during the latter's dubious born-again phase:
One other note about "Foyles' War." It seems odd watching these last three episodes without Alan Cumming introducing them on "Masterpiece Mystery" as he has for the previous seasons.
Is Acorn the wave of the future for British drama as streaming gains momentum? (Acorn also has a rich DVD library.) For the moment, "Masterpiece" is still a factor as we await the arrival of Hilary Mantel's "Wolf Hall" in April. There have been other threats to PBS's hegemony with British drama, all of whom eventually decided that the ratings and expense weren't worth it.
Saint Joan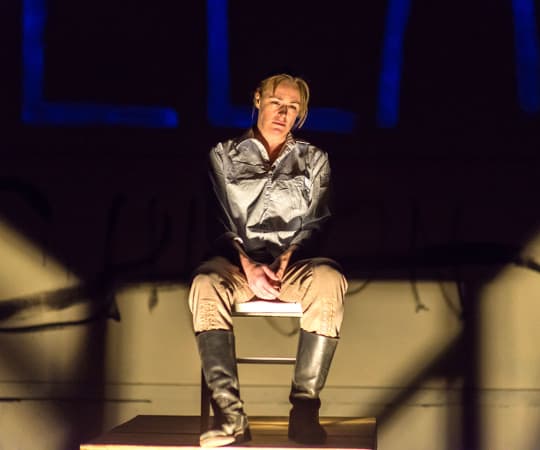 This is your last weekend to see the excellent four-person production of "Bedlam's Saint Joan" by Underground Railway Theater at the Central Square Theater. As Carolyn Clay said in her ARTery review: "There's more inspired lucidity than caged lunacy in this roughhouse transformation of a witty, epic jaw on history, philosophy and the making of a martyr into a superb Shavian chamber concert."
I also loved the production of the Bernard Shaw play, which moved much of the audience around the theater, but I was also haunted by the fact that you wouldn't have had to do very much to the play to turn Saint Joan into Jihad Joan. A woman who thinks she hears the voice of God and is willing to kill or sacrifice herself to the infidels whose Christianity doesn't measure up to hers? Make it Islam instead of Christianity, Americans instead of British, moderate Arabs instead of weak-willed French and you wonder about Joan's saintliness.
Of course Shaw was interested in other issues — feminism, standing up to the bourgeoisie and middle-class morality — and Joan (at least in the play) didn't target civilians. Still, the rise of religious fundamentalism in our times (not just of the Muslim variety) gives "Saint Joan" a creepier overlay these days.
Saint Peggy

There's no moral equivocation when it comes to Peggy Charren, who died recently. She was a great one.
Joseph P. Kahn, in his excellent Boston Globe obituary, captured who she was and what she accomplished perfectly. She spoke truth (the need for regulation) to power (media interests) as head of Action for Children's Television.
She was hardly a moralist, though. Some time in the '90s, when I was TV critic at the Boston Globe, I picked up the phone and she was beside herself. A news story someone else in the Globe wrote described her as being opposed to sex and violence on television.
I don't remember what she said exactly, but it went something like: "When did I ever say I was opposed to sex? I think sex is great. And violence – I'm not a fan of gratuitious violence, but what can be more violent than "Hamlet"? I'm not opposed to anything that leads to a richer understanding of life."
She knew whereof she spoke with "Hamlet" as she and her husband, Stanley, were ardent theatergoers. She loved the American Repertory Theater of Robert Brustein and Robert Woodruff vintage, holding court on opening nights at the front row beyond the horizontal aisle at the Loeb. But she was also an avid Huntington-goer and supported local theater of all stripes when she wasn't at plays in New York and London.
I don't know what she would have made of the Diane Paulus A.R.T. years as her health was in decline by the time Paulus arrived. My guess is she would have loved the current, great production of Suzan-Lori Parks's "Father Comes Home from the War (Parts 1, 2 and 3)." Eve Ensler's "O.P.C." not so much.
If anything, Peggy Charren was O.P.U. Liberal for sure, but obsessively politically uncorrect. One of the reasons we miss her so much.