Have They Got A Schnorr For You — Brustein's 'King Of Second Avenue' At New Rep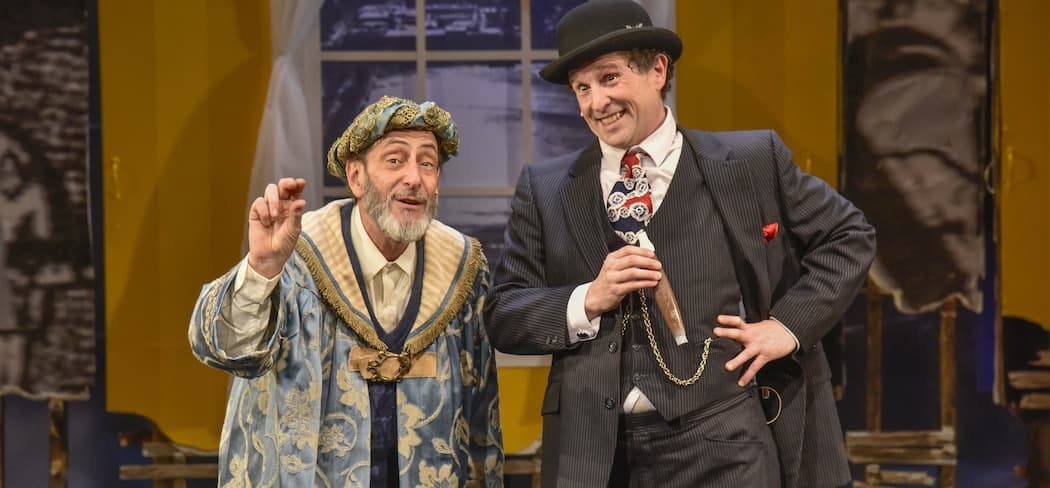 This article is more than 6 years old.
WATERTOWN, Mass. — For all the high modernism of Robert Brustein's American Repertory Theater, amid the Brecht and the Beckett, there was often an effort to incorporate the artistic director's love of Borscht Belt humor into the aesthetic — sometimes even directly into those high modernist masterpieces.
Brustein is gone from the A.R.T., which he led from 1979 to 2002, but not from Boston theater. He is a Disinguished Scholar in Residence at Suffolk University. His latest work, "King of Second Avenue," is now being shown at the New Repertory Theatre (through March 1) though you might have thought you were back at Harvard's Loeb Drama Center at the opening Tuesday night. With all the A.R.T. veterans onstage and in the audience at the Arsenal Center for the Arts, Watertown never seemed so Cantabrigian.
That spirit of reunion casts a festive overlay onto "King of Second Avenue." Jeremiah Kissel jaws with Will LeBow. Brustein and Hankus Netsky, a previous collaborator on "Shlemiel the First," have crafted a smart, toe-tapping klezmer score. Ken Cheeseman, frozen out of A.R.T. after Brustein left, reunites with his old buddies including Remo Airaldi. And, what might be a first in Boston theater — Remo is the love interest.
The reason that LeBow and Kissel are jawing is that they represent two halves of the Jewish immigrant experience. LeBow is the title character — the king of the schnorrers in the original title, which was based on Israel Zangwill's 1893 novel. The schnorrers are con artists who also happen to be out of work members of the Yiddish theater in New York. LeBow's Da Costa, though, is a Sephardic Jew who thinks he and his daughter (Abby Goldfarb) are of much higher stock than the Ashkenazi beta dogs. The Sephardim originated in Spain, the Ashkenazi often in Germany and points east in Europe.
Among the Ashkenazi is Joseph E. Lapidus (Kissel), a thinly disguised version of movie producer Joseph E. Levine, representing the crass Hollywood culture that would put Yiddish theater out of business. Da Costa sets out to schnorr him out of, eventually, thousands of dollars that he can well afford.
Everything about "The King of Second Avenue" is laudable. Brustein's book and lyrics are clever, even Sondheimesque at points, and Hankus Netsky's music is infectious. The acting is excellent as you might gather from the cast list above — though Kathy St. George all but steals the show as Mrs. Lapidus, particularly in her torch song. The five-person klezmer band sells Netsky's music with warmth and wit to spare.
There are two significant negatives, though. One is the Arsenal Center space itself, which forces the story into more of a traditional theatrical setting than it should be. It feels like it wants to be a cabaret with cast and audience interaction rather than straight story-telling.
Along the same lines, Brustein and director Matthew 'Motl' Didner don't take enough advantage of LeBow's talents, making him a wise straight man to Kissel's stereotypical schlub. In the naturalistic setting that they create, it makes no sense that a successful businessman like Lapidus would fall for any of Da Costa's cons. Of course, one shouldn't be thinking logically in comedy like this anymore than you would when Chico schnorrs Groucho. In this case, though, Brustein and Didner aren't successful enough at making us suspend disbelief in what's happening.
Toward the end of the 90 minutes LeBow breaks out of the constraints and starts mixing it up with the band, having a grand old time onstage, showing why he's one of the most gifted comedians in New England. This feels like the show it had been trying to be all along, not necessarily madcap or slapstick, just more antic and less talky.
In any event, "The King of Second Avenue" is never less than a pleasant mix of history, music and comedy sprinkled with a bit of social commentary. Now if they loosen things up and let Will be LeBow, Brustein and company might really have something going.
More
From Actor To Professor — Remo Airaldi Draws Out Passion And Playfulness In His Students

Ed Siegel, former theater and television critic for the Boston Globe, is editor and critic-at-large for The ARTery.