Forecast: Very Cold, Windy Friday; Another Storm Saturday
You'll need the heavy-duty hats, gloves and scarfs today with arctic air in place. During the night temperatures fell into the single numbers, which while significantly below average, doesn't tell the whole story.
Once again, wind is going to be an issue. There is a wind chill advisory in place the first part of the morning. While this will expire after 10 a.m., it's going to feel very cold all day. Additionally, it's very dry again, so you'll need to keep moisturizing with lip balm and hand cream.
A storm is going to approach from the south Saturday. After another cold night we will start tomorrow with some sunshine, but clouds will quickly overtake the skies. I don't expect any precipitation for most of the daylight hours, so you are good with the Saturday events and errand plans.
Saturday night snow is going to overspread the area. The snow begins between roughly 4 p.m. and 6 p.m. This start time can change somewhat as the system approaches Saturday.
The snow is likely to come down moderately for a few hours Saturday evening, and that's when much of the accumulation will probably occur. During the overnight, the snow will mix with rain and freezing rain.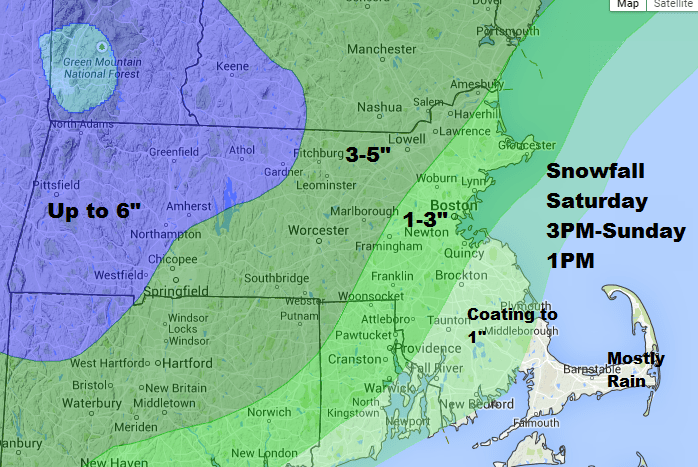 Precipitation will still be falling Sunday morning. It will depend on where you are as to what type of precipitation you see. Along the coast, it will be raining, and west of Route 495 a mixture of rain and freezing rain is likely.
Clean up any slush during Sunday afternoon as it will all freeze solid Sunday night. By Monday it's back to the arctic air with highs only in the teens. Another snowstorm is possible during the middle of next week, but isn't a sure bet at this point.
---
Today: Sunny, gusty winds. Highs only in the mid teens to near 20 south of Boston.
Tonight: Mostly clear, still breezy early. Lows -5 to 8 degrees.
Saturday: Early sunshine, then cloudy and dry. Snow developing after 3 p.m. Highs in the 20s.
Saturday night: Snow during the evening, then mixed precipitation or rain by morning. Lows in the 20s.
Sunday: Rain, snow, and freezing rain likely. Ending by afternoon. Highs 34-45.
Monday: Mostly sunny, with a high near 20.
Tuesday: Mostly sunny, with a high near 20.
You can follow David's weather updates on Twitter at @growingwisdom.