Bruins Top Lightning In Shootout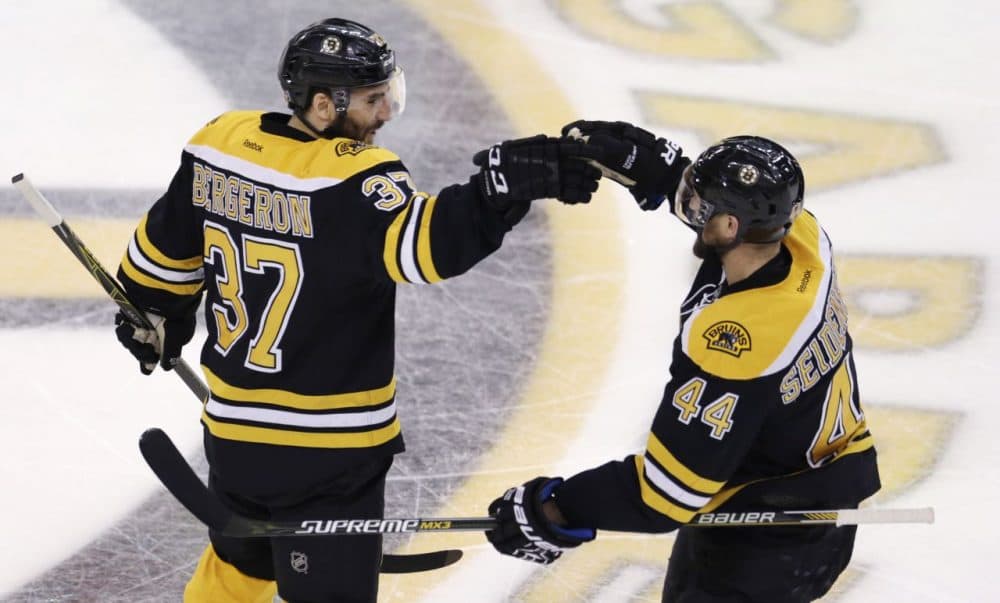 This article is more than 5 years old.
Boston and Tampa Bay got a rare glimpse at what might be the future of overtime hockey.
Patrice Bergeron and Brad Marchand scored shootout goals to lift the host Bruins to a 3-2 victory over the Lightning on Thursday night.
The NHL is considering 3-on-3 hockey as an alternative to the shootout, and the AHL is already testing that out.
"I'd prefer 4-on-4 or 3-on-3 versus a shootout," Bruins forward Chris Kelly said. "The shootout turns a team game into an individual game, but we are in the business of entertaining fans."
Kelly and Lightning forward Alex Killorn took matching penalties 51 seconds into overtime, providing a 3-on-3 opportunity.
"The 3-on-3 made me a little nervous," Marchand said. "There was so much room I didn't know what to do with it. But I would take 3-on-3 over the shootout."
The Bruins had dropped seven straight shootout decisions.
"Nice to finally get a win in the shootout," Marchand said. "It felt different on the bench. Guys were calm and confident."
Boston beat Tampa Bay for the 10th straight time, the longest active slide for a Bruins opponent. Since joining the NHL in 1992, the Lightning have won only five times in 48 games at Boston.
The Lightning have also never beaten the Bruins after regulation in 18 tries, going 0-9-9. Tampa Bay failed to capitalize on a power play in overtime.
"I always believe that this is a team sport and should be decided by a team," Bruins coach Claude Julien said. "If the fans like it that much and they keep it in then I have no issues. But if you ask me my personal opinion, I'd like to see it decided in a way that it's more than just one player against a goaltender.
"Whether its four-on-four or three-on-three, it's still a group."
Tuukka Rask made 35 saves for Boston, 6-0-1 in its last seven games, including four straight wins.
"Well I'll give credit to their goalie. He's pretty good, and he did what he had to do, he kept them in it," Lightning coach Jon Cooper said. "But it comes down to who scores the most goals not who gets the most chances."
Vladislav Namestnikov tied it 2-2 for Tampa Bay with 11:56 remaining in the third period when he slid the puck through Rask's pads.
Ben Bishop made 28 saves for Tampa Bay, which had its four-game winning streak snapped. Tyler Johnson, who leads the Lightning with 66 points, extended his career-best point streak to eight games.
The Lightning missed an opportunity to take over the top spot in the Eastern Conference with Montreal losing and the New York Rangers idle.
Bergeron scored 2:20 into the third when his slap shot got under Bishop's glove for a 2-1 Bruins lead.
David Pastrnak converted a feed from Ryan Spooner to give the Bruins a 1-0 lead at 7:57 of the first period. The goal was reviewed briefly because the puck went in the net off Pastrnak's skate.
Tampa Bay's Steven Stamkos picked off a pass by Bruins defenseman Zdeno Chara and scored an unassisted goal to tie it at 15:29.
Stamkos received a 10-minute misconduct with 1:01 left in overtime when his stick broke and he threw it into the crowd.
"I'm obviously a little frustrated that it broke, and to see it go over the glass, I knew right away that it's a 10," Stamkos said. " It's kind of just a little frustrating, we had an opportunity there and a couple good looks, Kuch (Nikita Kucherov) had a great look, and Rask made a big save."