'Scrub The Hub': Spring Cleaning Underway In Boston
With Boston's winter snowscape melting away, the city is now grappling with another problem hidden beneath the snowbanks: trash — tons of it.
The city says this winter's record snowfall has made trash removal stink worse than usual — with trash instead of flowers blooming from the ground and March street cleaning delayed in residential areas.
Boston Public Works street sweeping crews have removed 50 tons of garbage from city streets and sidewalks this week alone, the city said in a statement.
"The plan is to continue to knock down some of these [snow] piles with our own tools, and then get at what's there," Boston Public Works Interim Commissioner Michael Dennehy told WBUR's newscast unit.
"As much as we want snow gone in the city of Boston, what lies beneath it is something we don't want to see," he continued.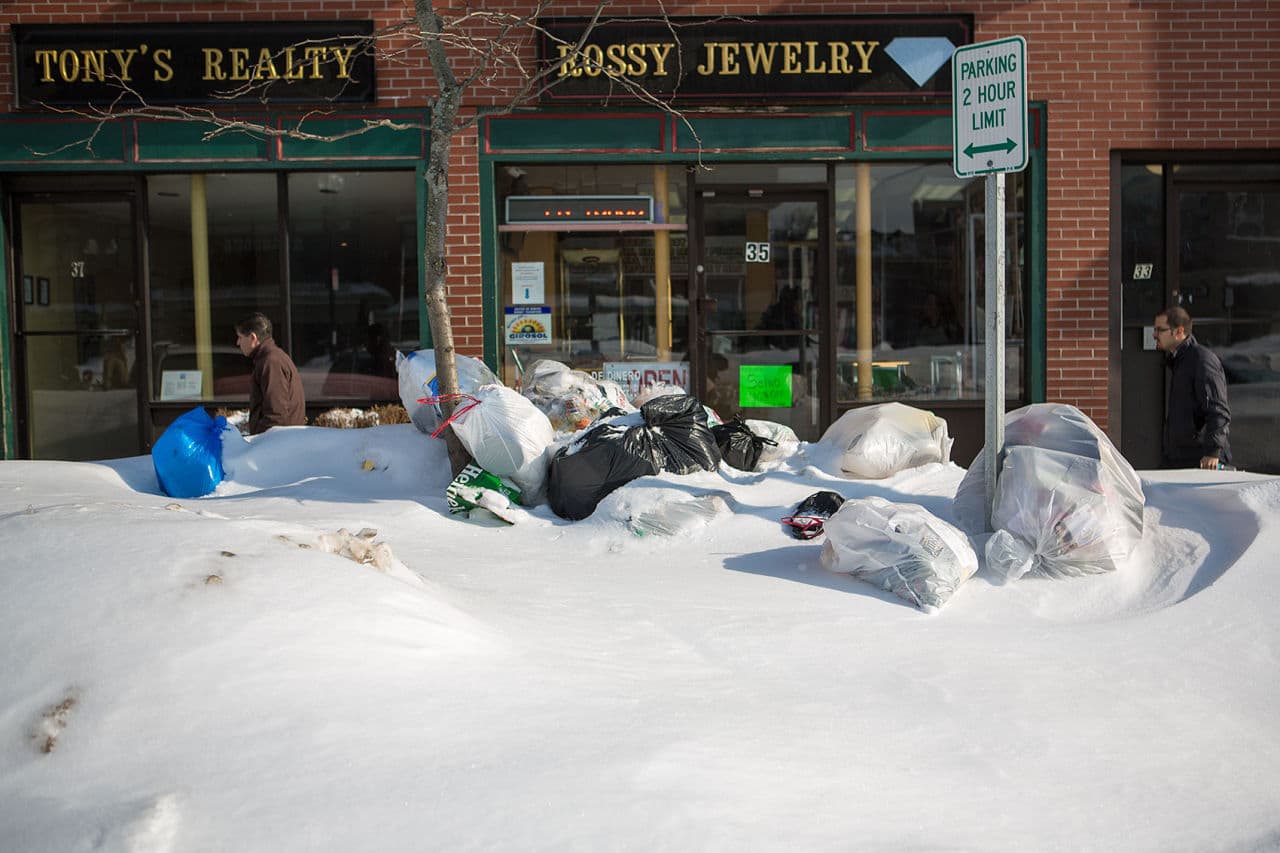 Dennehy said the city's most successful cleanup day was Wednesday, when temperatures hovering near 60 teased residents with a taste of spring.
But, he added, there are still many piles of garbage cluttering up streets that will be easier to grab — though perhaps feel more overwhelming — as the snow melts.
"What we did last week doesn't look like we were there, because as these piles continue to melt, more stuff is unearthed, and we're back again," he said.
To help clean up the streets, Mayor Marty Walsh has hired 20 hokeys — essentially a person who sweeps streets the old-fashioned way with a dustpan and broom. These hokeys can get to the trash the city's giant street sweepers can't reach.
In addition to hiring seasonal workers, Walsh is urging residents to volunteer for the city's annual neighborhood spring cleanup known as Boston Shines. The initiative runs for three weekends beginning April 24.
"This year, it's more important than ever for us to come together as one community to assist in the monumental task of cleaning up our neighborhoods," Walsh said in the statement. "I encourage all of our residents to get involved in Boston Shines as Boston continues to recover from the historic amount of snow we received."
Last year, the city said more than 5,000 volunteers got together to "scrub the Hub."