Record Snow 'Not Expected To Derail' Mass. Economy, Board Says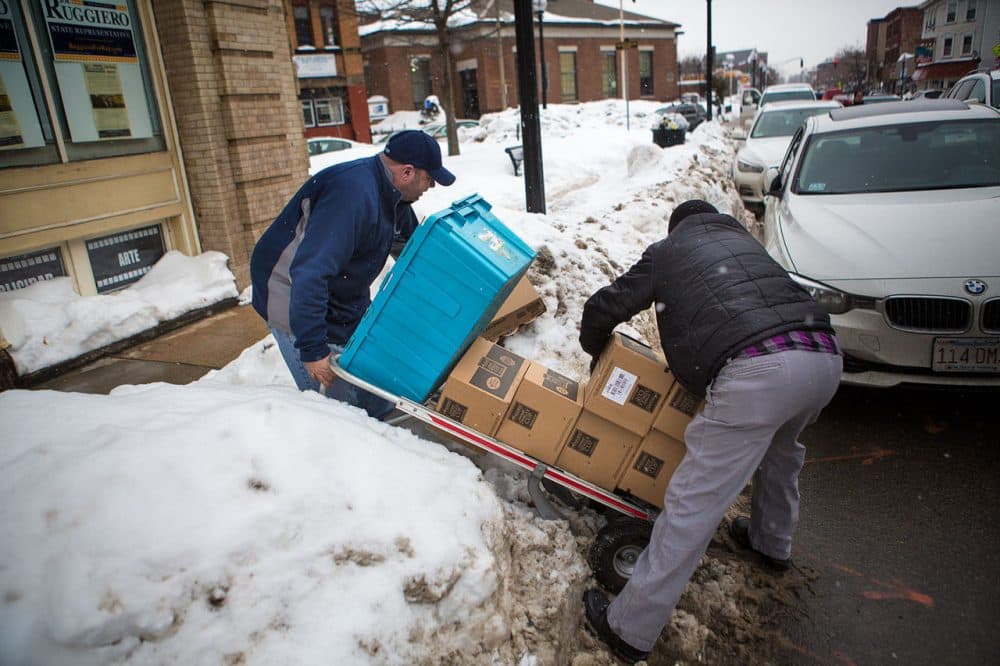 This article is more than 5 years old.
This winter's record snowfall may have "temporarily slowed" the Massachusetts economy, but the weather is "not expected to derail" the state's healthy expansion, top Massachusetts economists said Tuesday.
"The [MassBenchmarks Editorial Board] expects that the overall negative effects on the state economy will be relatively small and transient," according to a summary of the board's latest meeting released Tuesday.
The board added: "While the precise scale of the economic losses is difficult to estimate reliably, widely cited estimates of over a billion dollars represent a modest fraction of annual economic activity in the state."
Earlier this month, WBUR's Curt Nickisch reported that Greater Boston's so-called knowledge economy is rather resilient to snowstorm impacts:
By knowledge-intensive, [economist Doug Handler at the research firm IHS Global Insight] means financial services firms, universities, computer software companies — places that can make up the work later.
The ability to make up work later certainly doesn't apply to all businesses, like restaurants, and so while the overall hit to the state economy may be modest, the MassBenchmarks board added in its excerpts that the bad weather will have "a disproportionate impact on low-income workers who are paid by the hour and do not get paid when they do not work."
MassBenchmarks also said that "some sectors of the economy benefited from the storms, including snow removal services, roofing contractors, plumbers, and even some Boston hotels that registered high occupancy rates when critical health care workers" had to stay overnight amid the MBTA's prolonged struggles.
WBUR's Nickisch reported that the occupancy rate at Boston-area hotels grew 7 percent last month, compared with February of 2014.
The summary from the MassBenchmarks board, which is made up of local university and Boston Federal Reserve economists, jibes with recent improvement in the state's unemployment rate. In February, the jobless rate fell below 5 percent for the first time since 2008.
The report does point to three long-term challenges for the state: the "vulnerability" of the T, rising energy prices and "the loss of skills and experience in the labor force as baby boomer retirements accelerate."
Despite the challenges, the board said "the prospects for continued economic expansion in the state are very good."