Injury-Riddled Heat Beat Celtics 93-86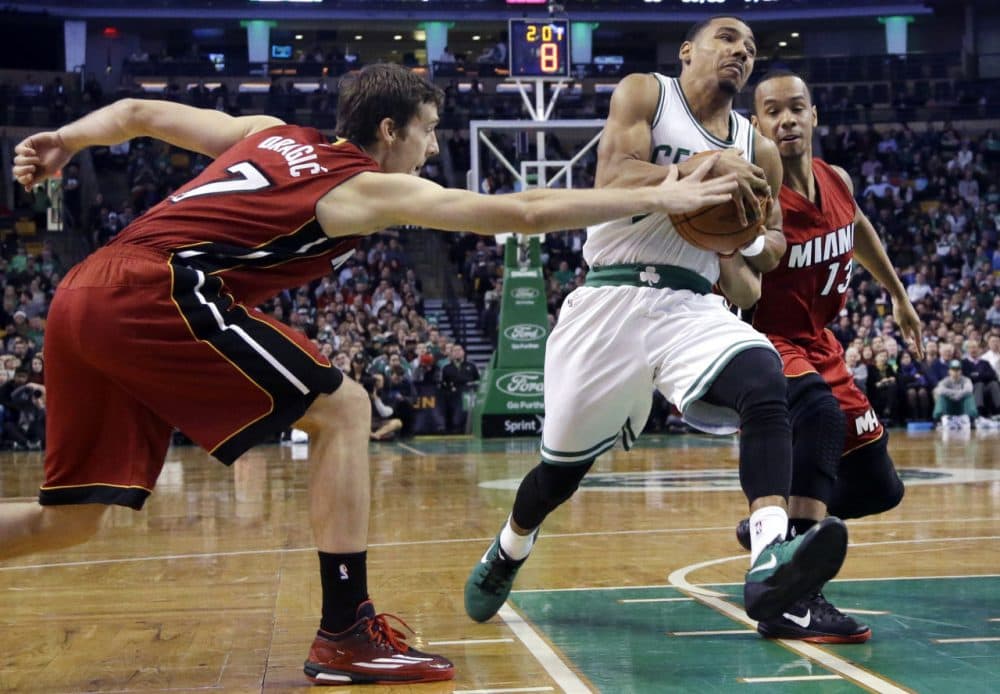 This article is more than 5 years old.
The Miami Heat were coming off a difficult loss at Milwaukee, and they were missing three key players due to injuries from the game against the Bucks.
Goran Dragic knew what he had to do.
Dragic had 22 points and seven assists, and the banged-up Heat beat the Boston Celtics 93-86 on Wednesday night.
"When one of the main guys is out, all of the other guys have to step in," he said. "That was my mentality before the game that I have to carry this team. We accomplished that. We won."
Luol Deng scored 15 points for Miami, and Udonis Haslem had 12 points and 12 rebounds. Henry Walker and Tyler Johnson also scored 12 points apiece.
Miami played without Dwyane Wade, Hassan Whiteside and Chris Andersen, but bounced back quite nicely from Tuesday night's disappointing 89-88 loss at Milwaukee. The Heat blew a 14-point lead in the final 6 1/2 minutes against the Bucks.
"The example he set tonight, constantly hitting the floor for loose balls," Heat coach Erik Spoelstra said of Dragic, "it set the tone and the example for everybody else. That's probably what would decide this game. It was pretty ugly there in the fourth, but those loose balls and the extra rebounds where what really decided it."
Miami (33-38) has won four of six and is seventh in the Eastern Conference playoff race.
Jae Crowder scored 16 points and Avery Bradley had 12 for the Celtics, who remained in the East's eighth and final playoff position.
"We came out real flat and they took advantage of that," Boston guard Marcus Smart said.
Wade, who averages a team-high 21.6 points, was sidelined by a swollen left knee. Whiteside received 10 stitches on his right hand after he was cut in the second quarter against the Bucks, and Andersen was out with a bruised left calf.
But Miami led by 17 at halftime against Boston and carried an 82-62 advantage into the final period.
"In the fourth quarter they played with great emotion and hard as heck and got us back into it, but then we just didn't make very good decisions or play with poise late, which sometimes happens when you're trying to mount a furious comeback," Boston coach Brad Stevens said.
Just like in Tuesday's game against Milwaukee, the Heat became passive in the fourth, taking their time with most offensive possessions, and the Celtics mounted a charge.
"We were fantastic the first three quarters," Dragic said "I don't know if it was fatigue or we were thinking it would be like the last one."
Boston (31-40) closed it to 89-83 with 2 minutes left. But the Heat closed it out at the line.
Dragic scored 17 points in the first half to help Miami to a 57-40 lead at the break. The Heat finished the second quarter with a 9-2 run.
Dragic and Boston's Isaiah Thomas were teammates in Phoenix, but both were dealt at the trade deadline after being part of a messy three point-guard mix with the Suns.