Adam Jones Powers Orioles Past Red Sox 8-3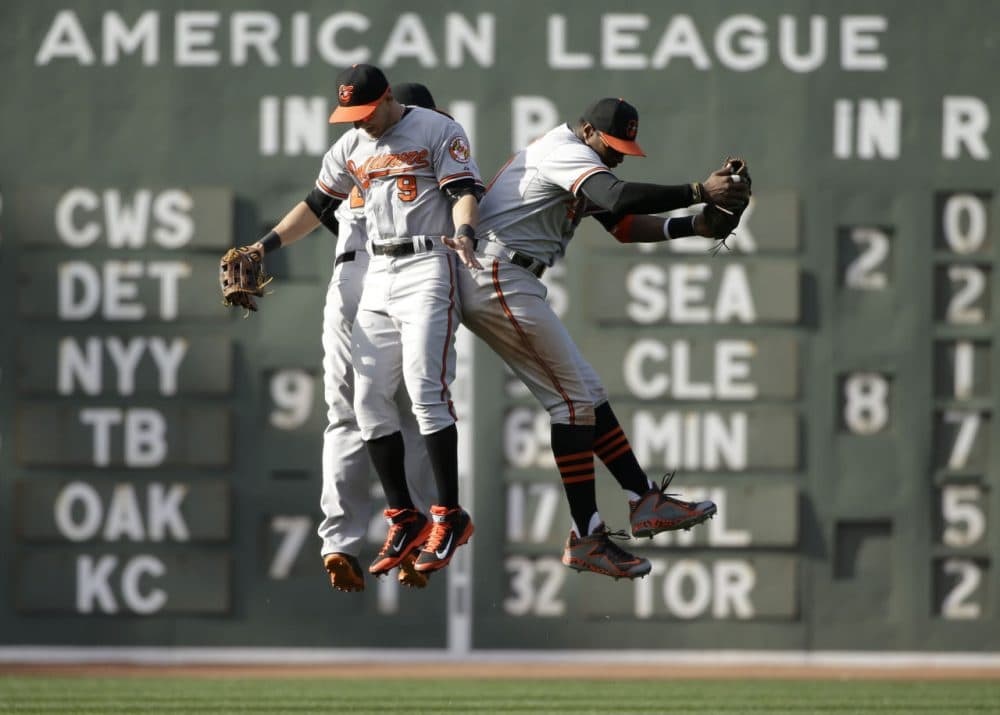 This article is more than 6 years old.
Adam Jones went 4 for 5 with a three-run double and two-run homer to match his career high with five RBIs, carrying the Baltimore Orioles past the Boston Red Sox 8-3 on Sunday.
Ryan Flaherty added a solo homer and Jimmy Paredes three singles for the Orioles, who won for the second straight day after losing the series opener.
Hanley Ramirez hit a three-run homer and two hits for Boston, which needs to win Monday's annual Patriots' Day game to avoid losing its first series.
Miguel Gonzalez (2-1) pitched five innings for the victory, allowing three runs and five hits.
Rick Porcello (1-2) allowed eight runs and 12 hits - with two homers - in five innings.
Jones also equaled his career best with four hits.
Boston DH David Ortiz was ejected by home plate umpire John Tumpane, who replaced original plate ump Paul Emmel.
The Orioles broke a 3-3 tie in the fifth. Travis Snider had an RBI single and Manny Machado a sacrifice fly.
Jones' three-run double off the left-center field wall chased Porcello and made it 8-3 in the sixth.
Trailing 2-0, Boston jumped ahead on Ramirez's homer that caromed off a billboard above the Green Monster seats and onto the field. Flaherty's home run tied it at 3-3.
Jones' homer went completely out of Fenway Park, clearing the Monster seats, in the first.
Emmel left the game in the middle of the fourth inning, walking slowly to Boston's dugout where he chatted with a member of the medical staff before heading down the steps. There was no announcement why he left.
Second-base ump Tumpane moved behind the plate.
The crew also had a change before the game when Jordan Baker was replaced by Tumpane. Baker ejected Baltimore right-hander Ubaldo Jimenez for hitting Pablo Sandoval on Friday.