Red Sox Get 5 Unearned Runs In 7-1 Rain-Shortened Win Over Orioles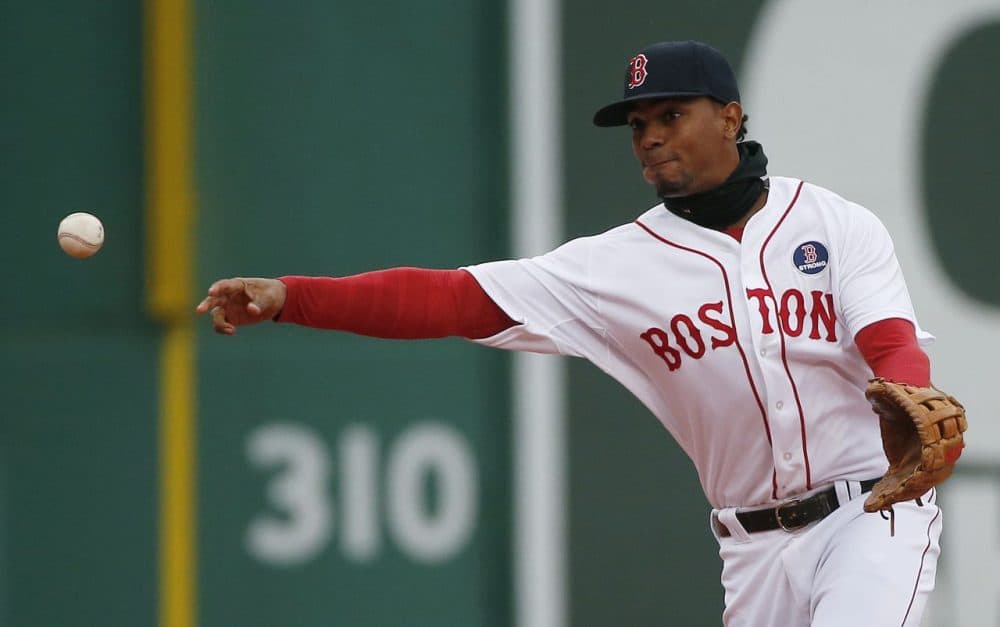 This article is more than 6 years old.
Justin Masterson benefited from five unearned runs, and the Boston Red Sox beat the Baltimore Orioles 7-1 Monday in a soggy Patriots' Day game shortened by rain to 6 1/2 innings.
The first pitch was thrown at 11:04 a.m. under cloudy skies on the Massachusetts holiday after Boston Marathon runners already were on the course that passes close by Fenway Park. Rain began falling steadily in the fourth and intensified, and the game was called after a 1-hour, 42-minute wait.
With the score tied at 1, Boston scored four runs in the third when Wei-Yin Chen (0-1) walked four and made an error, and third baseman Manny Machado committed another error.
Masterson (2-0) allowed one run, three hits and three walks in five innings with six strikeouts.
Chen (0-1) gave up three hits and five walks after getting the win in Baltimore's 7-6 victory at Fenway last year on Patriots' Day, which commemorates the first battles of the Revolutionary War.
Boston took a 1-0 lead in the first when Mookie Betts singled, stole second, took third on catcher Ryan Lavarnway's wild throw and scored on David Ortiz's sacrifice fly.
Baltimore tied it in the second on Travis Snider's triple and Ryan Flaherty's double.
Xander Bogaerts led off the third with a walk, took third on a single by Ryan Hanigan and scored when Chen bobbled Betts' grounder. Dustin Pedroian sacrificed, and Allen Craig loaded the bases with a walk.
Mike Napoli walked, forcing in a run, and Machado's error allowed Betts and Craig to score.
The Orioles made three errors, the first game this season in which they committed more than one. They have seven errors this year, three by pitchers.
Boston made it 7-1 in the sixth. Hanigan was hit for the second time and scored on Pedroia's double off Jason Garcia. After Ortiz was walked intentionally, Craig singled in Pedroia.
Baltimore's Adam Jones had his nine-game hitting streak snapped after going 7 for 10 in the previous two games.
TRAINER'S ROOM
Orioles: Manager Buck Showalter thinks INF Jonathan Schoop, who went on the 15-day disabled list with a sprained right knee Saturday, could be back sooner than the six to eight weeks originally forecast. Schoop is rehabbing in Sarasota, Florida.
Red Sox: LF Hanley Ramirez left in the top of the third because of illness. He was replaced by Craig. 3B Pablo Sandoval was out of the lineup for a day of rest. Brock Holt (12 for 24 coming into the game) started in his place and went 0 for 2.
UP NEXT:
Orioles: RHP Bud Norris (0-1, 12.38 ERA) pitches Tuesday the opener of a three-game series in Toronto against LHP Mark Buehrle (2-0, 3.75). Norris won his last start, allowing three runs in five innings against the New York Yankees. In his other start this year, he gave up eight runs in three innings in a loss to Toronto.
Red Sox: LHP Wade Miley (0-1, 10.57) pitches the opener of a three-game series at Tampa Bay on Tuesday against RHP Chris Archer (2-1, 1.37). It begins a six-game trip. In his last start, Miley allowed seven runs in 2 1-3 innings in his Fenway debut, a 10-5 loss to Washington this season.