Obama Honors Patriots For Super Bowl Win, Community Service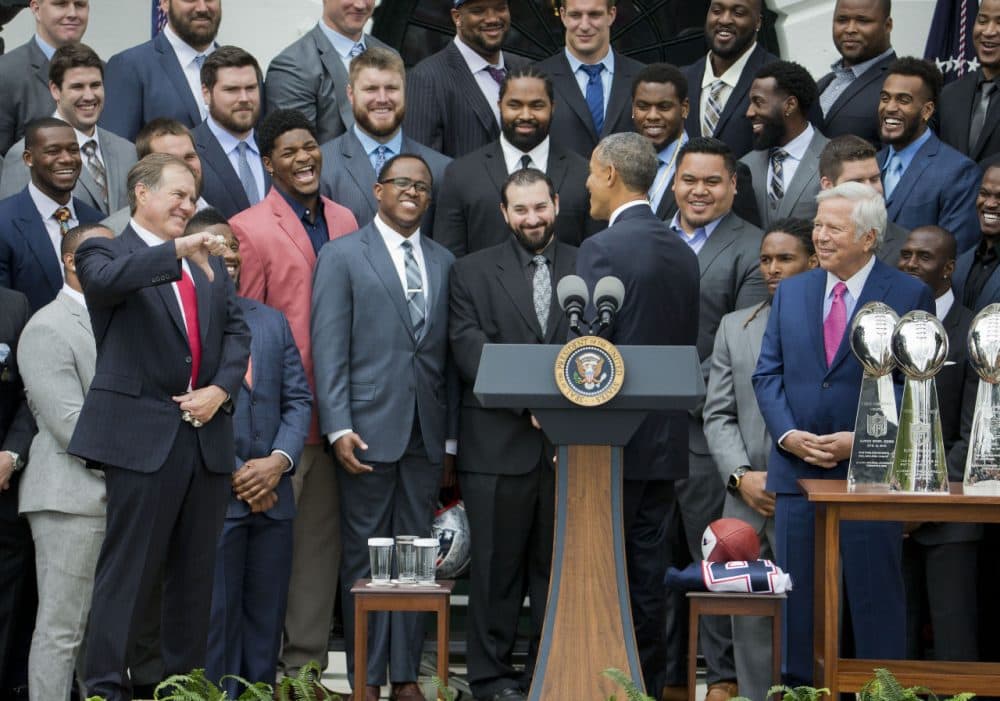 This article is more than 6 years old.
President Barack Obama honored the New England Patriots for winning the Super Bowl despite a "huge distraction and media circus" over underinflated footballs in their conference championship game.
Obama congratulated the team on their 28-24 Super Bowl victory against the Seattle Seahawks back in February during a White House ceremony Thursday (full video here), while also managing to get in a joke about the so-called "deflategate" scandal.
"I usually tell a bunch of jokes at these events, but with the Patriots in town I was worried that 11 out of 12 of them would fall flat," the president said to laughter and some groans. Coach Bill Belichick responded with a thumbs down.
Continuing to honor sports teams for their community service, Obama also thanked the Patriots for visiting hospitals and schools in New England and wounded veterans at Walter Reed Medical Center.
Patriots owner Robert Kraft presented Obama with a Patriots jersey and signed helmet. He called the president the "ultimate Patriot," despite his allegiance to his beloved Chicago Bears.
Obama joked that he would use the helmet at a meeting with some congressmen later.
Secretary of State John Kerry and Sen. Elizabeth Warren were among the crowd cheering the champions.
The Patriots' 45-7 victory in the AFC title game was marred by accusations that a team employee had partially deflated game balls, making them easier to catch and throw. A league investigation is ongoing.
The team's February Super Bowl victory was their fourth NFL title in 14 years.
Here are some more photos from the event:
This article was originally published on April 23, 2015.