Troubled By Police Brutality, Terence Blanchard Trumpets On
What happens when a top-tier jazz trumpeter and composer with more than 50 soundtracks of musical storytelling experience is inspired by the "I Can't Breathe" campaign? Throw in influences from soul, pop and funk and you've got Terence Blanchard's upcoming album "Breathless."
Blanchard is already touring with the music from this project and his new band, The E-Collective. Ahead of the album's release on May 26, the Celebrity Series of Boston is bringing the musicians to the Berklee Performance Center on April 25 to give Bostonians a taste. Although there are many guests on "Breathless" — from Dr. Cornel West to PJ Morton — it'll just be Blanchard featuring The E-Collective on Saturday, sharing the bill with the Ravi Coltrane Quartet.
In a recent phone interview, Blanchard explained that the idea for this ensemble started during a film scoring project with drummer Oscar Seaton. "We had so much fun doing it," he says, "we kept saying we should put a band together." Blanchard recruited fellow New Orleans musician Donald Ramsey for bass and the pianist from "Magnetic" (his last album), Fabian Almazan. This is the first time Blanchard has collaborated with guitarist Charles Altura, who he reached out to on Facebook. "Charles was someone I met online. I heard him play and thought he was amazing."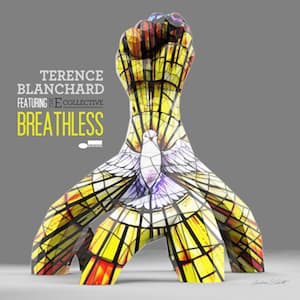 As for the direction of the album, Blanchard says, "I've always tried to write music that's socially conscious." Troubled by the recent deaths of African-Americans by police officers and the subsequent "I Can't Breathe" campaign, Blanchard wrote the title track of the album. In it, a hip hop-inspired vamp accompanies ambient noodling by Blanchard and spoken word by his son, T. Oliver Blanchard Jr., aka JRei Oliver. The words "We can't breathe" fade out with Blanchard's acrobatic trumpet lines as the track ends.
I asked Blanchard how his extensive experience with composing soundtracks and film scores influenced his songwriting for "Breathless" and other tracks on the album. He said, "It has a huge impact because writing for film makes me think about writing for a story. The story has to evolve but it still has to be connected to one central theme or one set of characters." In this song, the message is clear and powerful and is part of a larger storyline that Blanchard wove into the album.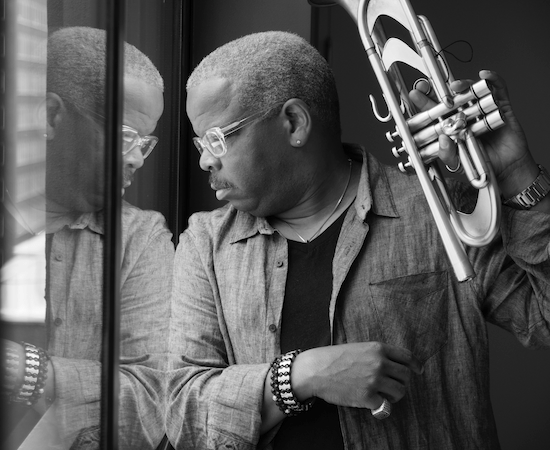 Listening to "See Me As I Am" one can hear that building story not only in the melody of the song, but in Blanchard's solo and arrangement. Over a vamp of swirling electronics and a heavy drumbeat, Blanchard's reverb-enhanced trumpet plays a melody that locks into the beat with a rebellious attitude. Throughout the song, the drums periodically cut out in three to five second increments before coming back in with a renewed energy, pushing Blanchard's solo forward. Blanchard isn't afraid to play simple lines with character, bending notes, adding a brassy gnarl to his lower register or smoothly swooping up to his higher register.
"I came up with the tune 'See Me As I Am' because a lot of times people look at things through a filter and sometimes that filter can be wrong," says Blanchard of his vision for the song. "People can see me, but not see me as I truly am, but what they think I am. I think that's what's caused so much tension between African-Americans and law enforcement in this country."
This project is certainly a departure from Blanchard's previous straight-ahead/acoustic albums, but he isn't playing this music just to change things up — he believes in the new sound, and the story.