Commentary: All Hillary, All The Time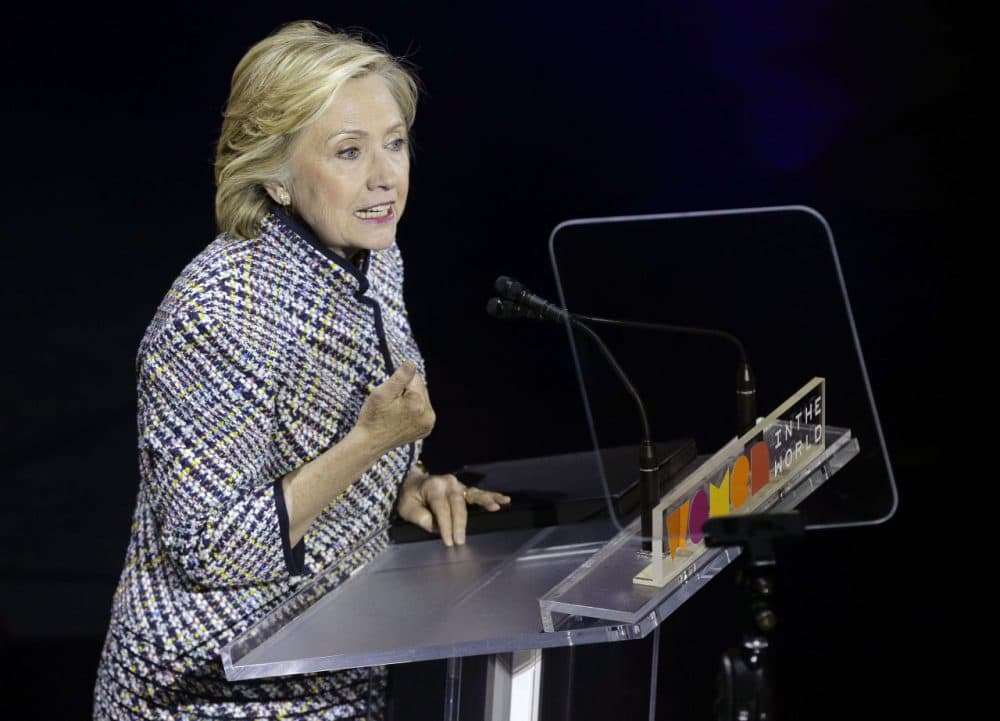 This article is more than 6 years old.
When Pierre Trudeau, then prime minister of Canada, was running for re-election in the 1970s, he was attacked on all sides for every conceivable defect. The Harvard-educated intellectual famously declared, "Don't compare me to the Almighty. Compare me to the alternative."
Hillary Clinton could say the same.
The Chipotle primary. There were 19 Republican hopefuls in New Hampshire recently at a so-called "leadership summit." Instead of talking about how they'd lead the country, every one of them attacked Clinton, often with high school-type putdowns.
Texas Sen. Ted Cruz: "I'm pretty sure Hillary Clinton is having a conversation with a Chipotle clerk."
More Chipotle from Florida Sen. Marco Rubio: "Hillary's going to raise $2.5 billion — that's a lot of Chipotle, my friends."
At another gathering, Jeb Bush offered this quip: "I actually cook [Mexican food] at home. I don't need to go to Chipotle." ¡Ay, caramba!
The never brainy Texas Gov. Rick Perry brought the crowd to its seats with this: "She's the one that literally brought the reset button to the Kremlin." Literally? Even the ludicrous Donald Trump joined in: "She's going to have to answer how she did as secretary of state, OK? I mean the world blew up." Literally? Wisconsin Gov. Scott Walker tried this: "[She] thinks the way to grow the economy is to grow Washington."
Not to be outdone, Kentucky Sen. Rand Paul launched a website called Liberty Not Hillary, on the day she announced her candidacy. He declared: "Hillary Clinton's attacks on liberty and the Constitution make her unfit to serve as President of the United States." The ever-youthful Chris Christie tried this contrast with Clinton: "Listen, we're different people from different generations." Former Hewlett-Packard CEO Carly Fiorina, forced out by her board, claimed, "Hillary Clinton does not have a track record of accomplishment." One of boss Fiorina's accomplishments: giving pink slips to hundreds of HP employees in New Hampshire.
The press as her opponent. Because the Democrats who have expressed interest in running for president are not regarded as serious threats to Clinton, the political news media have assumed the role of surrogate opposition. Their attacks and opinions have dealt with her video, her logo, her vehicles, her staged events (what other kind do presidential candidates have?), her campaign this time vs. 2008, her staff, her snubbing the press, her husband, her money, her standing in polls, her charitable foundation, what she eats on the campaign trail, etc. Her stands on things like income inequality, paid sick leave, higher minimum wage, excessive CEO compensation, ending tax cuts for the wealthy, tighter regulation on derivatives — not so much.
The dubious deal. In his new book, "Clinton Cash," Peter Schweizer speculates that donors to the Clinton Foundation may have influenced Clinton's State Department. Schweizer cut a very unusual deal with Fox News, The New York Times and The Washington Post. The longtime conservative propagandist gave the three news outlets early access to his opposition research on Clinton, weeks ahead of the book's May 5 public release. Fox was understandable, but the Times and Post cooperation raised eyebrows, ethical flags and temperatures. Adding partisan fuel to the fire, Schweizer gave advance texts to at least two Republican senators running for president, Paul and Rubio, who promptly used the material to attack Clinton.
W, Breitbart, Palin, Beck, Koch. Fox News' Bill O'Reilly confirmed that Schweizer did "help President Bush the younger write speeches. He is also an editor-at-large at Breitbart News, a conservative website." Sarah Palin hired Schweizer to advise her on foreign policy; he was a contributor to a Glenn Beck book and helped write Bobby Jindal's autobiography. He has spoken before conservative conferences and groups including the Charles Koch Institute.
Little evidence.  In "Clinton Cash," Schweizer supplies no facts or authoritative sources to support any quid pro quo. Politico and Time magazine separately reviewed the material and both used the exact same words to describe their findings — that there is "little evidence" to support Schweizer's claims.
No smoking. ABC News found that the book contains errors and "offers no proof that Hillary Clinton took any direct action to benefit the groups and interests that were paying her husband." Even Fox's White House reporter Ed Henry said, "There's a lot that's murky" in the insinuations. CNN's Chris Cuomo declared that "the examples that have come out so far in [The New York Times] were not that impressive." Patrick Healy of the Times admitted to CNN that the allegations were "not smoking guns."
A Mickey Mouse book.  In his 1998 book "Disney: The Mouse Betrayed" — a book that he does not include among those on his website — Schweizer attacked the Disney corporation for its "endorsement of the homosexual lifestyle." Talking Points Memo, a Washington political website, found that Schweizer believed that Disney World had become "ground-zero for gay infiltration. Among the betrayals of Mickey Mouse, and traditional America, were rampant 'gay activism,' cases of gay employees receiving health benefits, and park performers dressing in drag. He also included an appendix titled, 'Disney's Pedophile Problem.' "
Dan Payne is a Democratic political analyst for WBUR and a contributor to The Boston Globe.