Mass. Pro-Gay Marriage Activists Join Protests Outside Supreme Court
04:10
Play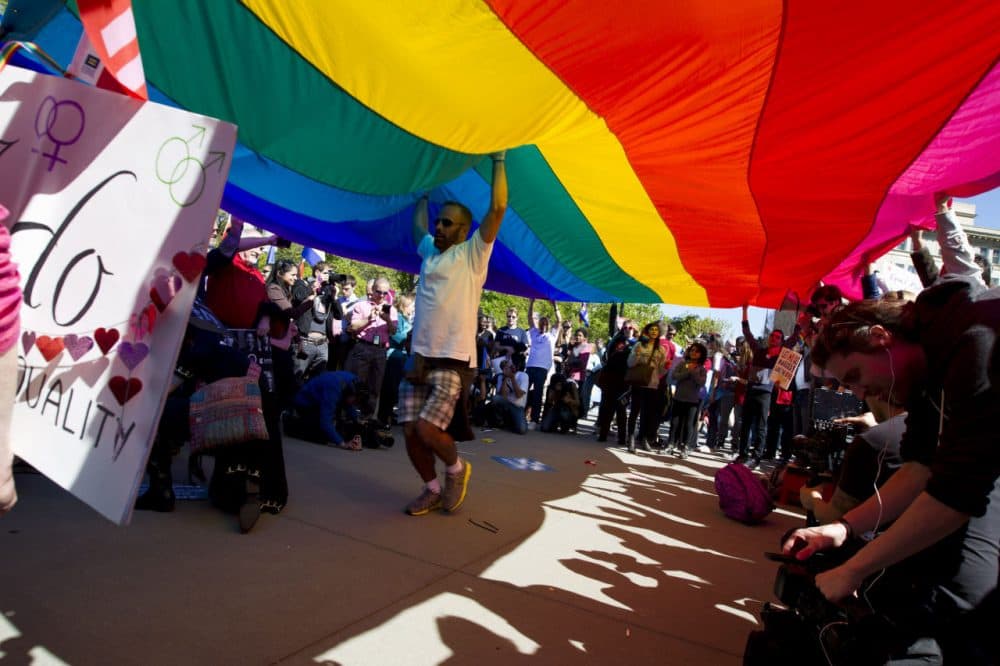 This article is more than 6 years old.
With its term ending in June, the U.S. Supreme Court has two months to decide whether the Constitution gives same-sex couples the right to marry and whether gay marriages should be allowed in all states.
As the high court heard arguments here Tuesday, a crowd gathered outside. Among the throngs of people were several individuals from Massachusetts — the first state to legalize same-sex marriage — and some reflected on their historical ties to the fight over same-sex marriage.
For John Ward, it was a long journey to the line on the sidewalk in front of the Supreme Court. He'd come from San Francisco, but really, his trip began when Ward came to Boston in the 1970s.
It was in Boston where he would found the group Gay & Lesbian Advocates & Defenders, GLAD. He also hosted a program called "Gay Way" on WBUR until the longtime president of Boston University, John Silber, decided to take it off the air.
"I was just starting out. I had an office in Park Square, 300 bucks a month," Ward said. "And [Silber] was determined to suppress this radio program, which was very successful — and he did."
Ward said he was beyond words when he thought about how far gay people have come in gaining acceptance since those days.
In line, too, was Julie Goodridge, who, with her ex-wife, Hillary, gave her name to the decision that recognized gay and lesbian couples' right to marry in Massachusetts in 2003.
Goodridge says she realized this week that people in each state see the fight as theirs now.
"Everybody was just so focused on being able to get married themselves, that they weren't really thinking about what the history was," she said, before noting anti-gay marriage protesters speaking with a megaphone. "Oh, good. Here come the protesters. That's always nice. Worry about Jesus, abortion, sodomy, Islam. Doesn't get any better than that."
"When your dread comes, like a storm, when your calamity comes on, like a whirlwind, and distress and anguish come upon you, then you will call on me, and I will not answer," one protester shouted.
Some carried signs saying "Homo Sex" and "Perverts." As the bronze Statue of Freedom looked out over the scaffolding around the dome of the Capitol, over the fresh green trees, the protesters shouted at the people in line: "Jesus does not love you."
In response, the people in line sang, "We shall overcome."
Goodridge came to Washington, she said, mostly to support Mary Bonauto, her attorney in the landmark Massachusetts gay marriage case and the attorney making the oral arguments Tuesday that the Constitution requires states to issue marriage licenses to gay couples.
Here is Bonauto in an exchange with Chief Justice John Roberts:
"I hope not, Your Honor."
This was the first Supreme Court appearance by the pioneer in gay rights. For much of her arguments, Bonauto was peppered with questions about the millenia-old definition of marriage as between a man and woman.
In front of the court afterwards, Bonauto said the justices were trying to get her to argue that in this country, marriage is a fundamental right.
"It took me a while to figure out what was going on, which is they were testing the fundamental right theory," she said. "I am certain that ancient Greece and Rome do not provide the marker for what our Constitution means, and that's why I kept trying to return the questions to the Fourteenth Amendment's promise of equality, equal dignity, liberty for all of us."
As Bonauto made her way through the crowd outside the court, people came up to her and shouted, "Thank you, Mary!"
This segment aired on April 29, 2015.