'The Door Is Closer To Being Closed': Marines Reflect On Their Return To Vietnam
Resume
All week, we've been reporting on the 40th anniversary of the fall of Saigon and the end of the Vietnam War.
We've been following a group of U.S. Marines — many of whom were among the last U.S. troops out of the country.
We close our series with a conversation with three of those Marines: Bill Newell, of Hopkinton, John Ghilain, of Malden, and Juan Valdez, of Oceanside, California.
We met at the U.S. Consulate, the site of the embassy they defended 40 years ago as the North Vietnamese Army arrived.
The most obvious change is that the old embassy building, with its helipad on top, is gone, with lush green grass in its place.
"It's changed so much," said Newell, who was a Marine sergeant in the embassy security detachment. "It's hard to explain. It looks very different; the embassy is gone, the remnants brings back a few memories. It's hard to place where exactly we were because the facility looks so very different right now."
Valdez was the last Marine to board the last helicopter off the embassy roof in 1975, as thousands of Vietnamese, desperate to get out of Saigon, tried to get into the embassy compound. When he thinks back to 40 years ago he said he sees "masses of crowds."
"They started coming from the villages and then they joined the Saigon population, and it became just total chaos," he said.
For each of these proud Marines, images of those final chaotic days of the war are seared into their memories.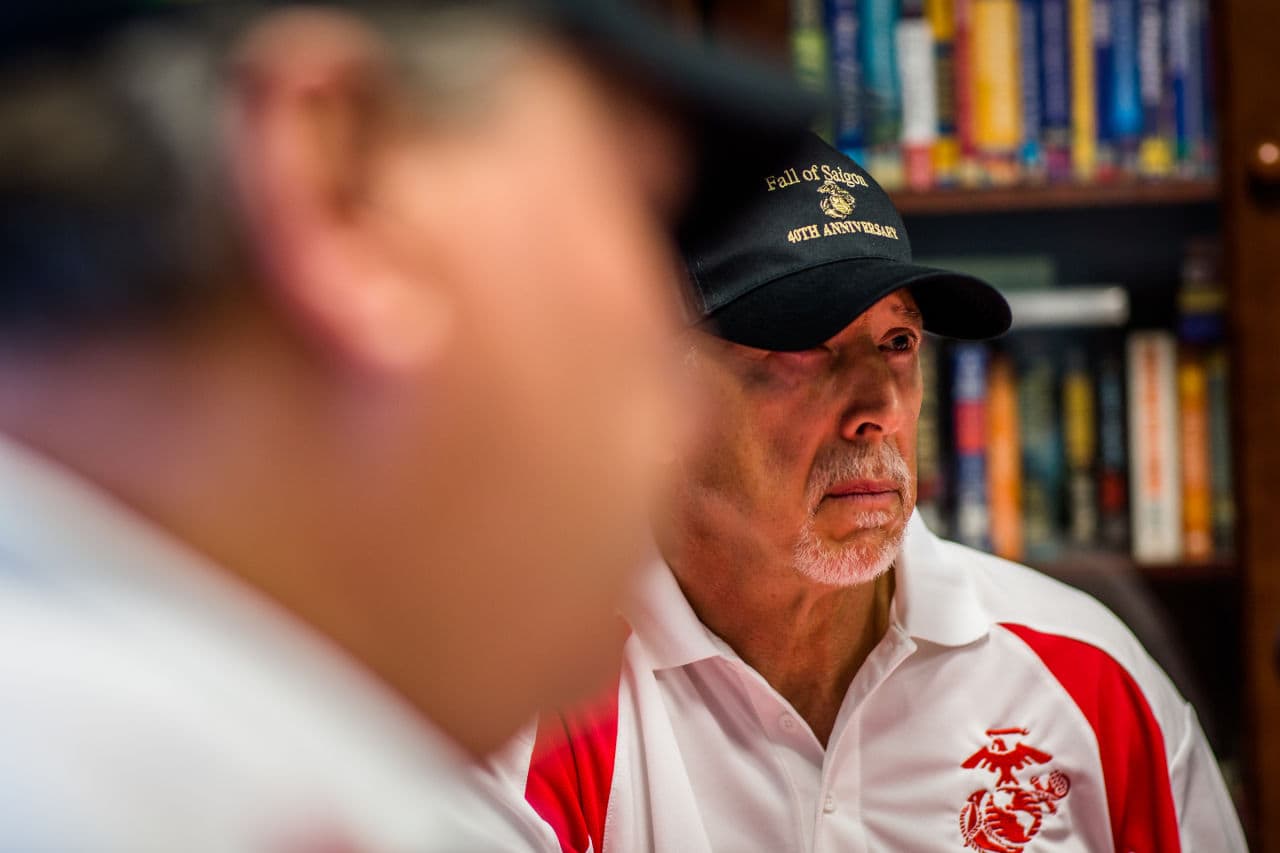 And all three see reflections of their experience in America's military involvement today in Iraq and Afghanistan.
"I honestly feel Afghanistan and Iraq is a mirror image of what we went through in Vietnam," Ghilain said.
"It's symbolic in just the errors and miscalculations in U.S. foreign policy," Newell said. "It's very symbolic of all that material and human resource that was wasted. The military always did their job, just like this event that we went through, the fall of Saigon. We accomplished our mission. We did what we were trained and asked to do, right down to the last man."
"In some ways America hasn't learned the lessons of this," Valdez said.
These three, and other Marine veterans, have come to Ho Chi Minh City this week to commemorate the deaths of the last two soldiers killed on the ground in Vietnam: Darwin Judge, of Iowa, and Charlie McMahon, of Woburn.
They were also hoping that dedicating a plaque in honor of Judge and McMahon on the grounds of the U.S. Consulate would help them find closure.
"It has, to a point," Ghilain said, before beginning to choke up. "The whole point of being here and presenting this plaque is for generations well after we're gone, they're going to remember or know about Darwin Judge and Charles McMahon. So the door is closer to being closed, yes."
"Anyone who is killed in the service of their country should be honored as a hero, that is the ultimate sacrifice," Newell said. "And in my mind, their heroic effort has been recognized."
This segment aired on May 1, 2015.