Commentary: Democrats, Be Careful What You Wish For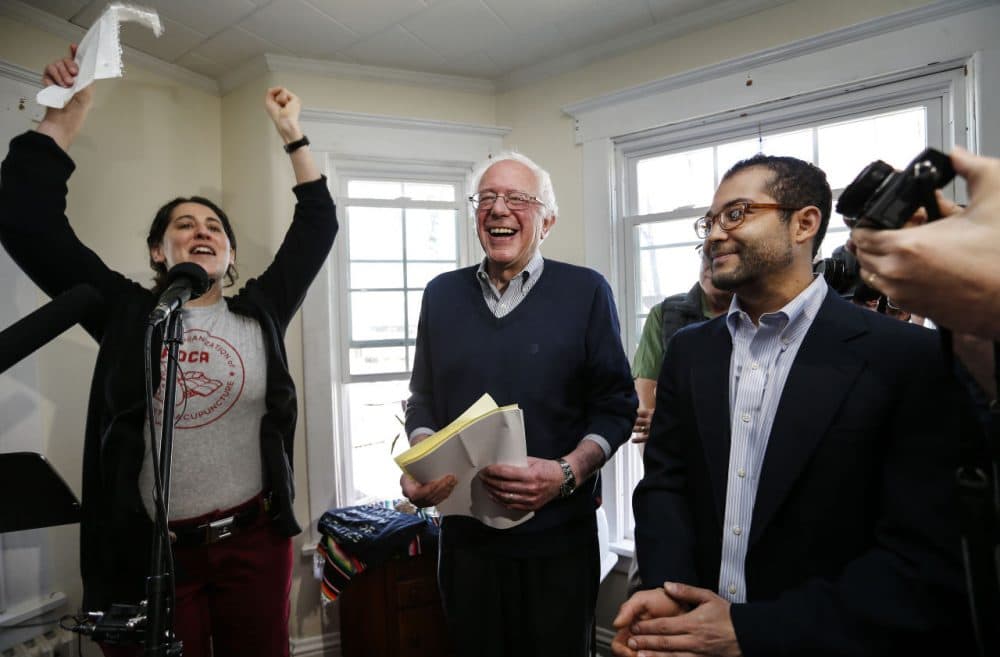 This article is more than 6 years old.
To no one's surprise, 73-year-old Vermont U.S. Sen. Bernie Sanders last week entered the Democratic campaign for the presidential nomination.
For Democrats dissatisfied with Hillary Clinton, many wish there were other choices. Alternatives range from Why Won't She Do It? (Elizabeth Warren) to Why Is He Doing It? (Lincoln Chafee), from the Plausible (Martin O'Malley) to the Preposterous (Jerry Brown), from the Western Cowboy (Brian Schweitzer) to the Western Socialist (Sanders), from the Heir (Andrew Cuomo) to the Self-Made (Mark Warner), from the Painfully Earnest (Jim Webb) to the Painful (Bill de Blasio), from the Too Late (Joe Biden) to the Too Soon (Sens. Kirsten Gillibrand, Tim Kaine, Amy Klobuchar).
Let's review one group of possibles, beginning with Sanders, Warren, O'Malley and Biden. (I'll profile more possible candidates later this week.)
Bernie Sanders: On first day of presidential drive, campaign said it raised more than $1.5 million, far more than Republican counterparts — average donation: $43.54
- Wants to overturn (via constitutional amendment) Citizens United Supreme Court decision, which opened floodgates to huge, unlimited spending by big corporate and wealthy donors
- Says huge corporations and wealthy individuals aren't paying fair share of taxes
- In Senate voted against Iraq War, contrasts that to Clinton's support
- Opposed all recent free trade deals including current Trans-Pacific Partnership; says they kill U.S. jobs
- Wants all-out attack on global warming and promises to halt Keystone pipeline
- Grievances against Wall Street similar to Warren's
- Worries gap in income between super rich and everyone else is unsustainable
- Bad news in polling: trails Clinton in Iowa, according to one poll, 14 percent to 62 percent and in New Hampshire 12 percent-45 percent.
---
Elizabeth Warren: Let's stop pretending she's pretending. Has said dozens of times not running and will not be candidate.
Believes, correctly, that instant she becomes presidential hopeful, her influence in U.S. Senate and nationally erodes. Issues she cares about — income inequality, outsize influence of Wall Street, unfair triggers to bankruptcy — would immediately be seen as presidential stances.
Something to consider: Ted Kennedy, Paul Tsongas, Mike Dukakis, John Kerry, Mitt Romney. All Massachusetts politicians got big head start by being familiar to New Hampshire voters. All lost.
---
Martin O'Malley: Former Maryland governor, term-limited so running for president better than oblivion.
Could've run for and likely won retiring U.S. Sen. Barbara Mikulski's seat, but declined.
Chances for president have been hurt by civil unrest in Baltimore, where he was mayor for seven years. David Simon, creator of HBO series "The Wire," set in Baltimore, last week charged that as mayor O'Malley manipulated crime data and ordered mass arrests to show falling crime rates. Simon said mass anger simmered before it boiled over onto streets. Former longtime crime reporter for Baltimore Sun Simon said: "He destroyed police work in some real respects."
O'Malley has history of raising money but speaking style is so uninspiring admits he often prefers to sing to voters.
Chaired Democratic Governors Association for two years.
---

Joe Biden: Vice president won seat in U.S. Senate at age 30, sixth-youngest senator in American history. Will be 73 this fall. Ronald Reagan was 69 when he won presidency.
Biden lost for president in 1988 and 2008. First time had to withdraw for plagiarizing speech of British politician.
Served in U.S. Senate from Delaware 36 years, was considered foreign policy expert, traveled widely and met many world leaders, served on and chaired Foreign Relations Committee for many years.
Chaired Judiciary Committee during contentious U.S. Supreme Court nominations of Robert Bork (rejected) and Clarence Thomas (approved).
Strong supporter of nuclear arms limitation with Soviet Union.
Opposed first Gulf War. Condemned President George W. Bush's handling of Iraq War, particularly 2007 troop surge. Voted against authorizing Gulf War in Iraq in 1991, but strong supporter of 2001 war in Afghanistan.
Routinely listed as one of least wealthy members of Senate, worth between $59,000 and $366,000. Current estimate: about $262,500.
Is a high-performance gaffe machine. "In Delaware you cannot go to a 7-11 or a Dunkin' Donuts unless you have a slight Indian accent. I'm not joking." At rally heard local politician was in crowd, insisted he stand up. Twice, three times. Finally, saw man was wheelchair-bound. On early days of campaign said of Barack Obama, "You got the first mainstream African-American who is articulate and bright and clean and a nice-looking guy."
Dan Payne is a Democratic political analyst for WBUR and a contributor to The Boston Globe.