'It's Like Being Inside A Rainbow'—'Pentalum' Comes To Boston's Lawn On D
This article is more than 7 years old.
Imagine a giant, inflatable row of castles. Or Technicolor beehives. It's "Pentalum" by Architects of Air from England and it opens in Boston this weekend. "It's like being inside a rainbow," says exhibition manager Gabriel Burden. "It's very peaceful and takes you away from the outside world."
"Pentalum" is the latest temporary, pop-up, all-ages playground at Lawn on D, the outdoor event space at 420 D St. in Boston, next to the Boston Convention & Exhibition Center. It's open from 1 to 7 p.m. on May 28 and 29 and noon to 6 p.m. on May 30 and 31. Admission is $5.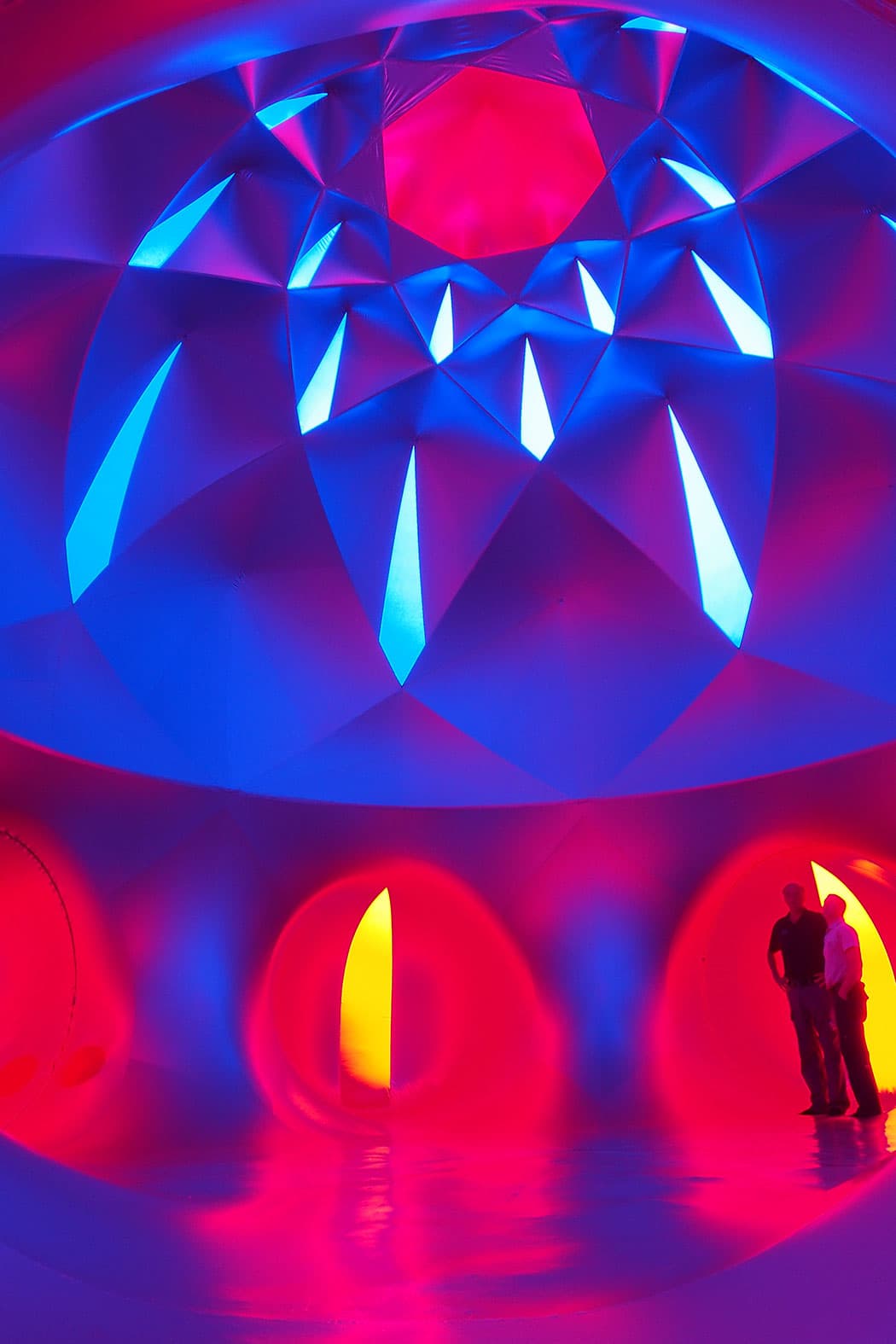 From the outside, "Pentalum" resembles a village of star- and crystal-shaped tents, rising 20 feet tall and stretching 180 feet long. Inside the inflated structures, you explore a series of round passages that open onto domed chambers. The rooms glow blue, red and green as ambient music hums. Lawn on D describes it as "one part science-fiction space station, one part colorful dream, one part futuristic playground."
The walls are colored plastic. "It's the natural light from the sun that comes through and makes the different colors," Burden says. "That's what makes it particularly beautiful."
The structure is designed to welcome all ages, as well as people in wheelchairs. Is it a good place to bring a date? "It's certainly romantic," Burden says. "Sometimes we have to keep buckets of cold water ready for couples who get a bit carried away."
Does it help to arrive stoned? "You feel stoned anyway," Burden says. "I think it's great just as you are."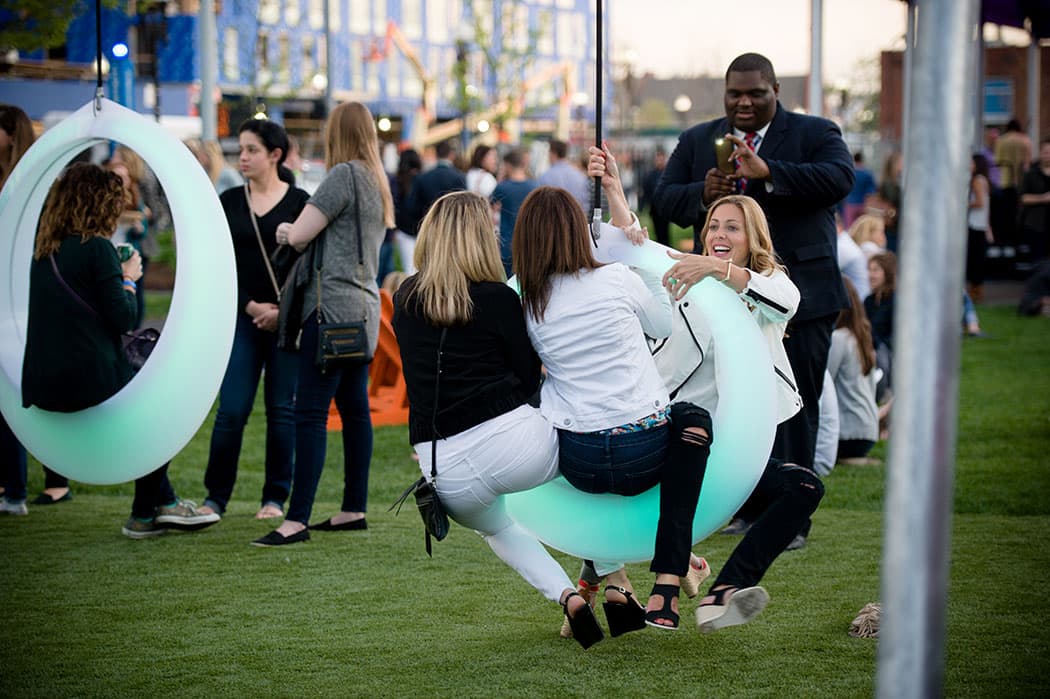 Lawn on D is a project of the Massachusetts Convention Center Authority, which launched it last summer as an 18-month try-out for its plans to develop year-round programming next the Boston Convention Center. It opened last year with swings for adults designed by Eric Höweler and J. Meejin Yoon of Höweler + Yoon Architecture in Boston. They're back again now, collecting solar energy during the day to glow green at night. In January, Lawn on D offered an ice maze. And in February, visitors could sled down a temporary, two-story tall, 70-foot-long snow hill.
The Lawn on D try-out period is scheduled to conclude around October.
Update: "The Lawn on D was originally scheduled for an 18-month experimental period, after which we would need to close it to proceed with our BCEC expansion construction," according to a statement from the Massachusetts Convention Center Authority. "With the BCEC expansion currently on pause, the Lawn on D will remain open and we will continue with programming for as long as we can."
Greg Cook is a co-founder of WBUR's ARTery. Follow him on Twitter @AestheticResear or on the Facebook.