Nearly 20 Years Later, The Legacy Of Atlanta's Olympic Venues Is Still Being Written
Play
This article is more than 7 years old.
Third in a three-part series. Here's Part 1 and Part 2.
ATLANTA - What do you do with Olympics venues when the Olympics are over? It's a key planning question, and Atlanta's experience with the 1996 Summer Games leaves some lessons for Boston.
Atlanta's Olympic Stadium, converted into a baseball stadium for the Atlanta Braves after the games, has proven to be a huge success for the city. But that success may have come with an asterisk: The Braves are planning to move to a new stadium at the end of the 2016 season.
Stadium's Future Is Up In The Air
Turner Field, the former Olympic Stadium, stands about two miles south of downtown Atlanta.
"I love this stadium. When I think of Atlanta, I think of Turner Field," Becca Nama says during a recent game. Nama lives in the suburb of Peachtree City and was born two years before the Olympics came to Atlanta. "I grew up here every summer, and I just think part of the experience is going downtown afterwards, like seeing the skyline and everything. I don't know, that's just how I think of baseball now because I grew up with it like that."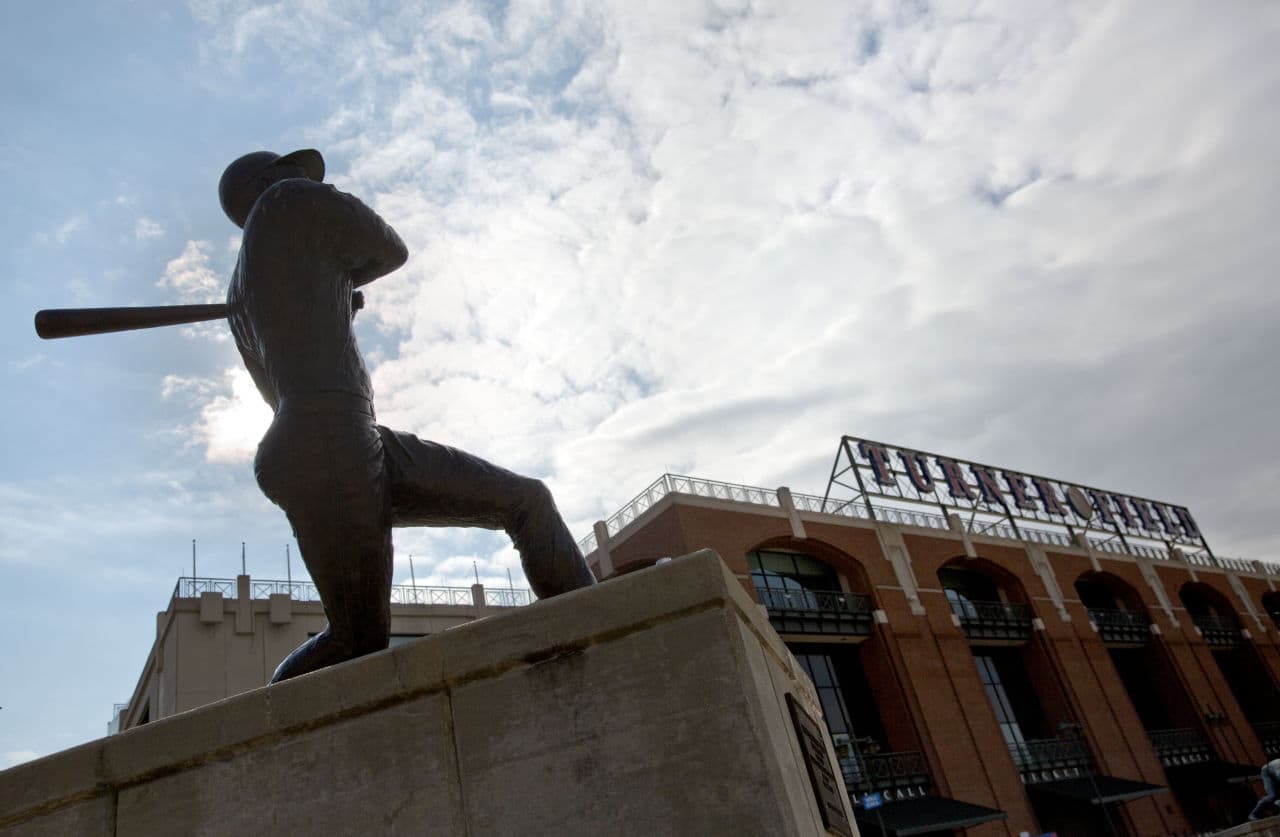 Some high schools hold their proms here at the field. Further down in the same grandstand, Dalton Beal, from the suburb of McDonough, says he grew up here watching his team play.
"I love Turner Field. I do," Beal says. "Hold on, let me do the chop!" (This fan ritual is controversial, many American Indians find it offensive.)
But especially for older fans, such as Zaskry Lindsey, there's an extra layer of cultural meaning here — because this was the Olympic Stadium back in 1996.
"That's something else! Olympics in Atlanta, Georgia! Downtown, by downtown, by the state capitol? You'll never see that in other cities, maybe," Lindsey says.
It was here in this stadium during the opening ceremony of the 1996 Summer Games that Muhammad Ali lit the Olympic flame.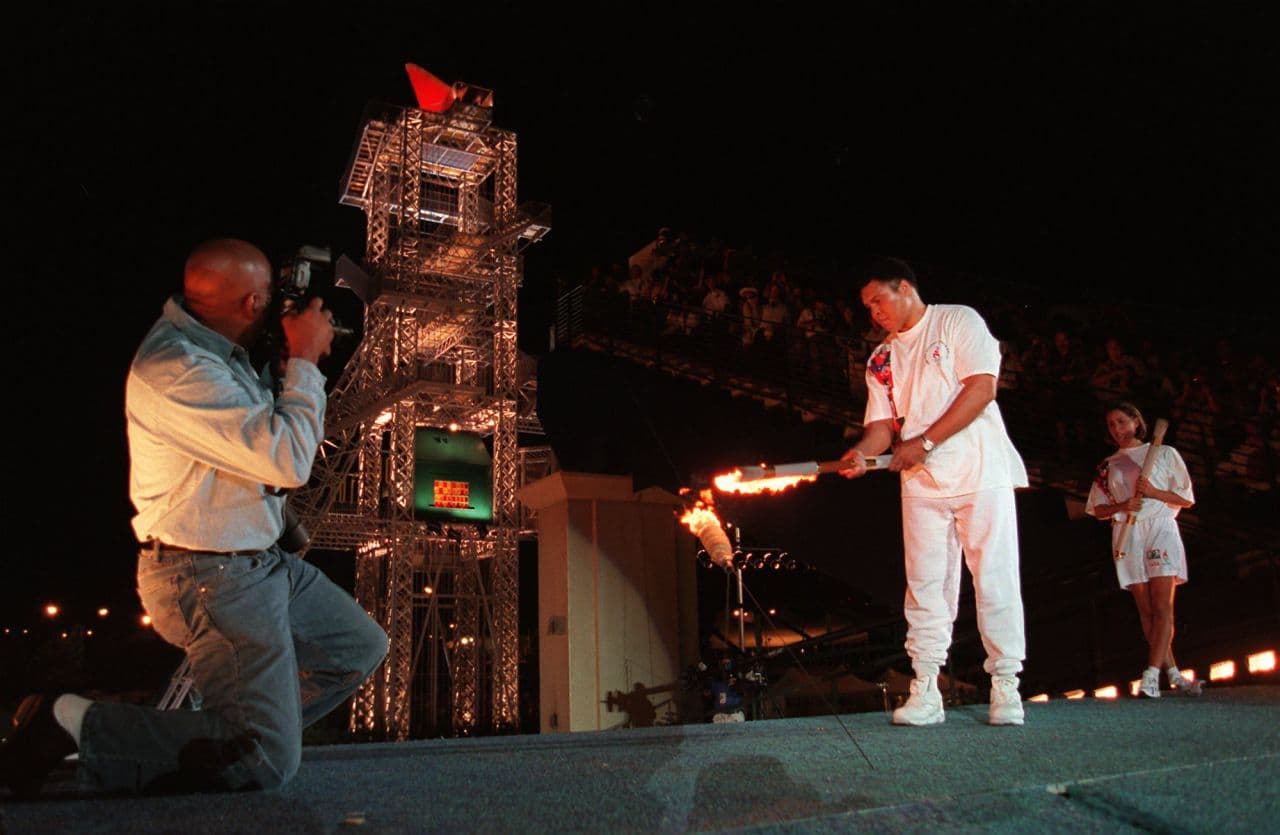 Atlanta's Olympic organizers built this stadium with $200 million of private money, from ticket sales and sponsorships. Right after the games, the 80,000 seat venue was converted into a 50,000 seat baseball stadium.
"Never forget for all the future years that we are able to enjoy this stadium," Braves President Stan Kasten said in April of 1997, at the home opener. "We are so proud to have done this in the city of Atlanta without one penny of taxpayer money."
"Beauty of this place, a public sports facility really funded by the Atlanta Olympic Games budget, and the Atlanta Braves," says Mike Plant, the head of business operations for the Braves. He's also an Olympian — a speedskater in Lake Placid. "You know, if you look around the world, those stadiums and facilities are very challenged once the games leave."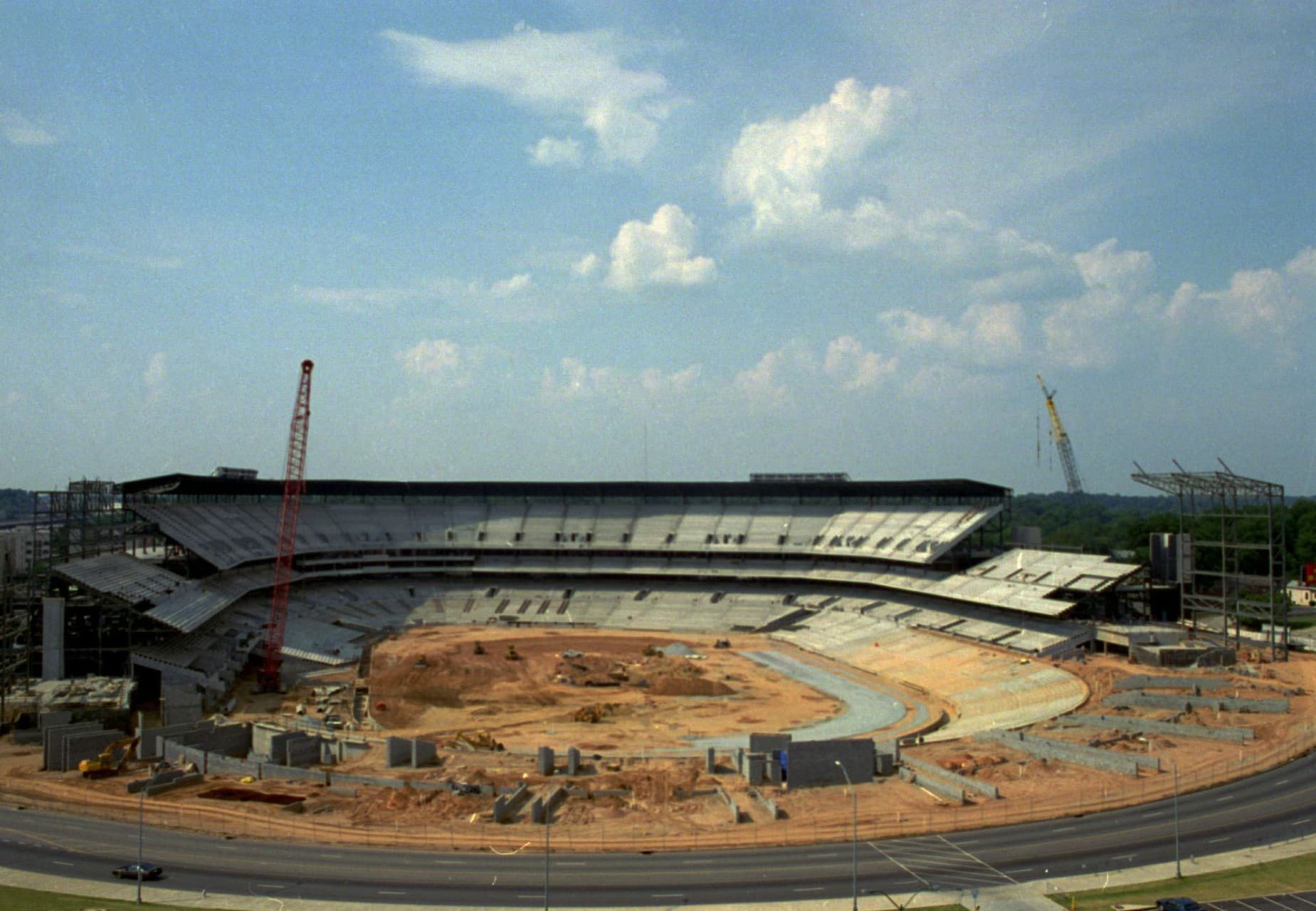 But Plant says Atlanta, like Los Angeles before it in 1984, bucked that trend. For instance, Atlanta sold its velodrome and moved it after the Olympics. The aquatics center became Georgia Tech's campus recreation center. On the other hand, the Olympic tennis complex, where Andre Agassi won gold, now stands deserted.
Still, Atlanta largely avoided the fate of unused venues, of so-called "white elephants." A recent Norwegian and Danish study says no venue built for a major sporting event since has been more effective than Turner Field.
Plant says Atlanta built a basic, no-frills, sustainable stadium, instead of trying to wow the International Olympic Committee.
"There were a few IOC members that took a little umbrage to the fact that we turned it into a baseball stadium," Plant says. "Obviously, the alternative to that is, let it sit here and let's talk about how many track and field events would we have with 80,000 seats?"
Not many, he says. Nowhere close to 80-plus baseball games a year.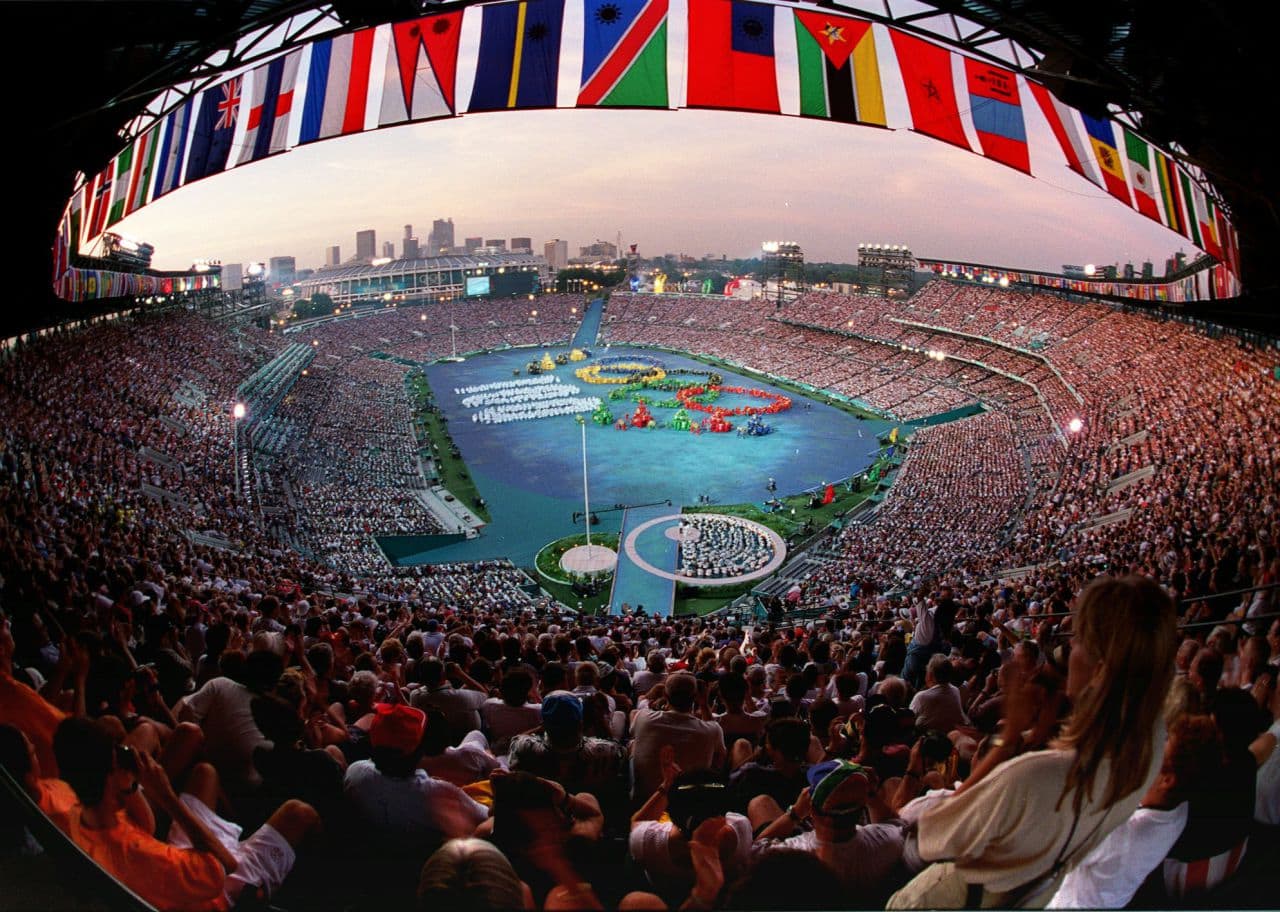 In the two decades since the Olympics, the Braves have invested more than $140 million in Turner Field.
"When you have to replace every seat in this place it's $15 million. You have to replace all the lights? It's $5 million. Paint the steel? $3 million. You can blow through $100 million real quick," Plant says.
But soon that Braves run of heavy use and maintenance will come to a close. After the 2016 season, the Braves plan to leave Turner Field for a new stadium. Plant says the new Cobb County site is closer to the heart of the Braves fan base.
"And, you know, we've played 18 great years here. We probably would be here a lot longer," Plant says. "We had another vision to create a mixed-use development, and over a period of years we just couldn't reach an acceptable arrangement with the ownership entity, the rec authority, the city of Atlanta and the county. So we're moving on, moving just 12 miles north of town."
Legacy Of Atlanta's Olympic Facilities Still Being Written
For some Braves fans, like Beal, it's too soon to leave Turner Field.
"I feel like it's still got life, you know," Beal says. "And it's my childhood. I grew up coming to Turner Field to watch the Braves play, and it's tough to see it go."
His friend Preston Cullom agrees.
"I feel that heritage has more value than a new ballpark, if that makes sense," Cullom says.
That heritage includes the Olympic history, says Braves fan Sam Wisher.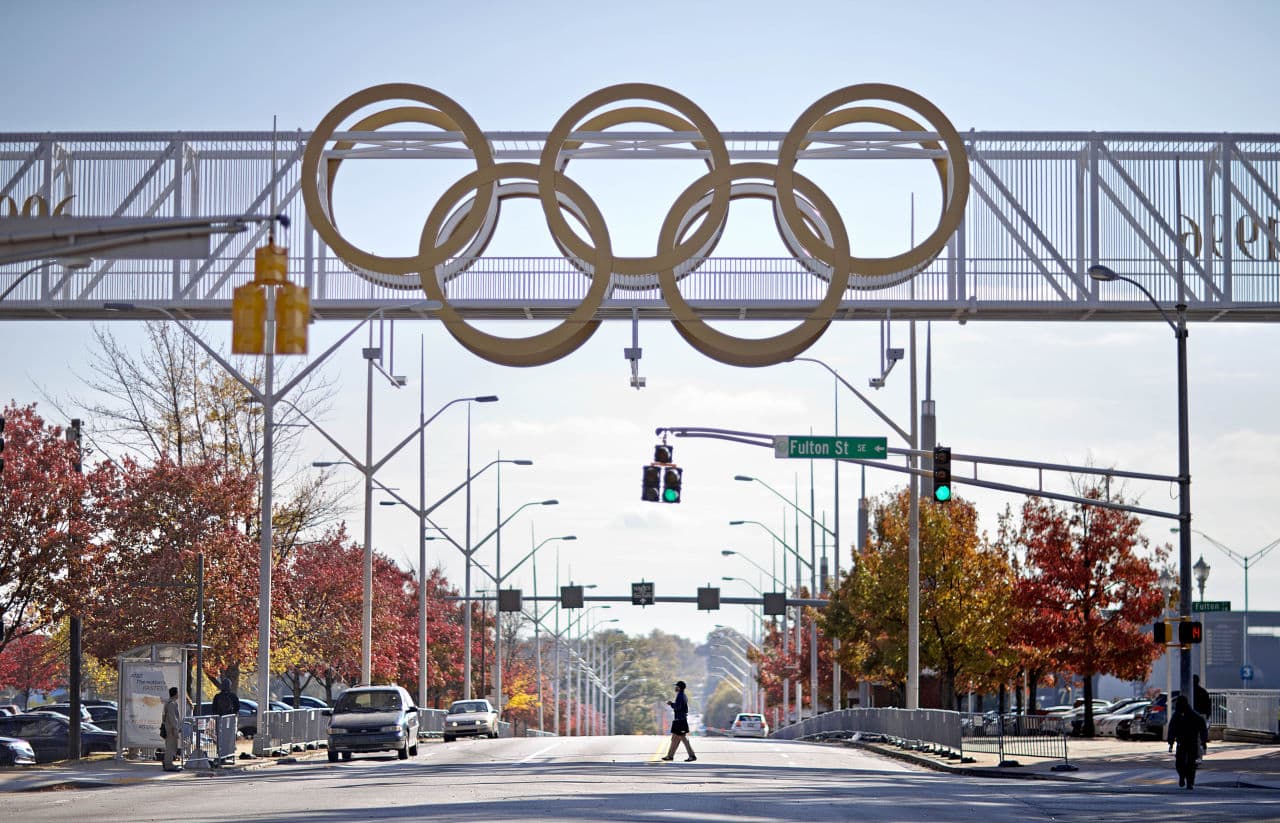 "That part's kind of sad, the fact that this used to be the Olympic Stadium, because I'm not quite sure what use they'll have for it now," Wisher says.
Its future is now up in the air. This week, Georgia State University met with members of the surrounding community to discuss its hope to turn Turner Field into a smaller football stadium. The $300 million proposal would also transform the surrounding space into classrooms and athletics facilities.
That proposal would make Atlanta's the third Summer Olympic stadium in the U.S. to be used for college football, along with St. Louis' Francis Field and the Los Angeles Coliseum.
But Georgia State's plan is just one of several proposed developments for Turner Field. Even Braves fan Becca Nama has her own idea.
"Yeah, I think it's good to go, I don't see anything wrong with this stadium," Nama says. "Honestly, I want to know what they're doing with the Jumbotron. I got a good place for it."
Atlanta can look back proudly on its continued use of its signature Olympic venue. But nearly 20 years later, the legacy of Atlanta's Olympic sports facilities is still being written.
This segment aired on June 5, 2015.