Messy Red Sox Fall, Twins Break Tie In 9th On Sandoval Error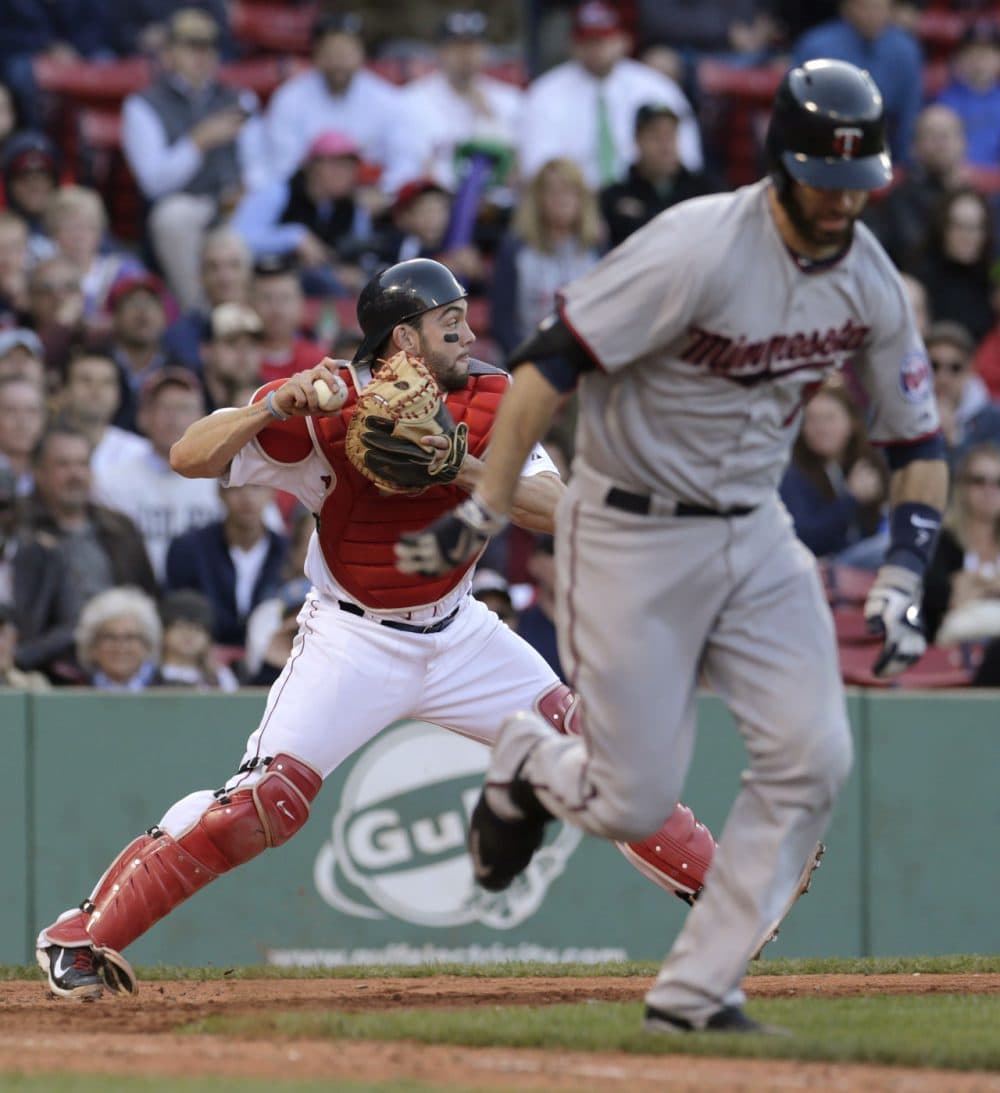 This article is more than 5 years old.
A bad performance on the basepaths and a sloppy show in the field doomed the Boston Red Sox.
Third baseman Pablo Sandoval mishandled a throw on a bunt in the ninth inning, triggering a four-run burst that carried the Minnesota Twins over Boston 8-4 Thursday for a four-game split.
"It's lapse of concentration," manager John Farrell said. "That's the only thing I can explain right now. They're routine plays, plays that guys have made throughout their careers consistently. That was not a display of it today."
The Twins trailed 4-0 going into the fifth. It was 4-all in the ninth when Minnesota put runners on first and second with no outs against Koji Uehara (2-3).
Joe Mauer bunted and catcher Blake Swihart threw to third - low, but catchable- and the ball went under Sandoval's glove, allowing Brian Dozier to score the go-ahead run.
Trevor Plouffe followed with an RBI single off Uehara before Eduardo Escobar doubled home a run and Shane Robinson had a sacrifice fly off Craig Breslow.
"It's tough," Sandoval said. "You have to keep your head up. Tomorrow's another day, that was a tough game."
Swihart hit his first major league homer and Dustin Pedroia also had a solo homer for Boston, which has lost eight of 11 to fall seven games under .500 in the AL East's basement.
"The best way I can describe it is we made both physical and mental errors in this one, particularly in the second half of the game," Farrell said.
Torii Hunter hit his 200th home run in a Twins uniform and added two singles. Hunter's career 339th homer was a three-run shot.
Kurt Suzuki singled three times, helping Minnesota to its ninth win in 12 games.
Aaron Thompson (1-1) worked one scoreless inning for the victory.
Boston built its early lead on the homers by Swihart and Pedroia, and two unearned runs.
The Twins rallied in the fifth when Hunter homered off a billboard above the Green Monster seats.
In the sixth, Sandoval threw away a two-out grounder for a two-base error and Suzuki singled home the tying run.
Swihart hit his home run completely out of Fenway Park, clearing the Monster seats to make it 3-0 in the third. Pedroia led off the next inning with a drive to left.
Twins starter Tommy Milone, recalled from Triple-A before the game, gave up four runs - two earned - and nine hits in five innings.
Red Sox starter Steven Wright gave up six hits in six innings.
HOLD UP
Hanley Ramirez, on second with one out in the seventh, was tagged out by the third baseman on a groundball to third. Xander Bogaerts then singled to right-center and Mike Napoli was cut down easily trying to score all the way from first.
"It was an aggressive decision," Farrell said. "We're forcing the issue there a little bit. Unfortunately, it did not work out."
TOP HITTER
Pedroia went 8 for 17 in the series.
TRAINER'S ROOM
Red Sox: RHP Justin Masterson, on the 15-day DL with shoulder tendinitis, was scheduled to make his second rehab start Thursday, working for Double-A Portland.
UP NEXT
LHP Wade Miley (4-5, 4.97 ERA) is slated to face Oakland LHP Scott Kazmir (2-3, 2.93) when the clubs start a three-game series on Friday at Fenway. Miley was tagged for six runs in four innings, taking the loss last Saturday at Texas.