Red Sox Stall Back At Home, Lose 6-4 To Orioles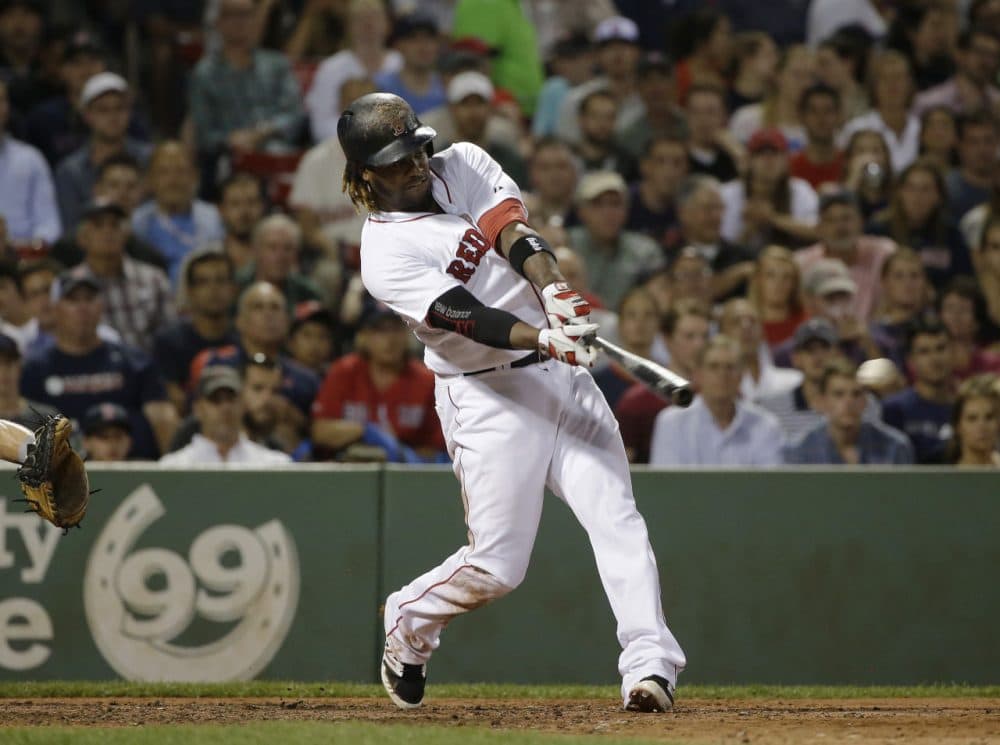 This article is more than 5 years old.
What little momentum the Boston Red Sox had wasn't enough to overcome Baltimore's four-run second inning.
David Lough's three-run homer gave the Orioles 4-0 lead in the second and Baltimore held on for a 6-4 victory over Boston on Tuesday night.
Red Sox starter Joe Kelly struggled with his command and allowed eight of Baltimore's 11 hits before leaving after 3 2/3 innings.
"We were able to scratch out some runs. We just weren't able to finish it off," said Brock Holt, whose strikeout in the sixth ended a potential rally and led to the ejection of Boston manager John Farrell.
Both Farrell and Holt thought the pitch was outside and Farrell let umpire Tim Timmons know from the top step of Boston's dugout.
"He gets called out on a pitch that's probably a couple of baseballs off the plate away and (I) disagreed with it," Farrell said. "I said a thing probably one too many times."
The Red Sox returned from a promising road trip with renewed hope after winning three of their last four games and four of six. They remained a distant last in the AL East but showed signs that their weak hitting was improving.
Boston scored single runs in the third, fourth and fifth off Ubaldo Jimenez (6-3), who had eight strikeouts in five innings.
The Red Sox had a chance to tie it in the ninth after Dustin Pedroia's two-out, run-scoring double. But David Ortiz lined out to third as Zach Britton earned his 20th save.
Lough, starting for the sixth time in seven games in place of injured center fielder Adam Jones, connected off Kelly (2-5) after a sacrifice fly by Ryan Flaherty.
"There's no questioning the stuff. It's just the ability to stay with a consistent game plan because of the mislocated pitches," Farrell said. "He missed off the plate, then when he mislocated in the zone it was a good pitch for them."
The Red Sox cut the lead to 4-1 in the third on a single by Sandy Leon, a double by Mookie Betts and a run-scoring groundout by Holt. They made it 5-2 in the fourth when Hanley Ramirez singled, advanced on a wild pitch and scored on a single by Pablo Sandoval.
They drew within two runs in the fifth when Pedroia and Ortiz walked with two outs and Ramirez singled in Pedroia.
But after Flaherty walked and was sacrificed to second by Lough in the sixth, Manny Machado doubled him home.
JOE'S WOES
Kelly is 1-5 since winning his first start of the season. He has allowed 20 hits in his last three starts, two no-decisions and the loss Tuesday night.
"We're certainly well aware of some of the up and down path it's been for Joe to this point," Farrell said when asked about Kelly's future in the rotation.
NO STEALING
Boston C Leon caught one runner stealing, picked off another who strayed too far off first and helped fend off a double-steal attempt by Baltimore.
The Orioles had runners at first and third and sent both at the same time. Boston had it covered and Leon threw a direct strike to shortstop Xander Bogaerts, who threw it right back home where Leon caught it and tagged out Chris Parmelee.
TRAINER'S ROOM
Orioles: Jones sat out for the fifth time in the last seven games with an injured right shoulder. He was the designated hitter in the other two. Jones is hitting .298 with 10 homers and 36 RBIs.
Red Sox: C Blake Swihart missed his second straight game with a sprained left foot, but Farrell said he hopes Swihart can play Wednesday night. 3B Sandoval started after missing Boston's last game with a sprained left ankle and went 3 for 4.
UP NEXT
Red Sox: Clay Buchholz (4-6, 3.87) tries to continue a solid stretch in which he's allowed two runs or less in five of his last seven starts. In his last outing, he allowed two earned runs in seven innings in a 5-2 win at Atlanta.