WWII Marine Finally Laid To Rest In His Massachusetts Hometown
03:24
Play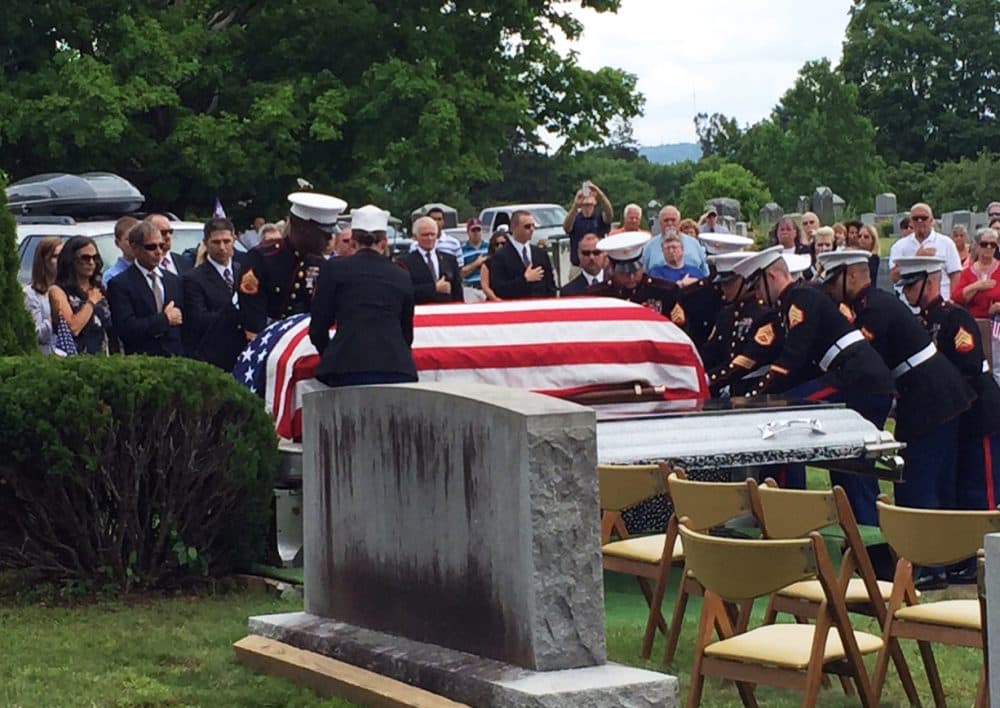 This article is more than 5 years old.
The remains of a Marine Corps officer, killed in the South Pacific during World War II and discovered only last year, have been laid to rest in his hometown in western Massachusetts.
The last of his relatives traveled a long way back to his home in Westfield for the ceremony, but Capt. Richard Vincent had come much farther: From 2,500 miles southwest of Hawaii, in the islands of the South Pacific and the atoll of Tarawa — where the U.S. military began its island-hopping offensive toward Iwo Jima, Okinawa and Japan in World War II.
"The resulting struggle produced one of the fiercest and bloodiest battles of Marine Corp history," explained Fran Curnow, the commandant of the Massachusetts Marine Corp League, during the ceremony on Thursday.
Vincent was 5 feet 6 inches tall and 24 years old. He grew up on farmland on Little River Road along the Westfield River, back when rural Westfield was known as the buggy whip capital of the country and the home of the apple known as the Westfield Seek-No-Further.
But it was far from home that Vincent found himself on the first day of the battle in which 1,000 Marines died on Nov. 20, 1943.
"Coming in at low tide, the assault boats were forced to disgorge their men far from shore, wading through the waist-deep water and sharp coral. Over 500 men never made it to the shore," Curnow said.
Vincent's niece, Bobbi Keller, came to Westfield from Colorado with her children and husband. Standing in the Pine Hill Cemetery, Keller recalls that her father, Vincent's brother, would only ever say Vincent died in combat.
"I had music lessons as a child, I couldn't play the 'Battle Hymn of the Republic.' I was not allowed to play it in the house. It was very emotional for my father," Keller said.
For Vincent's brother, the pain brought silence. A few years after the war, Vincent's parents died in Westfield, but not before they erected a memorial stone for their son.
Vincent's brother and his family moved away from Westfield, so there was no one left and the brother said nothing about the memorial.
"I just knew he died, and they didn't tell me the remains were not found, they didn't tell me they put a memorial stone here or anything," Keller said.
The stone reads "We live by deeds, not by years."
With the Vincent family gone, Westfield seemed to forget that his remains had never come home.
Then came the discovery of bones and a set of dog tags back under a runway on Tarawa last year.
Almost 72 years later and a half a globe away, Vincent and his last remaining relatives had returned to Wesfield for his full military burial.
"No one left behind," declares the U.S. Marines. To a local army captain and state representative, John Velis, there's another principle. Though his relatives have left, Westfield will always be Richard Vincent's family.
This article was originally published on July 03, 2015.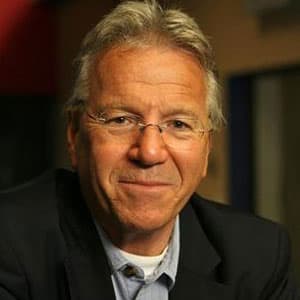 David Boeri Senior Reporter
Now retired, David Boeri was a senior reporter at WBUR.