Giant, Light-Up Bunnies Coming To Boston's Lawn On D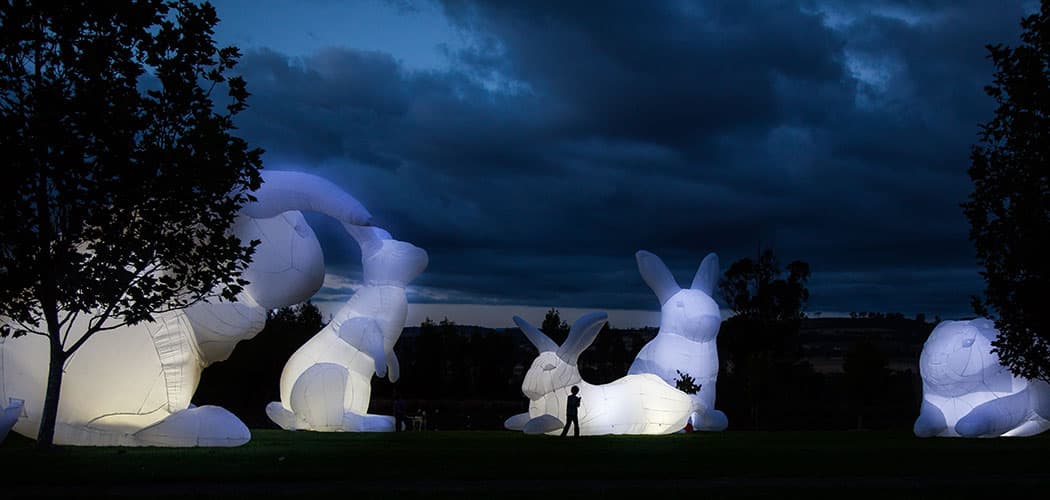 This article is more than 7 years old.
Five bunnies, rising two-stories tall, lit white from inside. Beginning Thursday, these giant critters will be lounging around The Lawn on D, the outdoor event space at 420 D St. in Boston, next to the Boston Convention & Exhibition Center.
"I like people have a sense of awe and wonder when they first approach the work," says Amanda Parer, the 44-year-old Australian artist in town this week to keep an eye on the latest adventure of her monumental, inflatable rabbits.
"Intrude," as the bunnies are known, is available for visits for free from 5 to 9 p.m. Thursday, July 9; from noon to 10 p.m. Friday and Saturday, July 10 and 11; and from noon to 8 p.m. Sunday, July 12. (The sculptures are taken down each night.)

At first glance, these rabbits appear wicked cute. But their size can strike an ominous undertone. Which is what Parer is hinting at with the title. They're like the animals of fables—with morals at the ends of the tales.
"These are animals we remember from childhood stories," Parer says. "I use them as a hook to get people in. Hopefully, they'll dig a little deeper."
Specifically, in this case, she explains, "The rabbit was introduced [to Australia] by the first white settlers in 1798," shipped in from England. "They brought species like the rabbits as a food source and for sport. … We've been trying to eradicate them basically without any success at all."
"Intrude" she says, is "about us, Westerners, Europeans, coming to Australia and dramatically changing the space. Not only bringing introduced species, but also having a dire effect on the indigenous peoples there. As a culture, we haven't come to terms with that."
Previously Parer had mainly been active as a painter, creating scenes of giant rabbits or deer lumbering across Australian fields. Sometimes the animals turned translucent, like ghosts. She began creating sculptural and installation works, like groups of foot-long ceramic rabbits painted with images of extinct flowers or barren landscapes from 2011.
Then last year, Parer had a hit when she went huge, hiring people to stitch together giant rabbits to her specifications. "Intrude" debuted at 2014 Vivid Sydney, billed as a "festival of light, music and ideas," and has traveled to Belgium, France, England, Italy, Canada and now Boston.
"Environmental art can be pretty soapboxy," Parer says. "I like to use humor and beauty in messages."
Greg Cook is co-founder of WBUR's ARTery. Follow him on Twitter @AestheticResear or on the Facebook.