Forecast: Torrential Downpours And Scattered Thunderstorms May Hit Area Today
There's a lot of moisture in the air this morning and this is going to translate into the possibility of torrential downpours in scattered thunderstorms later this morning and into the afternoon.
As I write this a line of showers and thunderstorms is pressing eastward from New York and far western New England. This is in association with a cold front and as that front passes the area drier and cooler air will replace the tropical air mass presently in place.
West of Boston, the showers will likely occur before 2 p.m. and in Boston they will be over before the evening commute. To the south of Boston, the showers and storms will linger into the evening and could impact the ride home especially over Cape Cod.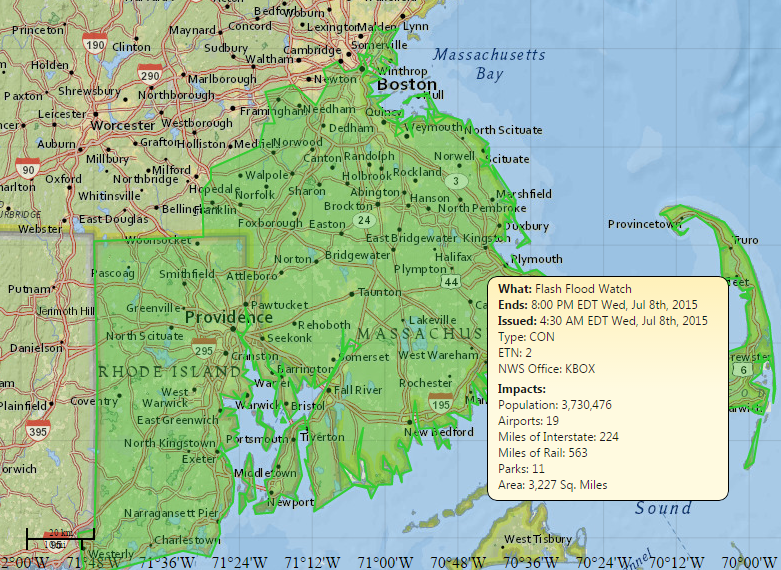 The National Weather Service has issued a flood watch due to the possibility of urban street flooding from about Boston south through Cape Cod. This is an indication of all the available moisture in the air.
The front will slowly press south of the area Thursday, but linger close enough to leave us with clouds and significantly cooler readings. Highs Thursday stay in the 70s. The cool weather doesn't last.
Friday through the weekend are shaping up to be three days of fantastic July weather with abundant sunshine and warm temperatures. Tides will be high early in the morning over the weekend as water temperatures continue to warm through the 60s.
Early next week another series of fronts may bring back the chance of some showers, but it will continue to be warm with plenty of opportunity to be outside and enjoy July.
---
Today: Warm and muggy with scattered showers and storms pushing eastward through the area from about 11 a.m. to 6 a.m., lastly on Cape Cod. Highs in the 80s.
Tonight: Slowly turning drier with clearing. Lows in the 60s.
Thursday: Lots of clouds and much cooler. Highs 72-78. Small risk of a shower.
Friday: Mostly sunny highs in the lower 80s.
Saturday: Sunny, with a high in the mid 80s.
Sunday: Mostly sunny, with a high in the upper 80s.