A Well-Told Tale Of Missing, Finding Connections In 'I Saw My Neighbor On The Train ....'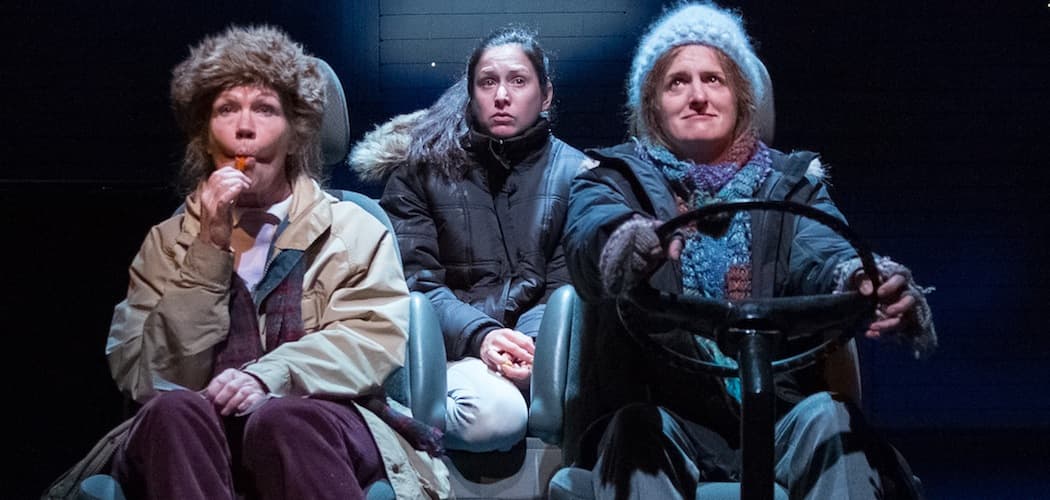 This article is more than 6 years old.
Through most of her performance as Rebecca, a perpetually put-upon single woman who is asked to take care of her brother's daughter in "I Saw My Neighbor On the Train and I Didn't Even Smile," Keira Naughton projects a sensibility so tightly wound it seems she might suffocate.
She's a woman who always says "yes and yes and yes and yes" when other people lay their problems at her feet and expect her to help, Rebecca says in Suzanne Heathcote's smart and sensitive script. But toward the end of the play, receiving its world premiere at Berkshire Theatre Group in a co-production with New Neighborhood, she puts a halting but articulate voice to the loneliness that gnaws beneath.
"I don't understand why there are so many of us feeling this. Aching in this," she says. "Why don't we all just—why are we all going through it on our own?"
It's a question that's no less simple for its persistent ability to befuddle.
Heathcote doesn't quite go for the jugular in this sad but mysteriously warm story of dislocation and alienation, which is directed here with great touch by Jackson Gay. She's ultimately more interested in the ways people find to get through each day than on the things that might otherwise keep them from getting out of bed. And if this production neither pushes the bleakness of contemporary urban life nor betrays itself with a big-hug finale, it finds truth in its teasing out of the fear, love and sense of obligation that can simultaneously hold a family together and sour its members against each other.
Rebecca's new ward is Sadie (Ariana Venturi), her 15-year-old niece, who is dispatched to Illinois from her home in California ostensibly to let things cool off after making a sex tape that goes public. But as we hear more about her father Jamie's (Andrew Rothenberg) coming nuptials, it seems her place in his new life is in doubt.
Sadie's arrival provides a reason for Rebecca to re-think her life, most notably her relationship with her bitterly sarcastic mother (Daphne, played with a tart sensitivity by Linda Gehringer), who has long since alienated the rest of the family. Rebecca has been actively mourning her dog for over a year, but it's clear there's a bigger emptiness within.
Venturi is something close to brilliant as Sadie, projecting the teenager's self-protective cynicism without lapsing into caricature. She laces her affect with just the right blend of plaintive vulnerability and seeming disgust with the adults around her. Sadie's tentative friendship with nerdy classmate Eric (a just-right Adam Langdon) suggests to her she has assets beyond her nascent sexuality, though she's slow to believe it.
In Venturi's hands, Sadie is fully believable as a teen with the self-possession to get her own way at the expense of further isolating herself. So when she coaches Rebecca through an awkward experiment with a dating app, their shared conspiratorial glee is affecting.
There's a sort of emotional violence running through things here—tellingly, when Sadie and Daphne find common ground it's over a video of another woman's humiliation—and we get both an accounting of old familial wounds and a view of fresh damage in process. Daphne rues the fact she's pushed others away but seems unable to stop it. When given a simple choice to protect his family, Jamie tells himself there's no solution. Rebecca replays the missed social connections of her days, ramping up toward the triumph of sharing a casual greeting with a fellow commuter.
The play's many scene changes are achieved with help from Paul Whitaker's spare but realist scenic design, and Jessica Ford's costumes are right on point. Gay, like several others among the company's members, is a member of the New Neighborhood collective, which makes its debut with this show. (Among the other collaborations on its docket is one later this year with New York's Atlantic Theater Company.) This premiere brings great verve and energy to Berkshire Theatre Group's cozy Unicorn Theatre, making a case for the troupe's facility with new work.
To its credit, "I Saw My Neighbor On the Train and I Didn't Even Smile" doesn't claim to give many answers to the questions it poses. But it offers us just enough hope that things will get better for these people, that they'll find ways to connect without self-destructing. And that's ultimately enough—for them and for us—if only because it has to be.
---
Jeremy D. Goodwin contributes regularly to The Boston Globe, The ARTery (where he is also an editor), Berkshire Magazine and many other publications. See more of his work here. Follow him on Twitter here.