'Unknown Soldier' Ably Finds Its Feet In Williamstown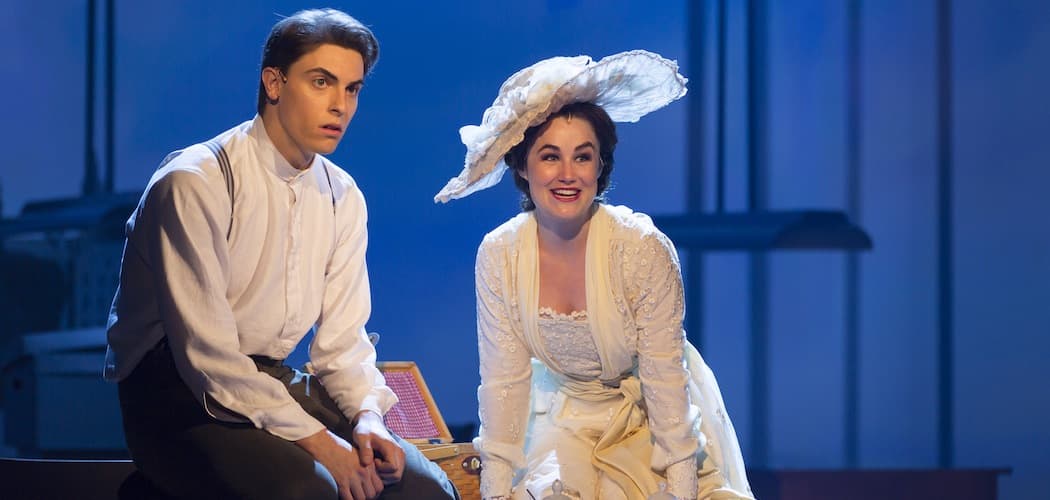 This article is more than 6 years old.
What's hiding in your closet? For Ellen Rabinowitz, the protagonist of the new musical "Unknown Soldier," there's a magazine clipping that sends her on a quest to solve a mystery about her family's past and, in so doing, ask some new questions about her future.
Ellen, played convincingly in this entertaining world premiere production at Williamstown Theatre Festival by Jessica Phillips, was raised by her grandmother Lucy, who has just died. She's cleaning out Lucy's house when she finds that mysterious clipping, which she remembers seeing as a young child. It dates to World War I, with a photo of her grandmother in the full blush of youth, having a picnic with a man described as the "unknown soldier." It's a particularly confusing slice of wartime life, because Ellen's grandfather never made it back home.
This production has a lot to recommend it, including a host of very fine performances and fluid direction from Trip Cullman that lovingly nudges all the pieces toward each other, even if they don't quite fit. The music is by Michael Friedman (the much-admired "Bloody Bloody Andrew Jackson") and the book is by Daniel Goldstein (mainly known as a director); they collaborated on the lyrics, which frequently exhibit a gentle poetry.
Yet, "Unknown Soldier" has a lot crammed into it—too much for its one-act, 90-minute format, and not yet enough to carry a longer treatment. The central mystery is pretty thin and yields its secrets early. The love story on which it turns is not terribly convincing, and depends on the audience ignoring the implications it would have had in these people's lives. And the latter-day timelines in this time-hopping story—occurring in 1973 and 2003, plus a denouement 10 years later—are integrated very cleanly into the whole, but suggest more depth than they eventually achieve.
At the top of the show, the younger, 1973 version of Ellen delivers an appealingly quirky song with a quick primer on World War I; Clara Young's performance in this role bypasses any cute-kid point scoring with its naturalism and charm. It's a great marriage of material and performer.
We're soon introduced to Andrew (Erik Lochtefeld), a Cornell University librarian who effectively provides exposition until we get the hang of the time shifts. Phillips, who was seen on Broadway most recently in "Leap of Faith," quickly establishes adult Ellen as a mildly exasperated sort whose work as an OB/GYN fills any gaps left in her life by an unhappy marriage that appears to be more exhausted than combative.
Ellen enlists Andrew to help solve the mystery of her grandmother's picnic with the mysterious soldier, which happened on the grounds of a hospital that has since been re-purposed by Cornell. If you've been wanting to see an email exchange rendered into conversational song, it's done very well here.
It's indicative of the wealth of riches in this creative team that Tony-nominee Lauren Worsham ("A Gentleman's Guide to Love and Murder") unfurls her operatic soprano as wartime Lucy, a role that obviously is narratively crucial but really doesn't give her a whole lot to do. Still, she's fully convincing as a lovestruck war bride. As the older, 1973-era version of Lucy, Broadway veteran Estelle Parsons (also an Academy Award winner for "Bonnie and Clyde") is suitably grouchy, and given a chance to add some lovely nuance near the end of the show.
Cullman creates a series of beautiful stage pictures, with help from Mark Wendland's scenic design and Lucy Mackinnon's rear-wall projections. The set makes much from a few library tables and bankers' boxes; when a subtle coup de theater suddenly invokes a city skyline, the effect is gorgeous. Costumer Clint Ramos outfits the wartime ladies with sumptuous apparel. The five-person orchestra, seen far upstage, is excellent throughout, ably navigating the bits of early jazz that Friedman has dropped into his witty score and amping up the musical drama for excellent solo showcases for Phillips and the unknown soldier himself, played by Derek Klena.
When a starry-sky projection serves as backdrop for a group of uniformed soldiers and their ladies dancing, as Ellen and Andrew look on through the lens of their imagination, it's the sort of simple but inspired stagecraft that sends you from the theater freshly convinced of the medium's power.
The presence of several well-rendered but very cut-able digressions suggests both that the spine of "Unknown Soldier" is soft, and that an even more ambitious iteration could perhaps succeed if a few themes were expanded further. As is, it's still a winningly diverting piece of theater.
---
Jeremy D. Goodwin contributes regularly to The Boston Globe, The ARTery (where he is also an editor), Berkshire Magazine and many other publications. See more of his work here. Follow him on Twitter here.