Forecast: 'Close To A Washout': It's Going To Rain Most Of Today Before Beach Weather Returns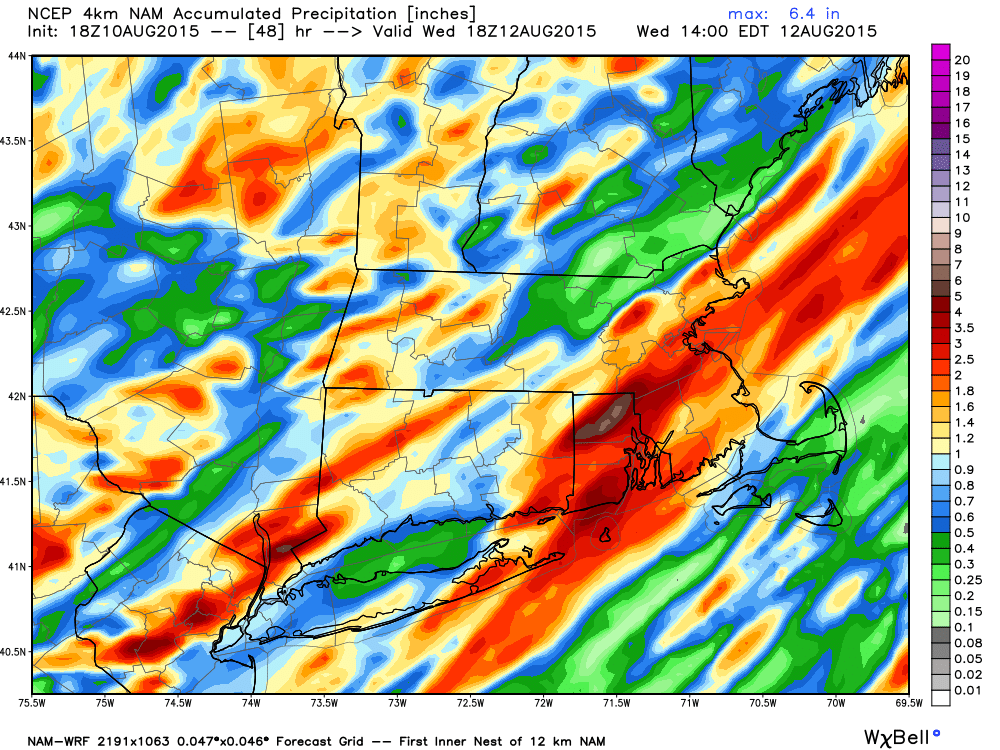 This article is more than 5 years old.
Today is about as close to a washout as you get in the first part of August. Many areas haven't see much rain for the past month so a good soaker is going to be quite welcome. If you are on vacation this week, one day of rain won't ruin it, and I know many people actually like a day of rain to enjoy a good book, some cooking or heading to some stores for shopping.
This morning we find showers, mostly west of Boston poised to move through. Although there might be some shower activity before noon, the bulk of the rainfall will come after noon and during the first part of the overnight. I still expect two main batches of rain, although there won't be much of a clearing between them. The first round of rain is courtesy of a warm front. This will also usher in a day of humidity. The second round of showers is thanks to a cold front which, eventually, will clear the area enough to allow warm and dry air to resume for the remainder of the workweek.
Since June 1, the amount of rainfall hasn't been much below average, but that is mostly thanks to a wet June and some rain in early July. I am expecting up to an inch of rain through Wednesday morning with perhaps some areas seeing up to 2 inches of rain. The image below, courtesy of WeatherBell Analytics shows much of southern New England can expect a healthy dose of precipitation from each of the weather systems.
The evening commute is likely going to be negatively impacted in those areas where there is heavy rain and even possible thunderstorms. There is a small risk that some of these storms could reach severe levels, but this isn't going to be widespread.
On Wednesday, I left in the chance of a shower, mostly north of Boston. However, if it occurs, it will be brief. Wonderful beach weather returns the rest of the week into the weekend. There could be a shower or storm Saturday with another frontal system, but nothing major is in the forecast at this time.
---
Today: Thickening clouds, showers and storms developing and becoming widespread. Turning humid with highs in the 70s. Some storms may contain torrential rain.
Tonight: Showers and thunderstorms early then cloudy. Muggy. Lows 65-70.
Wednesday: A blend of clouds and sunshine. A pop-up shower north and west of Boston. High 79-84.
Thursday: Sunny, with a temperatures around 80.
Friday: Sunny, with a high near 85.
Saturday: Lots of sunshine and warm. Highs in the mid 80s. A chance of a mid-afternoon thunderstorm.
You can follow David's weather updates on Twitter at @growingwisdom.