Van Gogh And Mahler, Audra McDonald And Tina Packer Frolic In The Berkshires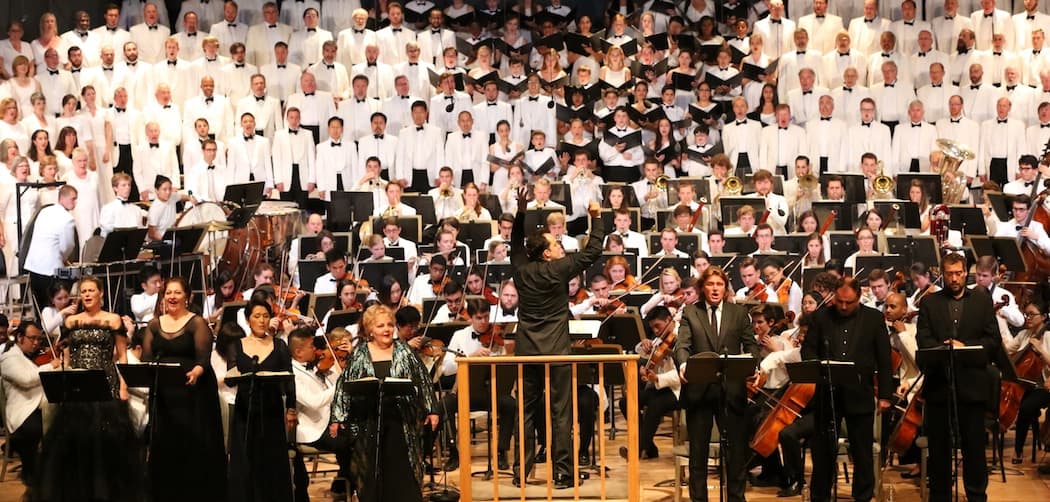 This article is more than 5 years old.
LENOX, Mass. — There's nowhere in New England where art and nature come together as they do in the Berkshires. That's partly what makes Tanglewood so special — even if the sound isn't as great as in Symphony Hall, the surroundings more than make up for it as they did for last weekend's Mahler's Eighth Symphony.
The Clark Art Institute in Williamstown radically remade itself to take advantage of its place in the Berkshire hills. Its current, invigorating exhibition, appropriately enough, is "Van Gogh and Nature."
There's an ecstatic element to both nature and art. Even indoors. One of the plays here, "Mother of the Maid," about the mother of Joan of Arc, deals with the nature of Joan's ecstasy while another, Eugene O'Neill's "A Moon for the Misbegotten," taps into the inability of his characters to engage in anything approaching ecstasy.
Mahler's Eighth

Gustav Mahler knew a thing or two about ecstasy. He wrote nine-plus symphonies getting closer to that state than any other composer. He also got closer to his own neuroticism than just about anyone else.
But in the Eighth he doesn't share his therapy with us. He starts right out crying to the heavens, "Veni, Creator Spiritus / Mentes tuorum visita." That's "Come, Creator Spirit, visit our souls."
Creator Spiritus obliged and Mahler visited us with 90 minutes of sublime music in this "Symphony of 1000." Andris Nelsons only invited 325 or so of his friends onto the Tanglewood podium Saturday night for a spectacular evening of music making. It didn't involve his regular band, the Boston Symphony, but the Tanglewood Center Music Orchestra, advanced-study students. There were also eight soloists and three choirs.
Even though the orchestral playing wasn't up to the singing — there's not much in life that is — this might have been the single most impressive thing Nelsons has done as BSO maestro. These musicians, excellent as they are, are at an age when most people think they're going to live forever. Mahler thought he was going to go any moment. That's where the BSO, under James Levine, could dig much deeper than the TMCO.
Still, it hardly mattered. Both the soloists and the choruses delivered the full force of Mahler's vision and carried the orchestra along with them, particularly in the second half. Nelsons' control of the forces was exceptional. This was the Leonard Bernstein Concert, in conjunction with the 75th anniversary of Tanglewood. Fitting, since Bernstein's performances with the TMC Orchestra were as memorable as his appearances with the BSO. Nelsons' Mahler was a performance that reached the heavens. If Lenny, given his love of both Mahler and the TMCO is up there, I'm sure he was applauding even louder than the enthralled Tanglewood throng.
Van Gogh and Nature

The Clark Art Institute's year-old remastering finds thematic kinship with Vincent Van Gogh in a terrific exhibit of Van Gogh's nature painting (through Sept. 13), even if it is in the museum's basement, cut off from those Berkshires views.
Van Gogh, of course, made Mahler look like Mr. Rogers in terms of neuroses, depression et al. The debate about whether mental illness feeds in to artistic creativity is an old one and Vincent's work would be testimony that it does.
As his mental state deteriorated his artwork grows ever more abstract and forward-thinking. Though not necessarily depressing. The figures blend in more with the landscape while the landscape takes on more human characteristics. The 50 paintings and drawings make for a sharp, laser-like way to think of Van Gogh's growth as an artist, even disregarding his institutionalization.
Ironically, many of the most ecstatic paintings in the exhibit were painted right before he killed himself. It's as if the art was his way of reaching for that ecstatic visual note, the way the music was for Mahler, before the reality of mental and physical anguish brought them crashing back to earth.
Mother of the Maid

When Tina Packer acts, people listen. The founder and former head of Shakespeare & Company has always been a force of nature and you would say that she commands the stage if it weren't for her generous desire to share that stage with the cream of the company's crop.
No one is creamier than Nigel Gore, her frequent onstage significant other ("Antony and Cleopatra" and "Hamlet" in Lenox, "Who's Afraid of Virginia Woolf" in Boston, "Women of Will" all over the world). So while Packer gets the title role as the mother of Joan of Arc, Gore gets to play Da and walks away with equal custody of the Maid of Orleans.
The rest of the cast isn't skim milk, either, in the oddly affecting world premiere of Jane ("Olive Kitteredge") Anderson's play (through Sept. 6) — particularly Anne Troup as "Joanie." The gist is that while you can't often trust your visions (St. Catherine in this case), your king, or your god, you can always count on Mom.
It's more complicated than that, but Anderson throws a lot of thematic stuff on the table, maybe too much as the play doesn't have the developmental focus of Colm Tóibin's "The Testament of Mary," which looked at the Crucifixion from the eyes of mother Mary, who was skeptical of devotees' claims regarding Jesus's Messianic powers.
In fact it's hard to say in the first act that Anderson is going after anything other than post-Monty Python jokiness in Joan's Cockney-inflected strivings while the parents are doing a bit of "All in the Family" wonderment (her) and exasperation (him) at Joan's claims.
But then it all gels in the second act as Anderson focuses on the transformation of the parental units. They remain steadfast while the politicians, the Church and others betray Joan in favor of expediency. The Maid even charges St. Catherine with deserting her, though the saint says it's the other way around.
Mom is mom, though, always there for her. Packer sometimes tries to bring too much Shakespearean grandeur to those who don't deserve it and she sometimes seems too studied, particularly in the pop-culture-ish first act. Gore, meanwhile, seems incapable of ever striking a false note.
It's interesting that as heads of others have rolled at Shakespeare & Company during the troubled past few years, Packer always seems to be the last person standing. She gets the last word here, too, and the full fury of her feminist wrath and formidable acting chops are something to behold in the second act. Even if you're the Pope, you don't want to mess with this Mother Nature.
A Moon for the Misbegotten

Nor do you want to mess with Audra McDonald, not only the greatest musical actress of the day, but an excellent dramatic actress as well. One of her six Tonys was for "A Raisin in the Sun."
Excellence isn't enough, alas, for "A Moon for the Misbegotten" at the Williamstown Theatre Festival (through Aug. 23). Eugene O'Neill's once classic play about the inability of James Tyrone and Josie Hogan to face up to their illusions and find succor in each other's arms seems pretty dated these days. That succor is the closest that O'Neill's characters are ever going to get to ecstasy. McDonald and Will Swenson don't get close to the characters' poor excuse for even a moment's love in each other's arms, unfortunately.
That might seem odd given that they're a real-life wife and husband. The issue, though, isn't so much chemistry — Gordon Edelstein has directed a wonderfully physical production. It's that you need actors who wear their characters like gloves in this play — Colleen Dewhurst and Jason Robards on Broadway in the '70s; Kate Nelligan and Ian Bannen at the American Repertory Theater in the '80s.
This is McDonald's first on-stage O'Neill and while it's a thoroughly respectable reading, it's too removed from Josie's odd blend of lusty cheerfulness and virginal frustration. Swenson hits the one note of Tyrone's cynical alcoholism but it is just one note when there are other more eloquent notes he misses.
Their approach-avoidance dance is never going to be ecstatic. In this production it isn't much of anything else.
Ed Siegel is editor and critic at large for The ARTery.