'Ignite' Festival Of Fire Dancing And Hot Eats In Somerville This Saturday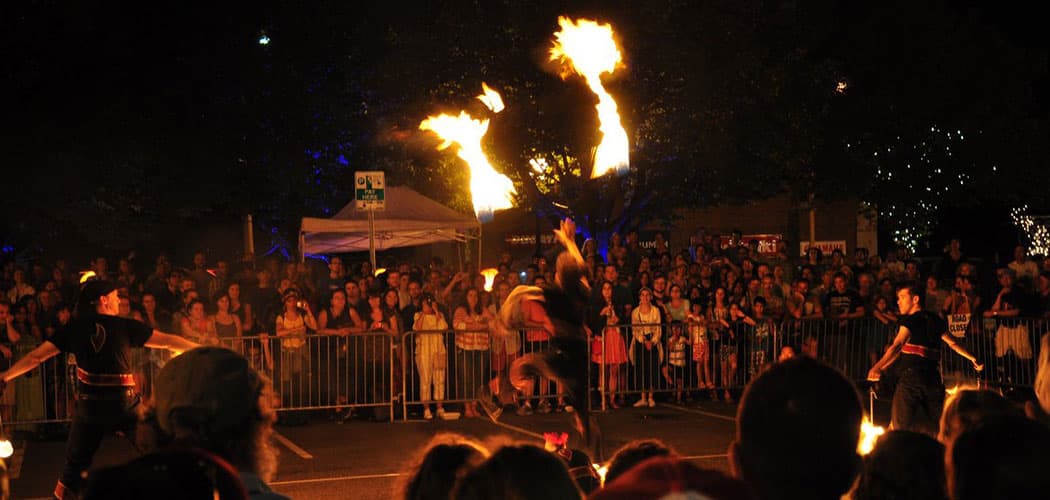 This article is more than 6 years old.
Michael "Mooch" Mucciolo describes the sound as a loud whoosh. When you're a fire spinner whipping lit metal props around your body, close enough to scorch the hair clean off your skin, you'll probably discern phenomena that the average person, entranced by the bright visual spectacles streaking across the nighttime backdrop, wouldn't notice.
"When you first learn to manipulate fire, it is intimidating and exhilarating," he says. "But even after years and years of performing, the sound is still exhilarating as you can hear the flame flickering and moving as more oxygen feeds it.
"There's an internal battle happening, as you're trying to keep this lit prop away from you but close to you, too."
Mooch and his fellow fire-manipulators from the Boston Circus Guild will deliver an adrenalizing showcase from 6 to 10 p.m. this Saturday, Aug. 15, at "Ignite! A Global Street Food and Fire Festival" in Somerville's Union Square. Admission is free. Hula-hoops, dragon staffs, poi, rope darts and even swords — most props imaginable — will be ablaze with the aid of a light gas called naphtha.
"It's a clean fuel overall that lights quickly and burns brightly," Mooch says. "It burns very hot."
This is the third consecutive year that Boston Circus Guild will entertain the crowds at "Ignite," and even if some aspects of the show seem the same, your memories of the past will not fully help you relive what happened before. Watching the performance is about being enveloped in the present moment, all senses triggered.
"This is not a video performance that you're watching," Mooch says. "You are able to feel the heat. Fire is a primal thing, and the crowd is drawn to it like a magnet."
Other senses will also be engaged at "Ignite," specifically your taste buds. The Somerville Art Coucil began to organize the festival (formerly known as "Hungry Tiger") five years ago with the intent to promote Union Square as a destination for epicureans looking for delicious global fare. In the process, branding the area as a foodie hotspot would be a way to stimulate its cultural economy.
According to Rachel Strutt, "Ignite's" programming coordinator and cultural director of the Somerville Art Council, people mobbed last year's edition of the festival, and this year she expects a lot more people to show up when Union Square transforms into a bustling international street food bazaar. Webster Avenue and part of Somerville Avenue will be shut down, too, which is indicative of how much the event has geographically expanded.
"There is such diversity and exoticism found in the food in Union Square," she says. "We attract a young, educated, well-traveled crowd hungry for that authenticity."
A handful of Union Square's local establishments will be present to offer up what they serve best. The number of food options is overwhelming. For example, CasaB and Cantina La Mexicana will come through with Latin American flare and Reliable Market has you covered for Korean treats.
"Ignite" will also feature food and beverage items from the Nibble Culinary Entrepreneur Program, a Somerville Arts Council-sponsored initiative. In conjunction with Union Square's Kitchen Inc. and Somerville's Office of Strategic Planning and Community Development, the Arts Council designed a program that provides immigrants an opportunity to learn fundamental skills that go into running restaurant.
One of the program's participants is Estela Calzada, who hails from Durango, Mexico. She's a veteran of Somerville's Tu y Yo (where they use her recipe for tamales and mole), but her dream has always been to open her own joint. Through the Nibble entrepreneur program, she's been able to stack up her restaurant skill set, having a chance to run pop-up restaurants and her own cooking workshops.
Calzada promises to deliver Mexican culinary authenticity that traces all the way back to the Aztecs if you try some of her eats at "Ignite." She'll be wearing Mexican attire serving beverages like agua de chia (juice with cucumber, lime and chia seeds) and agua de tamarindo (tamarind juice).
Or how about trying some of Calzada's homemade agua de nopal (cactus juice), which you'll have trouble tracking down even south of the border? She says it's an ancient Mexican method to help clean your blood and intestines.
"You can't find agua de nopal anywhere, not even in Mexican restaurants," she exclaims. "No one has the recipe for how to make it." Except Estela.
The fastest way to win over your heart might be mouth-watering food, and the fastest way to get your heart thumping out of your chest cavity might be some exciting entertainment. In addition to the talents of the Boston Circus Guild, there will be roving street performers, like belly dancers, Butoh cheerleaders and salsa dancers giving lessons to festival goers on a blacktop dance floor.
Mooch wants to make sure that the crowd attending the fire performance will cheer, clap, shout, really anything to ensure that the bursts of enthusiasm will pierce through the wall of sound created by the fire-lit props twirling in all directions.
"The fire itself is loud, so it'll take more for us to hear you," he says. "Let loose!"