Commentary: 20 Questions About The Wacky, Unpredictable 2016 Race For President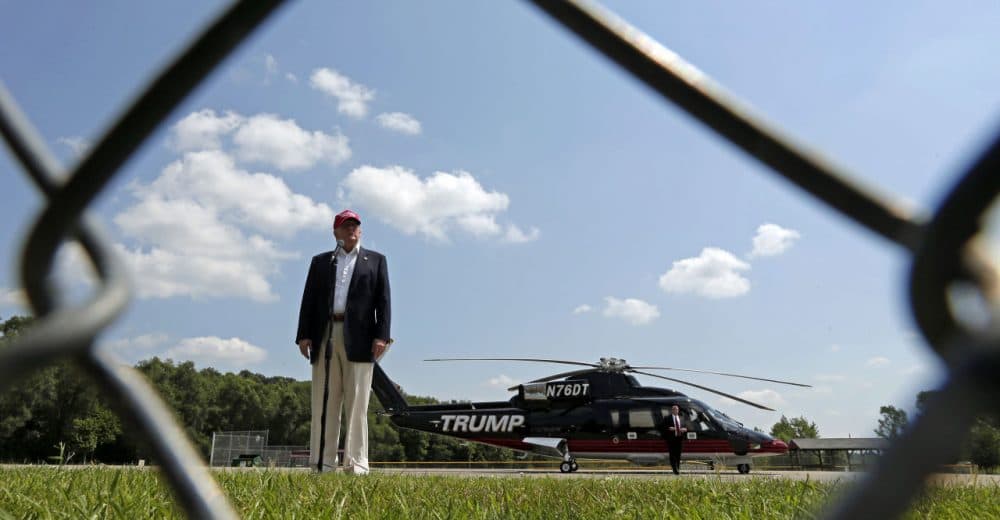 This article is more than 5 years old.
No presidential race has ever had so many "serious" (i.e. qualified, not necessarily popular) candidates — 17 Republicans and at least 5 Democrats. And if vice president Joe Biden enters the race, both parties could seem to be staging a wacky TV reality show.
Some call it a circus or clown show, but if voters like having a choice and not being taken for granted, the 2016 contest is shaping up nicely. Comedians are certainly thrilled, getting so much new material.
The consensus among pundits is that the GOP frontrunner, Donald Trump, can't win the nomination. And most pundits think, too, that the "inevitable" Hillary Clinton has been steadily going downhill.
Yet with so many dominoes that could fall at different angles, setting off incalculable chain reactions, this race seems the most unpredictable of any in modern history.
Here are some of the questions that politicos are pondering:
1) Will Joe Biden enter the Democratic race? Would he consider making a deal with Clinton to stay out?
2) Will Trump implode at some point, because of a gaffe or revelations about his controversial past? Or does he have, as some theorize, both a ceiling and a floor of around 20 percent support?
3) Does Trump's popularity reveal that many — or maybe even most — voters put their faith in the person running for president, rather than his/her policies?
4) Will Clinton continue to be in jeopardy from the investigations and revelations about her private server and emails? According to polls, a majority of voters don't think she is "honest or trustworthy." If that number continues to climb, will that further weaken her credibility and overall approval ratings?
5) Will Clinton continue to lose in poll match-ups to some Republican candidates in key swing states?
6) Will Bernie Sanders continue to surge in the polls and be the clear alternative to Clinton? Will his self-description as a "democratic socialist" hurt him with Democratic primary voters or is it just interpreted as meaning "very liberal" or "progressive"?
7) Will Scott Walker continue to fade in the polls because he's perceived as boring? Or can he revive interest by actions such as his battle with a heckler?
8) Has Rand Paul been falling in the polls because the libertarian movement is losing steam? Can he make a comeback?
9) Can Mike Huckabee, Rick Santorum or Bobby Jindal gain traction in Iowa from conservative social issues like abortion and marriage equality? Or will they not be competitive against better funded candidates?
10) Will Ted Cruz succeed in his dual strategies of positioning to inherit Trump support and focusing resources on southern primary states?
11) Can John Kasich squeeze out Jeb Bush to claim the mantle of leading "establishment moderate"?
12) Is Bush too mild-mannered, and too supportive of his brother on the Iraq War, to keep his front-runner status? How much can he do with his money advantage if his message isn't resonating?
13) Will Carly Fiorina continue to surge in the polls once she is better known?
14) If Biden doesn't enter the Democratic race, and Clinton continues to decline, could Martin O'Malley be the beneficiary, instead of Sanders? Or is he not liberal enough for the primary electorate?
15) Can Dr. Ben Carson eclipse Trump in Iowa as the leading outsider candidate?
16) Marco Rubio seems well-positioned to rise in the polls if others fade, but when will he make his move?
17) A number of GOP candidates failed to impress in the so-called "happy hour debate" that Fiorina dominated.  Will some of them drop out before Iowa – Jim Gilmore, George Pataki, Rick Perry…?
18) Will the mass media continue to give Trump far more publicity than the other candidates — for example, allowing him to do TV interviews by phone?
19) Will Fox News and other conservative media cut back on promoting Trump in the near future?
20) What are the expectations for the next GOP debate? Who needs to perform well to remain viable?