White Sox Get To Miley In Seventh, Beat Red Sox 5-4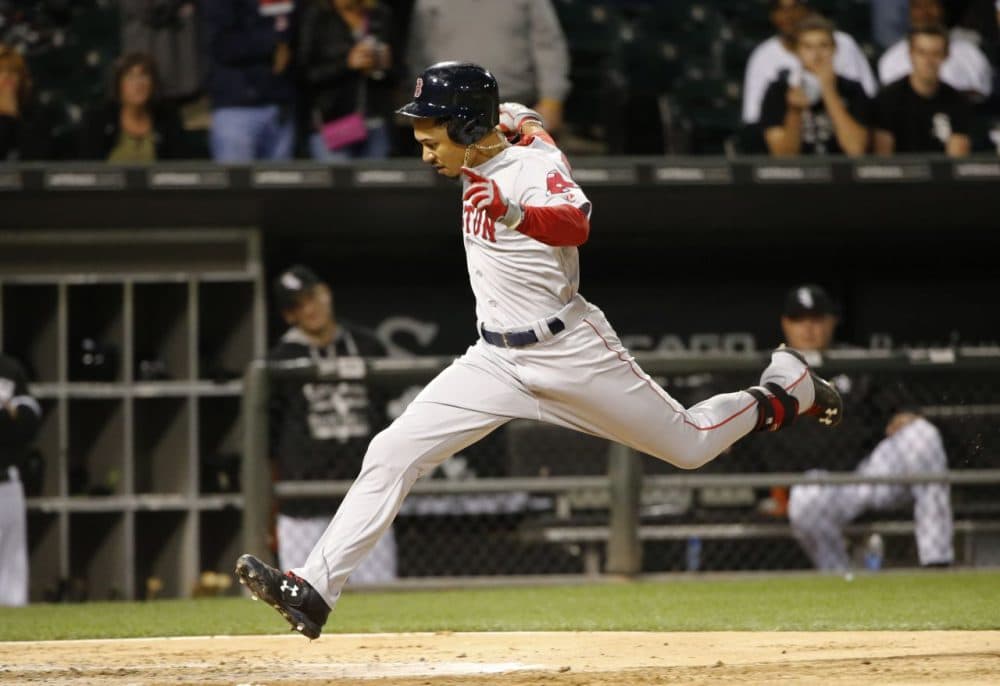 This article is more than 5 years old.
Wade Miley was bending but not breaking, allowing 10 hits though only two runs through six innings against the Chicago White Sox.
The White Sox finally solved the left-hander with a three-run seventh inning en route to a 5-4 victory over the Boston Red Sox on Tuesday night.
Still, Red Sox interim manager Torey Lovullo said Miley still turned in a respectable performance.
"He didn't have any long, extended innings and it was his game to win or lose." Lovullo said. "I felt he was in command, he had a great mix of pitches going. He and Haney (catcher Ryan Hanigan) were doing a real nice job of keeping hitters off balance."
White Sox rookie Trayce Thompson had the key blow in the seventh, a go-ahead, two-run double.
Thompson, who was called up Aug. 3, finished 3 for 4 and was a home run shy of hitting for the cycle. His two-out double sparked a three-run seventh, when the White Sox erased a 4-2 deficit.
"I don't know if it's amazing, but he's on a nice run," White Sox manager Robin Ventura said. "We are getting him at-bats against lefties right now and he's taking advantage of it."
Melky Cabrera added an RBI single in the seventh for Chicago, which had 15 hits.
The Chicago bullpen protected the one-run lead for the final two innings. Jake Petricka (4-3) picked up the win in relief and combined with Zach Duke and David Robertson to close it out.
Robertson pitched the ninth to earn his 26th save in 32 opportunities.
The White Sox trailed by two runs after Boston scored twice in the sixth.
Pablo Sandoval snapped a 2-all tie with an RBI double before Travis Shaw extended the Red Sox lead with an RBI fielder's choice.
Miley couldn't protect it, surrendering the three runs in the seventh. Miley (10-10) allowed five runs and 13 hits in 6 2-3 innings. He struck out three and had a walk.
"I was making some pretty good pitches throughout," Miley said. "They were getting their hits (but) we were able to keep the off the scoreboard for the most part until the seventh."
The Red Sox took a 2-1 lead in the third inning. Mookie Betts lined a double into the left-field corner, scoring Josh Rutledge. But a poor relay throw by White Sox shortstop Alexei Ramirez bounded away from catcher Geovany Soto and with no one covering home plate, Betts - who also scored two runs - was able to come around and score.
Thompson's RBI single in the fourth tied the game at 2.
Chicago starter Carlos Quintana worked six innings and struck out six while scattering seven hits and allowed three earned runs.
Carlos Sanchez gave the White Sox a 1-0 lead in the second inning with an RBI single that scored Ramirez, who reached on a fielder's choice.