Commentary: How Comedians Would Rank The Presidential Candidates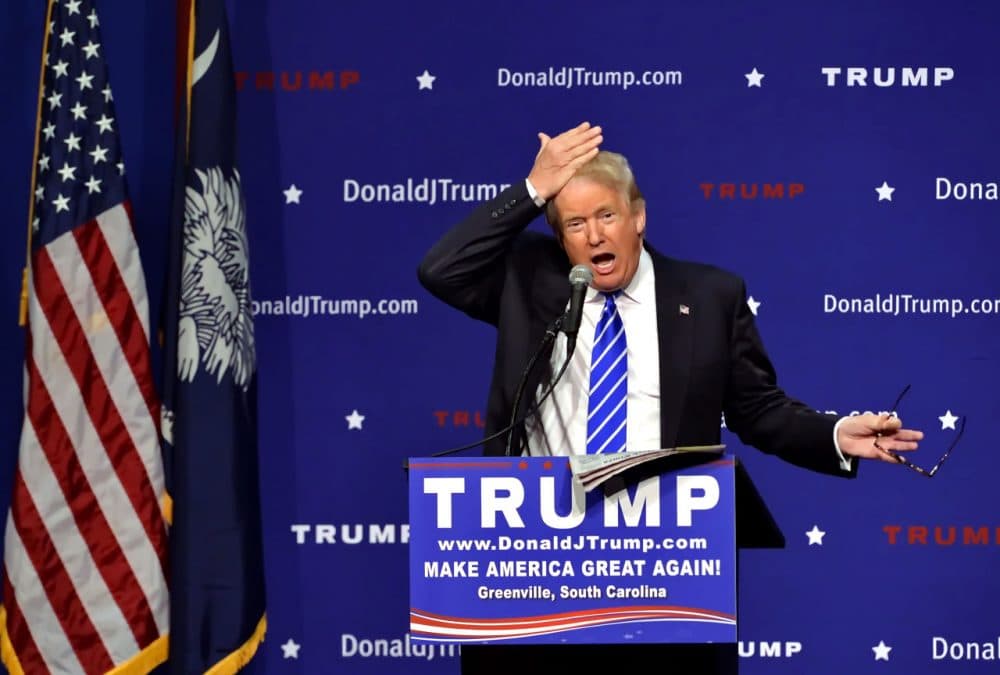 This article is more than 5 years old.
Before Labor Day signals the beginning of more serious political analysis, let's review how comedians have been treating the 2016 presidential candidates.
This is how I think professional comedians would rank the contenders in terms of how much material they are providing, along with samples of what comics have said about them.
Donald Trump
He is not just the GOP frontrunner, he's got to be the favorite among comedians for lampooning. While many voters view The Donald as narcissistic, megalomaniacal, boastful and bigoted, he is unarguably a great gift to late-night comedy.
"After making insulting remarks about Mexicans, Donald Trump has been kicked off of NBC and Univision. On the bright side, Trump's hair has a new show on Animal Planet." –Conan O'Brien
Joe Biden
Comedians must be praying that the vice president will enter the race. He's called a gaffe machine, but he must be encouraged by how Trump has risen in the polls despite saying equally outrageous things. Biden also is mocked for massaging (groping?) women, like with Stephanie Carter, the wife of Secretary of Defense Ash Carter,  when her husband was having a press conference.
"President Obama was giving an interview recently, and get this, he said he thought that Joe Biden would be a good president. When asked why, he was like, 'Because he'd make me look AMAZING.'" –Jimmy Fallon
Chris Christie
It's not nice to make fun of someone's appearance, but comedians can't resist the temptation with the larger-than-life governor of New Jersey. Christie apparently doesn't hold it against them; he even shared a bowl of ice cream with Jimmy Fallon on "The Tonight Show."
"A new poll about the 2016 election shows that just 27 percent of voters would be likely to support Chris Christie. And only 4 percent of chairs." –Seth Meyers
Hillary Clinton
The Democratic frontrunner is a favorite target for comedians; likewise her husband, the former president. She is often ridiculed for being an overly shrewd politician.
"According to a new poll, the number of Americans who trust Hillary is dropping. Specifically into a hole that Hillary covered with leaves." –Jimmy Fallon
Jeb Bush
The former Florida governor has "Jeb!" as his only name in campaign materials, but that doesn't stop comics from mocking his famous last name.
"In a new campaign ad, Jeb Bush referenced 'The Godfather' and said his nickname used to be 'Veto Corleone' because he vetoed so many bills in Florida. When you're the third person in your family to run for president, maybe you shouldn't bring up a movie trilogy where the third one was clearly the worst." –Jimmy Fallon
Lindsey Graham
The Republican senator from South Carolina hasn't made much progress in the polls -- he's averaging less than 1 percent support — but some comedians like to mock the only bachelor in the race. Jon Stewart, before leaving "The Daily Show," mimicked him, sounding like a southern belle.
"Presidential hopeful Lindsey Graham, who is single, said today that if elected he will have a 'rotating first lady.' Even creepier, he said it on Tinder." –Seth Meyers
Rick Perry
The former GOP governor of Texas had his "oops" moment in a 2012 debate, but tried to project a new image this time — wearing glasses, for a more studious look. But it hasn't changed the way comedians talk about him.
"On the Republican side, today former Texas Gov. Rick Perry announced he is running for president. While growing up he wanted to be a veterinarian, but his grades weren't good enough. Luckily for us, now he wants to be in charge of people." –Jimmy Fallon
Bernie Sanders
The Vermont senator has become a serious threat to Hillary Clinton, so the early mocking of him as a certain loser has evolved into jokes about his occasionally wild hair, his lack of support from black voters, and his being an old hippie socialist from Vermont.
"Bernie Sanders has now passed Hillary Clinton in the New Hampshire polls. It's the first time anyone's ever been passed by a guy in a Prius." –Seth Meyers
Ted Cruz
The conservative Texas senator was widely mocked when he was the first GOP candidate to announce, but with Trump eclipsing him, comedians don't mention him as often.
"Republican Ted Cruz announced that he will run for president in 2016. So finally, Carnival is no longer the most dangerous cruise in America." –Jimmy Fallon
Rand Paul
The Republican senator from Kentucky surged in the polls early; as a libertarian he stood to inherit supporters of his father, Rep. Ron Paul, who ran for president a number of times. But in interviews young Paul often showed a testy side, and his popularity went down.
"Every time this guy opens his mouth, it gets a little crazier. Today he angrily demanded that the liberal media stop quoting him in context." –Bill Maher
Martin O'Malley, Rick Santorum, Bobby Jindal, Lincoln Chafee, et al.
Candidates floundering in the polls are often mocked as sure losers and maybe a bit delusional.
"Yesterday in Iowa just four supporters showed up to eat lunch with Republican presidential candidate Rick Santorum. It's always a bad sign when your entire voter base can fit in a deli booth." –Conan O'Brien
Todd Domke is a Republican political analyst for WBUR