Redemption? 'DeflateGate' Sketch Artist Gets Second Chance To Draw Tom Brady
This article is more than 5 years old.
After her now infamous sketch of Tom Brady was mocked online, New York sketch artist Jane Rosenberg got a second chance to draw the Patriots quarterback at a "DeflateGate" hearing Monday.
Rosenberg's first sketch received criticism and ridicule, and also inspired memes on Twitter. That sketch, from a hearing earlier this month, was described as everything from unflattering to something that would haunt your dreams.
After that sketch, Rosenberg told The New York Times she was under a lot of pressure to do the best she could under a short deadline:
"I'm getting bad criticism that I made him look like Lurch," she said, referring to the Addams Family character. "And obviously I apologize to Tom Brady for not making him as good-looking as he is."
Rosenberg had just a few minutes to draw Monday's sketch. According to WBUR's Curt Nickisch, the hearing lasted five minutes and Brady was seated three rows back.
"It's literally like five minutes, which I couldn't even see him the total five minutes," Rosenberg told reporters after the hearing. "It was really a nightmare."
Here is Rosenberg's newest sketch of Brady:
And, here is Rosenberg's first sketch of Brady from the earlier "DeflateGate" hearing on Aug. 12:
Rosenberg said the task of drawing Brady was a big challenge because of the seating arrangement in the courtroom.
"I started squirming in my seat, moving from side to side," she said Monday. "I was like on the edge of my seat hardly sitting on it to try to get a look and then his lawyer stood up ... blocking him completely."
Rosenberg had apparently been practicing ahead of the hearing. The artist revealed a practice sketch (below) to WBZ Sunday. After Monday's hearing, Rosenberg said her practice and memory helped her this time around because Brady wasn't in court long enough for her to study him.
For now, Rosenberg appears ready to put the whole thing behind her.
"I've been under tremendous pressure," Rosenberg said. "I don't like being in the limelight. I'm ready to go to the background where I belong and just be and be an artist, which is what I want to try to be. Not try, but that's what I do. I make art."
So, what do you think? Do you like the new sketch from Monday's hearing?
With additional reporting by WBUR's Curt Nickisch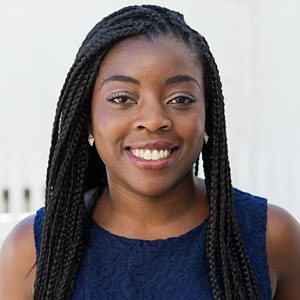 Zeninjor Enwemeka Reporter
Zeninjor Enwemeka is a reporter who covers business, tech and culture as part of WBUR's Bostonomix team, which focuses on the innovation economy.