Post-Surgery, Energized DeLeo Plans To Seek Re-Election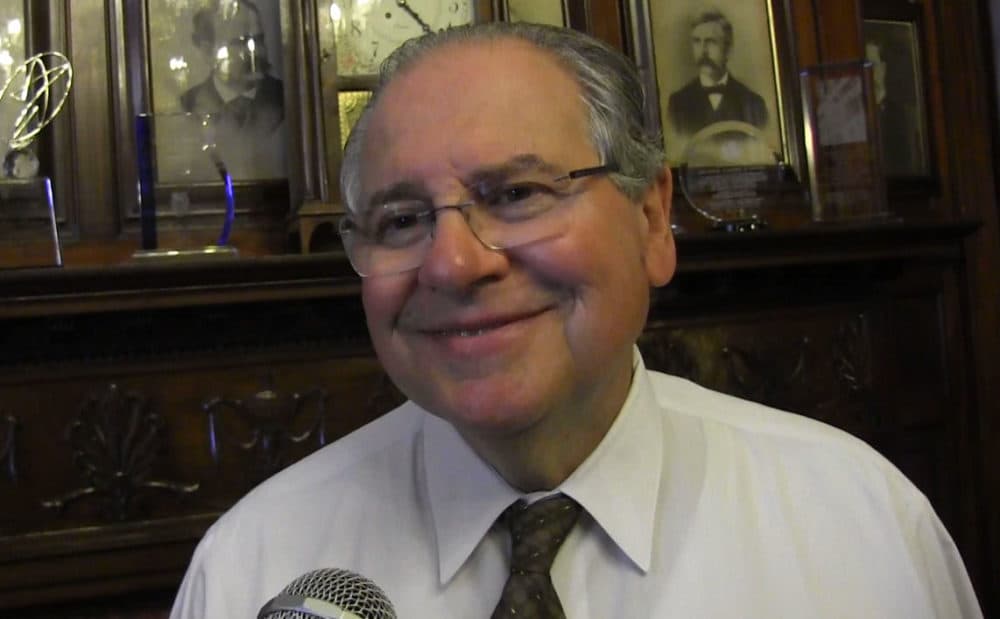 This article is more than 5 years old.
After dropping 42 pounds since undergoing weight loss surgery on Aug. 3, House Speaker Robert DeLeo says he feels like he's at the top of his game and plans to run for re-election in 2016.
"Oh God yeah, even more so now," DeLeo told the News Service Tuesday when asked if he would run next year. "As I stated, I lost weight, feel better than I've ever felt, and feel I'm at the top of my game."
A fixture in the House since 1991, DeLeo, who turned 65 in March, will be seeking his 14th two-year term if he runs next year.
Faced with the possibility that this would be his last term as speaker under a rule he sponsored in 2009, DeLeo in January led a successful push to abolish term limits for the speaker, enabling him to shed his lame-duck status and remain the top House Democrat on Beacon Hill through this session and beyond.
The Winthrop Democrat battled Rep. John Rogers and ascended to power after the resignation of disgraced former Speaker Sal DiMasi, who helped DeLeo rise through the House. DeLeo said this year that his position on term limits had "evolved" and he viewed steady leadership as important to the House's standing with the Senate and Gov. Charlie Baker.
Under DiMasi, DeLeo helmed the powerful Ways and Means Committee, a post that DeLeo has assigned to Haverhill Democrat Rep. Brian Dempsey, who is considered a potential successor to DeLeo.
The 5-foot 9-inch speaker weighed 255 pounds when he underwent the surgery shortly after the Legislature broke for its summer recess.
During an interview in his office, DeLeo said his medical team recommended the stomach surgery, called a sleeve gastrectomy, after DeLeo struggled for years to control his weight. DeLeo said he was treated at the Massachusetts General Hospital Weight Loss Center and tried eating and exercise programs and medications over the years and would occasionally lose 20 pounds and "feel pretty good about myself."
"I'd say within a month or so, if that long, I'd put it right back on," he said. "So obviously after a period of time, the doctors explained to me that the only way that they felt that I could be successful losing weight was to have surgery. It took me quite a bit of time to decide that I would take that step."
DeLeo said his weight gain pace might have led him to hit 300 pounds by year's end, but said having the surgery was not a prerequisite to seeking another term in the House.
"I can't say that this caused me to do it," he said. "I would say this was done really for quality of life ... When you're walking around with in excess of 60, 70 pounds -- you know we'll say -- you get tired a lot quicker, it gets more difficult with your breath, you know, so you notice those types of things."
DeLeo said he's felt stronger and more energetic since the surgery. Initially, he was on a two-week liquid diet of broths, water and protein drinks. He was also allowed to eat no-sugar popsicles. "That was like filet mignon for me actually," he said.
He's now consuming soft foods like eggs, soup, chicken and tuna salads, and pretzels. The diet, he said, is giving his body time to heal. Describing himself as a "quick eater," DeLeo said that in his current state he feels it very quickly if he strays from prescribed foods.
DeLeo said he did not undergo the surgery to address any immediate health concerns, such as heart problems or blood pressure issues, but said he was mindful that "problems could arise as they would with anyone who may be somewhat overweight."
The Boston Globe first reported on DeLeo's surgery on Sunday.