Commentary: Tips For The Republicans In Wednesday's Debate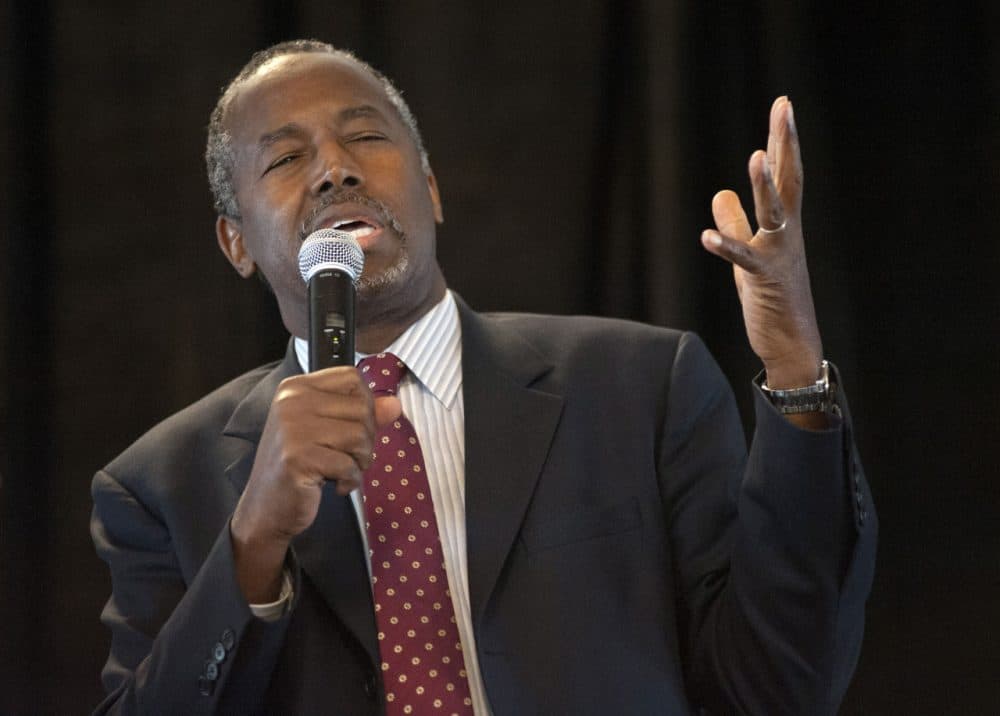 This article is more than 5 years old.
One bit of advice I give my clients prior to debates is to ignore those who say, "Be yourself." Be what you need to be to make your case and stand out from your opposition. If your real self is technical and wordy, be down-to-earth and brief. If people think you're humorless, lighten up. If you seem full of yourself, poke fun at yourself.
In a 2008 debate, NBC's Brian Williams (remember him?) asked then presidential candidate Joe Biden if he could control his long-windedness, especially on the world stage. Biden: "Yes." After a pause, his answer got big applause when he said nothing more. He showed self-awareness.
Here are thoughts on the candidates in the big Republican debate on CNN Wednesday night, omitting the junior panel of also-rans:
Jeb! Bush mustn't talk about his family; it reminds us that his mother is right, that we've had enough Bushes. Being outspoken in defense of immigrants is risky, but his candidacy right now is mush. Shaming his colleagues for demonizing foreigners is one option; he could mention as a Catholic convert how much he looks forward to Pope Francis' U.S. visit.
Ben Carson has to be less laconic, even if people like his calm reason. But in debates, mild-mannered participants disappear. Donald Trump says the Detroit neurosurgeon lacks energy and, for once, he's right. If Carson gets lost in the flow of the debate, as happened last time, he has to butt in. He might want to go after Trump on his religious convictions, since Trump claimed to consider the Bible his second favorite book (after his own) but couldn't recite a single passage.
Chris Christie is a failed candidate. Arguing with questioners is what he enjoys most. The New Jersey governor claims to be the most substantive candidate. He needs to put some substance on the table. He's had dealings with Trump's casinos in Atlantic City, so he's the most likely to go after him, perhaps pointing out The Donald inherited his wealth and declared bankruptcy four times, a national leader in that category.
Ted Cruz shouldn't suck up to Trump. That's what the national press believes the Texas senator is doing. He has to find a way to knock him. Maybe Trump's reckless criticism of women -- both Fox's Megyn Kelly and candidate Carly Fiorina? Cruz has got to dial back the lawyer's slick intensity. It doesn't play well on TV.
Carly Fiorina has to work harder than in the first debate, where being the only woman allowed her to stand out. She has a tendency to be a know-it-all and for an unknown candidate that can be insufferable. She could identify with females not in executive jobs — waiting tables, answering phones, and working in malls. Her super PAC has begun running a TV spot answering Trump, in which she stands up for women -- presumably average women judging from their appearance. A California CEO for Hewlett Packard, her record is a minefield; she has to steer clear of it.
Mike Huckabee is a naturally witty man, but comes across as angry and self-righteous. Rather than ranting against President Obama on religious grounds, he could use a fresh secular idea or two. He won't be able to resist telling us how he stood with the Kentucky clerk jailed for refusing to issue marriage licenses to same sex couples. The former governor and ordained minister should remind the audience that, like Bill Clinton, he's also a man from Hope, Arkansas.
John Kasich is the candidate most likely to benefit from the collapse of Bush. The Ohio governor should turn answers to the economy, where the numbers are good, thanks to the auto bailout (which he opposed). He was the only candidate in the last debate who mentioned serving the needy. Doing that again would allow him to stand out. The natural vehicle is the U.S. visit of Pope Francis, although Kasich is no longer Catholic.
Rand Paul has lost the bubble. His campaign is the biggest disappointment this side of Hillary Clinton. The Kentucky senator was once the Republican most likely to attract Democrats. He was once the civil liberties, anti-war candidate with ideas that young people in technology would find compelling. He needs to go back to privacy and dot.com issues.
Marco Rubio is the young candidate who talks about a new generation of leadership. But the senator from Florida talks like an old man. And he looks like an old man. My advice: go tie-less (!). He would instantly become the Casual Friday presidential candidate. If that's too much, perhaps a checked shirt or lighter colored suit would let him stand out.
Trump could shock the world if he avoids a verbal fight with any (all?) of those aiming to be his sparring partner. His antipathy toward Wall Street excesses is unique in the field. He should hammer the high flyers and their outrageous incomes. Even if goaded by an opponent or questioner, he should take the high road and -- get this -- try to look presidential.
Scott Walker has faded badly since the days he hoped to be the alternative to Bush. Being the governor of neighboring Wisconsin isn't enough to make Iowans feel he's presidential material. His all-out attacks on union members, which he's stepped up to include federal employees, are mean-spirited and not enough to allow him to compare himself to Ronald Reagan. His best move might be to rail against bad trade deals that hurt American workers.
Dan Payne is a Democratic political analyst for WBUR and a contributor to The Boston Globe.