Why To Do Yoga Today: Some Relief For Arthritis Sufferers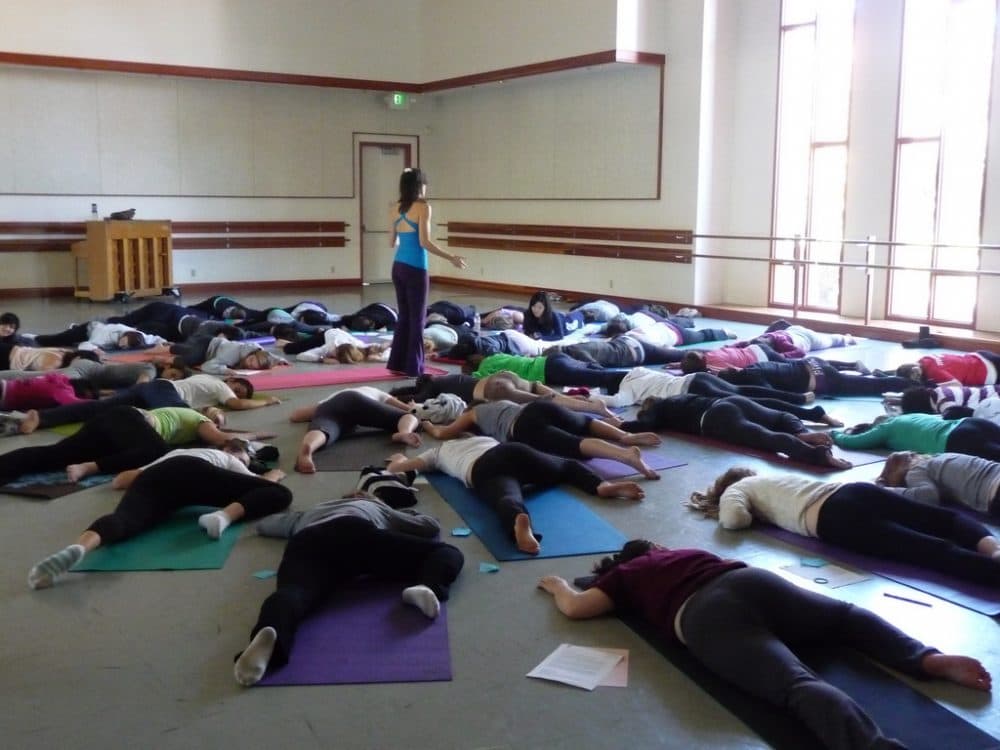 This article is more than 6 years old.
A relative in her 90s recently mentioned she does "floor yoga" at the local YMCA. When I asked what that was, she replied: "We stay on the floor and don't stand up." Hey, whatever works.
Yoga is inescapable: A 2012 estimate puts the number of people who practice yoga in the U.S. at 1 in 10 adults or about 20 million people. But these are mostly fit women in snug, stylish pants. What about people who have a lot more trouble moving?
A recent report by researchers at Johns Hopkins found that yoga may benefit the not-so-fit as well: a randomized trial of 75 adults (mostly white, educated women) afflicted with two common forms of arthritis found yoga can be both safe and effective for improving pain, energy, mood and for carrying out daily activities. This is not trivial. While exercise has been found to greatly improve some of the symptoms on arthritis, the leading cause of disability affecting 1 in 5 adults, many sufferers aren't exercising. From the study, published in the Journal of Rheumatology: "...despite the well-known benefits of physical activity, up to 44% of people with arthritis report no leisure time physical activity and 76% are inadequately active."
Researchers report improvements after just 8 weeks. From the news release:
Compared with the control group, those doing yoga reported a 20% improvement in pain, energy levels, mood and physical function, including their ability to complete physical tasks at work and home. Walking speed also improved to a smaller extent, though there was little difference between the groups in tests of balance and upper body strength. Improvements in those who completed yoga was still apparent nine months later.
There here is one big caveat: 24% of participants dropped out of yoga, but, as the researchers note, "persistence was still higher than in many exercise programs, with most attending the majority of classes."
I asked study author Dr. Susan Bartlett, an associate professor in the department of medicine at Johns Hopkins School of Medicine and McGill University Health Centre, what she would tell patients with arthritis who are currently sedentary about how to approach yoga. Here's what she wrote:
I would tell them that physical activity is important for everyone, but especially important for people with arthritis, who tend to be less active than the average American.

Often people with arthritis worry that they will aggravate their joints and be in worse pain as a result of being active.  While it is true that certain types of activity (anything percussive like jogging, tennis, skiing) are probably not advisable, keeping muscles moving and joints limber is very important. We're learning how dangerous under-activity can be (emerging evidence suggests that a sedentary lifestyle is as problematic to health as smoking).

Results of our study suggest that yoga appears to be a safe and effective option for adults who wish to become more active. Further, many people who don't enjoy traditional activity find that they really enjoy yoga. Yoga is a mind body activity, and while almost all forms of physical activity are associated with both mental and physical health benefits, yoga in particular helps with stress reduction, mood, learning to listen to and respect what your body is capable of doing today.

It's important to do it right. Find a gentle yoga class so can learn how to do the poses properly, and can get help modifying any poses, as needed, so they are right for you.. Be sure and speak with your doctor first and find out if there is anything (poses) you shouldn't do. Find a qualified teacher — a yoga therapist has the highest level of training and knows how to work with people with chronic conditions. Talk with the teacher before the class — go in a meet with the teacher and ask any questions you might have.

Perhaps even watch a class if you aren't quite sure what yoga is all about. Let her know you have arthritis, and which joints can give you problems. Start slow, this isn't a competition (which of course is very much the perspective of yoga — do what is right for you today). Pay attention to how you feel before, during and after the yoga class.  You'll learn a lot about how to relax your body, which is good for all of us.

You may start feeling better quite quickly. Even after the first week, many participants told us they felt better, were sleeping better, had less fatigue during the day, and just seemed to handle everyday life a little better. Go to classes at least twice a week, and practice at home too at least once a week. Most of all, we can now say with confidence that yoga is a reasonable way for most people with arthritis to become more physically active.