Several Boats Burn At Quincy Marina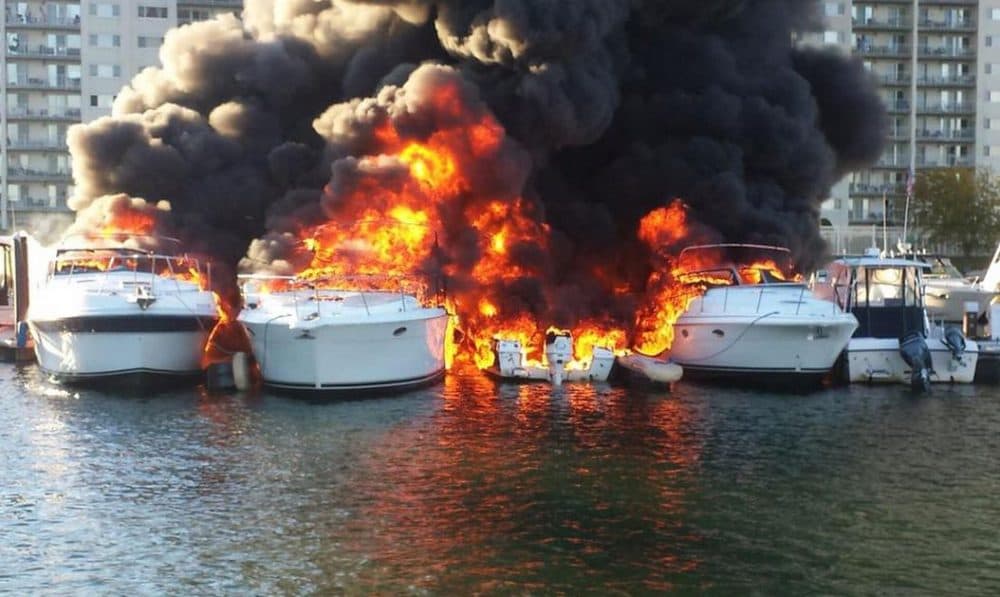 This article is more than 3 years old.
As many as nine boats were damaged, four of them so severely that they sank, in an early morning fire at a Quincy marina.
Fire officials say there were no reports of injuries, but several people who live on their vessels at Captain's Cove Marina were left homeless.
Firefighters had to attack the blaze reported at about 7:30 a.m. Thursday by approaching along a narrow dock that was also burning. The Boston Fire Department's fire boat also helped out while the Quincy police boat cut moorings of some vessels and hauled them from the flames.
Video from the scene showed thick black smoke rising from the burning boats.
The fire's exact cause remains under investigation but appears to have started on one of the vessels.
Below are photos from the scene of the fire:


A picture taken earlier by Lt. Gillan of @quincymapolice Marine Unit of boat fire at Cove Way pic.twitter.com/jw53mgpUJK
— Quincy Police (@quincymapolice) October 8, 2015

Devastating damage #CoveWay pic.twitter.com/UOYopYr4Ie
— Quincy Police (@quincymapolice) October 8, 2015

Photos from todays fire - from the perspective of @BrewsterEMS drone. How cool! pic.twitter.com/DnoVJfzlUV
— Quincy Police (@quincymapolice) October 8, 2015