An Orange Dinosaur Goes Extinct And An Era Ends As Route 1 Mini Golf Closes
Play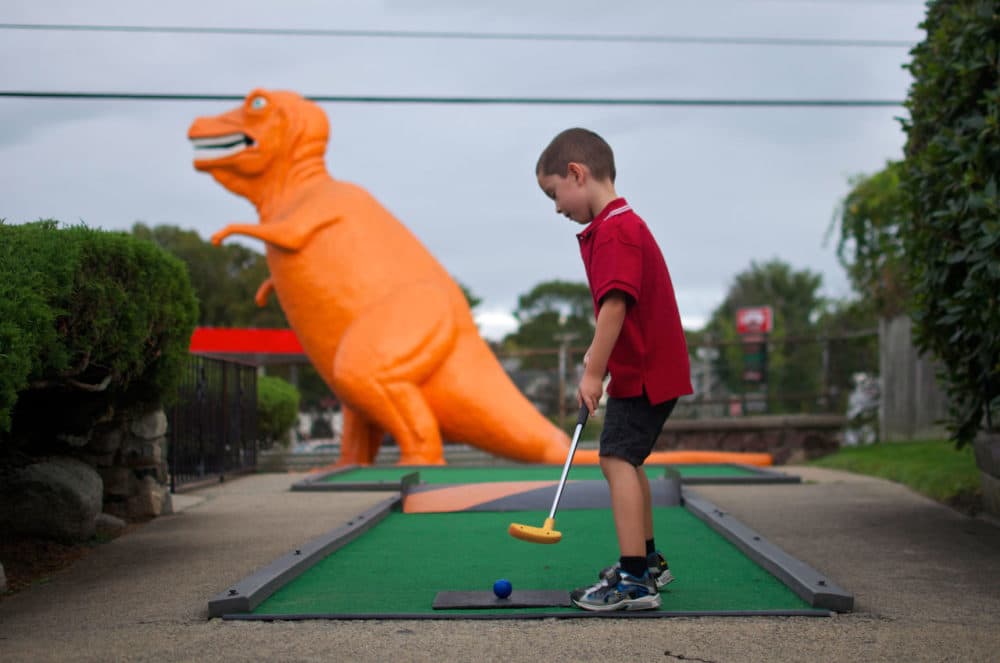 This article is more than 7 years old.
The official name is Route 1 Miniature Golf, though you might know it as "The Orange Dinosaur."
This Saugus complex is home to the dayglo orange T-rex that, from the sixth hole, gazes over the highway. The business includes batting cages, an arcade and soft-serve at the Dairy Castle.

It's also a home away from home for Diana Fay and her husband, Richard. They've owned this place since the 1970s, when they took it over from Diane's uncle, who opened the business 57 years ago.
But, as Robert Frost might have said, nothing gold can stay — especially if it involves a rotating wooden rocket ship with a moon compartment that grants mini-golfers an automatic hole-in-one.
The Fays are selling to a developer, making this the final season for the mid-century mecca of family entertainment.
On a recent afternoon, Diana Fay and some of her customers paused to reflect.

"What fun! Who wouldn't want a job where people come every day, and they're smiling when they get here and they're even, hopefully, happier when they leave?" Fay said.
In 1958, Fay's uncle purchased the property and built the miniature golf course. Originally, Fay said, instead of batting cages he offered an archery course — and pony rides.

David Devanna, of Everett, has been coming here since he was about 7 or 8 years old.
"That's a long time ago!" he said, laughing. "The golf course is amazing. It's sad that it's going to be closing. I know I used to come here with my brother and my cousins, and we'd do little golf tournaments — play, like, three rounds in a day and just have a lot of fun."
Devanna said he's definitely going to miss the course's iconic "old dinosaur."
"I always loved the dinosaur hole. It was always my favorite because it's a double level hole. So if you get a hole-in-one in the front, it doesn't mean anything, because there's another hole at the bottom that it goes in," he explained. "So, you know, the odds of getting a hole-in-one ... I don't think I ever hit a hole-in-one on that hole, you know?"

'It Was Always That 1950s Look'
Since the announcement of the course's closure, people in the community have been telling Fay how much they'll miss playing mini golf here, expressing their nostalgic love of this relic from another era.
"If you look at the miniature golf courses that are being built today, they're rolling hills and waterfalls and lots of flowers, and it looks beautiful," Fay said. "But here, it was always that 1950s look. And we didn't want to take away that look of, you know, this is old-fashioned miniature golf.
"That label probably stuck for a while — that we were old, and we were kitschy and nobody liked it," she continued. "But now that we're leaving everybody's upset, so I guess the town was pretty happy that we stayed."
Plus, Fay said, people have become reliant on seeing the orange dinosaur.
"I mean the orange dinosaur is kind of a landmark, so that's kind of upsetting that that's gonna be gone," said Samantha Calo, of Revere. "It's like, giving people directions that don't know where anything is — 'Take a right at the orange dinosaur! If you pass the orange dinosaur, you've gone too far!' So, maybe they'll keep that! Maybe we'll get lucky, and they'll keep the orange dinosaur."

'Nothing's Really Changed From When I Was A Kid'
Fay preserved the course, with its garish wildlife statues, classic storybook symbols, and goofy golf layouts in part to make it more appealing to kids.
"Little children, they need to be entertained," she said. "They don't want to see rolling hills and pretty flowers. They want to see Humpty Dumpty and the dinosaur. They want to see the stallion and the windmill. They want to ring the siren on the 18th hole. You get the magic free pass that allows you to come back one more time and play for free. Even if they don't come back, they're happy as hell that they won it. And they don't care if they won the game or they lost the game, if they got that free pass, they're a winner!"
Nearby, 5-year-old Louie Schraffa, of East Boston, sinks a ball and exclaims to his mother that he "got a 4."
"I came here when I was young, and my husband came here when he was young. It's just so classic-looking," said Kathy Schraffa, Louie's mother. "Nothing's really changed from when I was a kid. I like the course. I mean, it's not the World Series, but they're just classic obstacles, they're not just boring. It's original."
Schraffa also is going to miss the familiar orange beacon of the Saugus landscape.
"I want the dinosaur for my backyard! I hope they save that! It should go in the Smithsonian," she joked.

Saying goodbye to the course may be hard for Fay and her husband. But she said the pair might take a piece of the course with them.
"Some of the stone holes were built by my uncle's cousin, who was a mason from Italy. He built the bottom of the wishing well and the bottom of the windmill hole and the tall tower that we call the lighthouse and the stone wall that goes over by Triple Trouble," she explained. "When it's time to close our door, we might want to take a couple of stones from some of those holes, just to put in our own yard, to say, 'Remember when that was Calabrese's wishing well?' "
Route 1 Miniature Golf will hold a "Throwback Thank You" customer appreciation day on Saturday, Oct. 10. To play 18 holes in the shadow of the orange dinosaur, customers pay the original prices from the 1950s: 50 cents for grownups, 35 cents for kids.

This segment aired on October 9, 2015.