Forecast: Clouds Will Thicken; Expect Rain For Evening Commute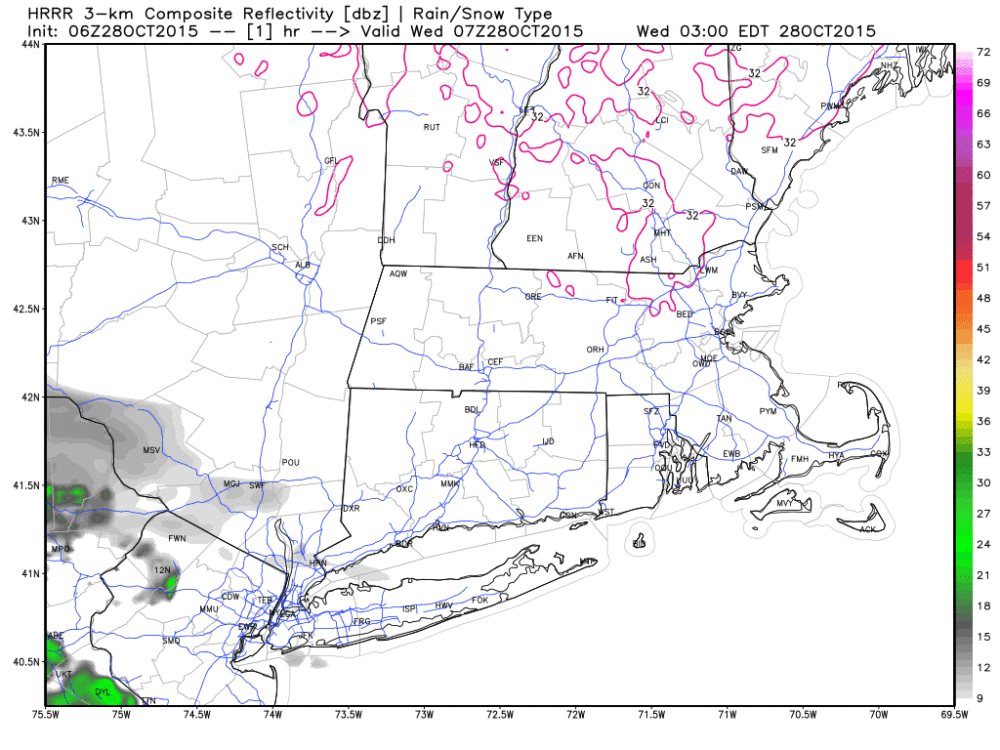 This article is more than 3 years old.
There are several elements of the weather you'll notice over the next two days as a storm system passes to our west into Canada and a series of fronts is dragged through the region. Today's storm is in stark contrast to the October snowstorm on this date back in 2011. That year, that storm was the largest of the entire winter for some areas.
Today will see some sunshine early, but the trend will be for the clouds to thicken. The morning commute is dry, while the evening commute may be wet depending on your location. The rain will move in from west to east this evening, and if you are driving after sunset expect wet roads.
The heaviest rain will hold off until later this evening and overnight. There will likely be showers around for the a.m. commute on Thursday, but they will be scattered and mainly south of the Mass Turnpike.
Temperatures are at their lowest levels of the next several days this morning. We will see readings rise slowly today and then remain steady this evening before going up overnight. When you awaken Thursday there will be a feeling of summer in the air with warmth and humidity. Highs tomorrow reach the lower 70s.
Winds are a factor late tonight and early Thursday gusting near or over 40 miles per hour on Cape Cod. In metro Boston, winds will reach the 20 to 30 mile per hour range, and there will be a loss of foliage, but power losses should be scattered, not widespread.
Rainfall will amount to between half an inch in eastern and south eastern areas to up to 2 inches over western and northern areas. Boston looks to get just under an inch of rainfall, although if a heavier downpour passes over the city, it could be higher.
Dry weather returns for the Patriots game after an early stray shower, and the dry air continues through Halloween.
---
Today: Rain developing late in the day, becoming breezy. Highs in the upper 50s by sunset.
Tonight: Rain with gusty winds. Milder with temperatures rising to the 60s by morning.
Thursday: Early rain and wind then becoming partly sunny and warm. Highs 70-75.
Friday: Mostly sunny, with a high in the mid 50s. Breezy.
Saturday: Sunny, with a high in the lower 50s.
Sunday: Partly sunny, with a high in the upper 50s.
You can follow David's weather updates on Twitter at @growingwisdom.