Hassle Fest Highlights Weird, Amazing Music From Boston And Beyond
05:23
Play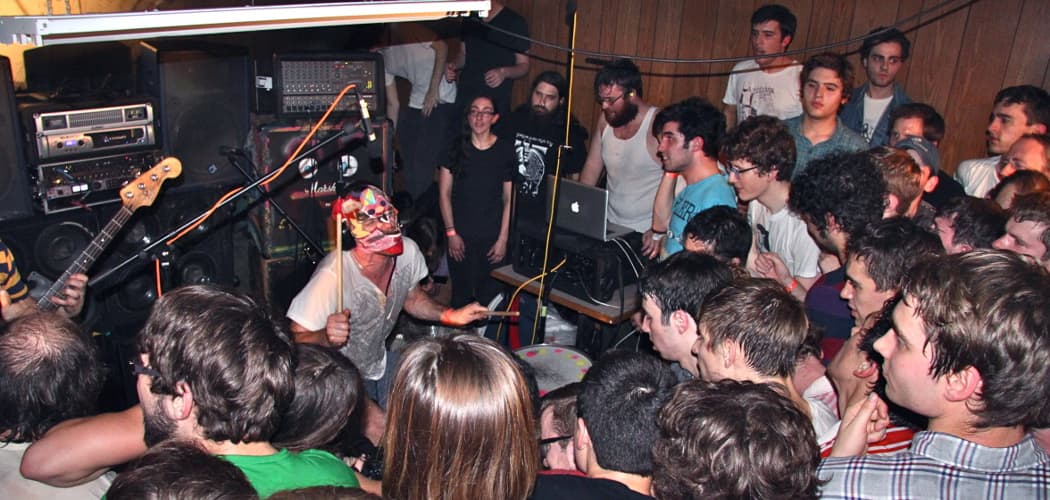 This article is more than 5 years old.
Sam Potrykus' room in Jamaica Plain is covered in posters. The 27-year-old is the co-founder of Boston Hassle Fest, an annual underground music festival now in its seventh year, and his decor may as well be a visual history of the event, rendered in fierce, chaotic colors. The walls look like someone took a complete set of magic markers and, with maniacal intensity, scribbled all over them.
"There's something about it that's, I don't know — shocking isn't really the right word — but grotesque in like a beautiful sort of way. ... It's a lot of challenging sort of art," says Potrykus, studying the walls.
That's the Boston Hassle Fest lineup in a nutshell: challenging, and really weird, but amazing at the same time. The three-day event runs Nov. 5, 6 and 7 at the Cambridge Elks Lodge, Out of the Blue Too Gallery in Cambridge and Brighton Music Hall in Allston.
The headliners this year include Flipper, the '80s punk band from San Francisco, the Chicago rapper Serengeti, and the avant-electro composer Tyondai Braxton, who hails from New York City. But half of the 48 artists on the bill are from Boston or nearby. Lovers of local music may recognize hardcore-ish rock band Pile or fuzzy punk-rockers Black Beach.
Potrykus says that the Boston underground music scene is special, in part because the city is part of a close-knit network of DIY subcultures from around New England. "Like Dover, New Hampshire; Burlington, Vermont; western Massachusetts; Providence; Boston; Portland, Maine. Independent, awesome communities who are different from one another but who have the ability and the proximity to work together with such ease," he says. Not to mention "the deep history of house shows and galleries and alternative, all-ages shows that we have in New England."
Potrykus and his partner Dan Shea run the Boston Hassle music blog and publish the Boston Compass, a monthly underground newspaper. Boston Hassle puts on about 10 to 15 shows a month, usually in alternative spaces for all-ages crowds.
"How many random venues have they figured out how to do a show in over the years?" muses Matt Becker, a guitarist in Pile, at a recent rehearsal in preparation for the band's set at Hassle Fest. "Community centers and everything, and like video stores and anything they could possibly pull off. ... In the middle of Ringer Park time and time again."
Becker and his bandmates say that, because Boston suffers from a lack of small venues, the work that Boston Hassle does is especially important. Pile's drummer, Kris Kuss, describes the power of those small, scrappy Boston Hassle events. "There may not be 200 people who wanna show up, [but] you find the right spot and you get enough people in the room and they have a great time, listening to some weird music sometimes ... and people get excited about it, too."
With its colleges and music schools, Boston draws an abundance of young talent. One of the strangest, most creative bands on the Hassle Fest bill this year is Listening Woman, an eight-piece group of current and former New England Conservatory students, many of whom also belong to the popular Boston indie outfit Tredici Bacci. Katie McShane is Listening Woman's formidable frontwoman. The band is a manifestation of her peculiar vision.
"I'm interested in this awkward theatrical side of things that can be brought into music performance," she says. In performance, the band executes coordinated maneuvers, like doing squats or munching on carrots. The music is a zany mashup of styles and influences: Baroque counterpoint, jazz riffs, prog-rock tangents. 
"People get confused, and then maybe they just wanna dance, I don't know. So I feel like that's what keeps it interesting for me, is it can elicit all kinds of reactions — including people just so hate it," says McShane, laughing.
In an underground music scene that likes to challenge its audiences, Listening Woman stands out in another way.
"It's rare that you'll play a bill with other women or trans people or etcetera," says McShane. "It's mostly young white men, getting together and playing shows. And the young white men don't like that either, by the way."
Potrykus agrees. "We're talking about noise music and rock bands. And since the dawn of time it's been co-opted by privileged white men." He says that he's been called out in the past for not showcasing a more diverse Hassle Fest lineup.
"You know, we're trying to correct that in our own small way and show the wide breadth of people who create interesting music, and I think the styles go hand in hand with the diversity of the individuals, certainly," says Potrykus.
Over the next few days, organizers of Hassle Fest hope to bring that all-inclusive, defiantly strange vision to an audience of at least 1,500 people. If all goes according to plan, it will be the biggest, and weirdest, Hassle Fest yet.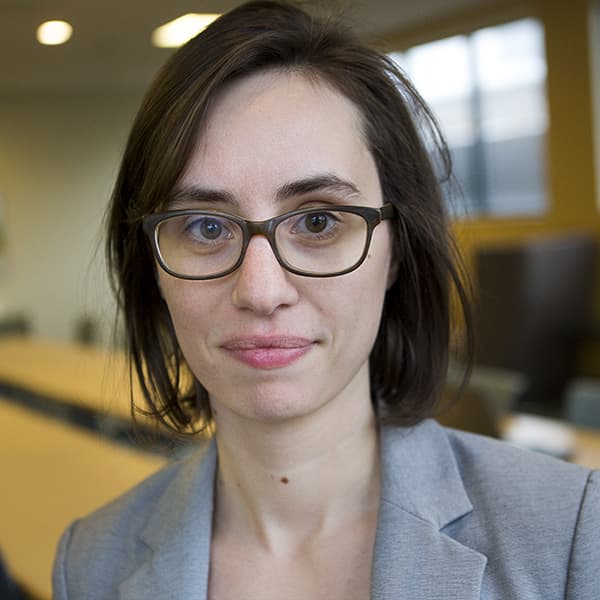 Amelia Mason Arts And Culture Reporter
Amelia Mason is an arts and culture reporter and critic for WBUR.