James Foley's Family Finds 'Very Small Solace' In Possible Death Of 'Jihadi John'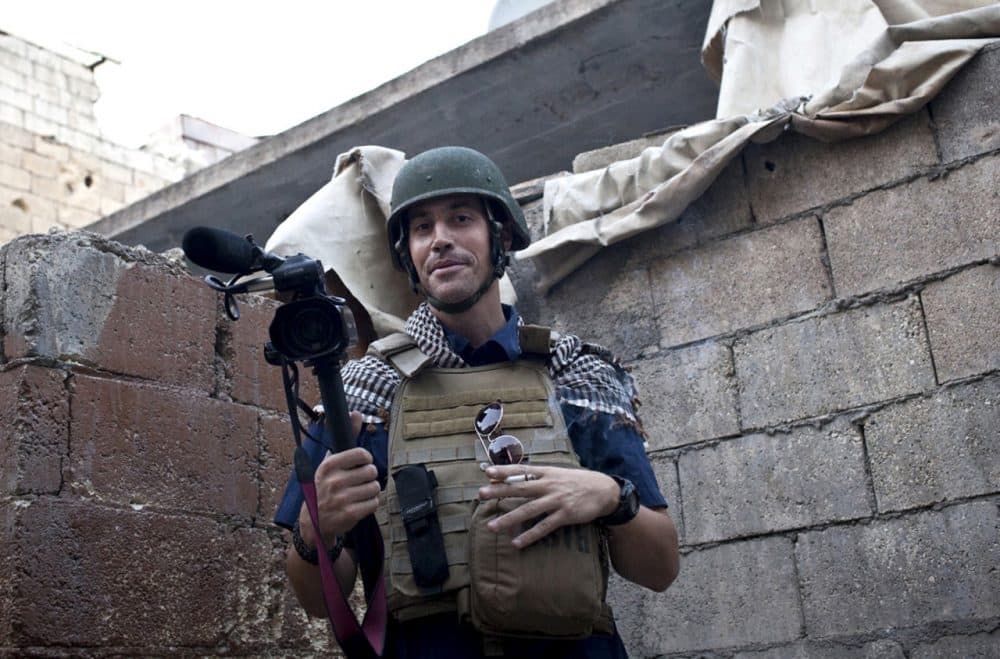 This article is more than 4 years old.
The parents of New Hampshire journalist James Foley, who was killed by the Islamic State after being captured in Syria, said in a statement Friday that it's "a very small solace" to know that the man authorities believe to be Foley's murderer may have been killed in a U.S. drone strike.
"His death does not bring Jim back," John and Diane Foley said in the statement. "If only so much effort had been given to finding and rescuing Jim and the other hostages who were subsequently murdered by ISIS, they might be alive today."
A military spokesman said Friday the U.S. is "reasonably certain" that Mohammed Emwazi — the militant who is believed to have beheaded Foley and several other hostages, and who came to be known as "Jihadi John" because he was a British citizen -- was killed in a drone strike in Syria.
A U.S. official told The Associated Press the drone had targeted a vehicle in which Emwazi was believed to be traveling.
Friday's statement isn't the first time Foley's family has been critical of U.S. efforts to find and rescue Foley and other hostages. They also expressed frustration in a New York Times report published shortly after Foley's death:

Guided by its strict no-ransom policy, the United States government's hands-off approach was vastly different from the tack taken by European countries, which quickly negotiated the release of their citizens in exchange for cash.
This greatly frustrated the family of Mr. Foley, 40, a freelance journalist, and the other American hostages, who were desperate for Washington to take stronger action, according to interviews with two dozen people, including members of Mr. Foley's family, witnesses to his time in captivity, his colleagues and a network of consultants who tried to win his release.
"The F.B.I. didn't help us much — let's face it," Diane Foley said in a telephone interview. "Our government was very clear that no ransom was going to be paid, or should be paid," she said. "It was horrible — and continues to be horrible. You are between a rock and a hard place."

Foley was abducted in Syria on Thanksgiving Day in 2012 and was not heard from again until a video showing his beheading was posted online in August 2014.
At the time he was captured, Foley was freelancing for Agence France-Presse and the Boston-based media company GlobalPost.
With reporting by The Associated Press and the WBUR Newsroom