Mass. Cancer Snapshot: Deaths Dropping, Racial Gaps Narrow, But Not All Good News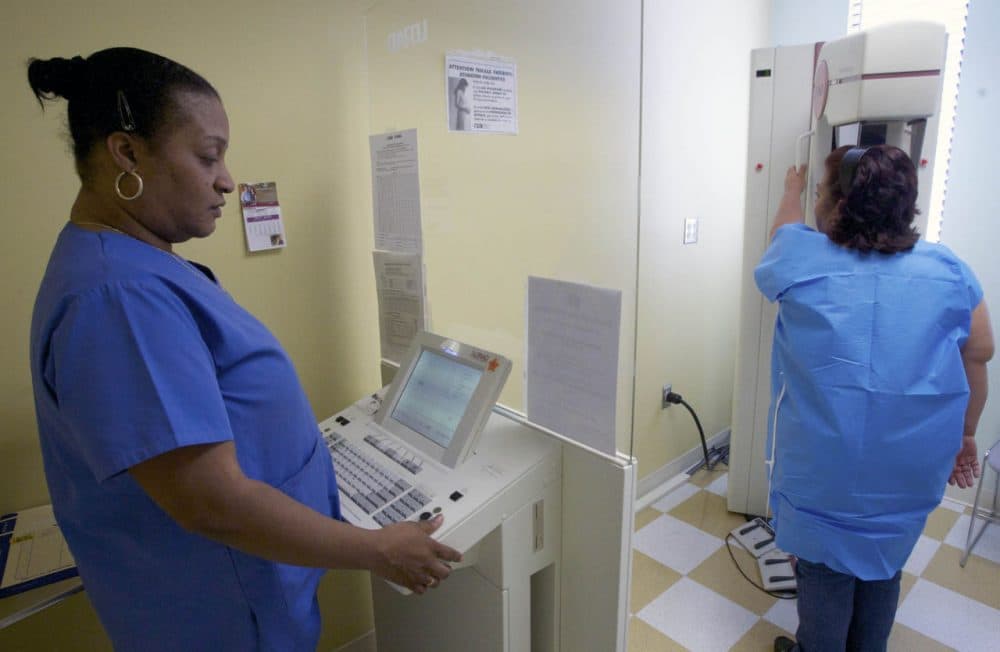 This article is more than 5 years old.
Dear readers: CommonHealth is pleased to host a special M.D.-PhD guest writer, David Scales, for the next four weeks. His first assignment: What strikes you most about the latest state numbers on cancer?
Those numbers are just out from the Massachusetts Cancer Registry — the state Department of Public Health plans to post them here within the next couple of days. The good news is that overall, the death rate from cancer in Massachusetts has been dropping. But not all the news is good. Please read on.
By David Scales
As a resident in general internal medicine, I'm not a cancer expert. But my biggest takeaway from these latest state cancer numbers is positive: that we're becoming better at detecting cancers and getting better at treating them.
We have a long way to go to extend these advances broadly to groups that are less likely to get screened for cancers, including African-Americans, Hispanics and people with low access to health care, but it's encouraging to see that the trends are generally going in the right direction.
So what should you take away from the new numbers? My top five points:
• Good news and bad news
Bad news first: Cancer diagnosis rates — the number of people diagnosed with cancer for every 100,000 people — are higher in Massachusetts than nationwide.
OK, now the good news: Mortality rates from cancer are generally lower here than national rates. That may sound confusing, but it means people living in Massachusetts are more likely to be diagnosed with cancer but less likely to die from it than people in the rest of the country.
The reasons for this aren't clear, but Massachusetts has some of the best hospitals in the world. It's possible we are better both at detecting cancers and at treating them.
• More reason to get that colonoscopy
The report has great news for the prevention of colorectal cancer, the third most common cancer in both men and women in Massachusetts.
Men have seen a huge drop in colorectal cancer diagnoses, from a rate of 68.4 to 39.1 per 100,000 people, meaning that fewer and fewer men are being diagnosed with the disease.
There's been a large drop in women as well, from 48.2 to 32.0 per 100,000. It's not yet clear what caused this drop, but the Massachusetts Department of Public Health speculates that it may be due to colonoscopies. During a colonoscopy, the doctor takes out growths in the colon called polyps, some of which may be pre-cancerous. If polyps are removed before they cause cancer, then that would explain why fewer people are getting diagnosed with the disease. Overall, this is good news -- it suggests that colorectal cancer screening is working.
• Don't smoke, don't smoke, don't smoke
There are few certainties in life and even fewer in medicine. But one thing is clear: Don't smoke.
The leading cause of cancer-related deaths in Massachusetts is lung cancer. And while the number of people dying from lung cancer has decreased, that decrease is almost certainly due to reduced rates of smoking. Men smoke more than women, though, so they continue to be more likely to get lung cancer and are more likely to die from it than women.

• Blacks and whites and prostate cancer 
Mortality rates for the leading causes of cancer-related death in Massachusetts for men and women (taken from Figure 4 of the report Cancer Incidence and Mortality in MA, 2008-2012):
Prostate cancer remains the most common cancer in men. Diagnoses of prostate cancer have declined in black and white men since 2003, but there remains a large gap in both diagnoses and deaths between black and white men. That's part of a national trend: Black men are twice as likely to die from prostate cancer as white men.
But on breast cancer...
While disparities persist in prostate cancer, Massachusetts has made impressive progress on breast cancer disparities.
Breast cancer remains the most common cancer in women, and the second leading cause of cancer-related death. In many parts of the country, black women are more likely to die from the disease than white women (CommonHealth recently examined this issue here).
The new report notes that Massachusetts has made more progress than all other states in reducing this disparity for invasive breast cancer among black and white women.
There's rarely only one simple reason why ethnic disparities persist in diagnosis or treatment, so this advance should not only be applauded, but hopefully it can serve as a model for reducing other health disparities.
Readers, reactions? Questions?