Boston Modern Orchestra Project Commemorates The Late Gunther Schuller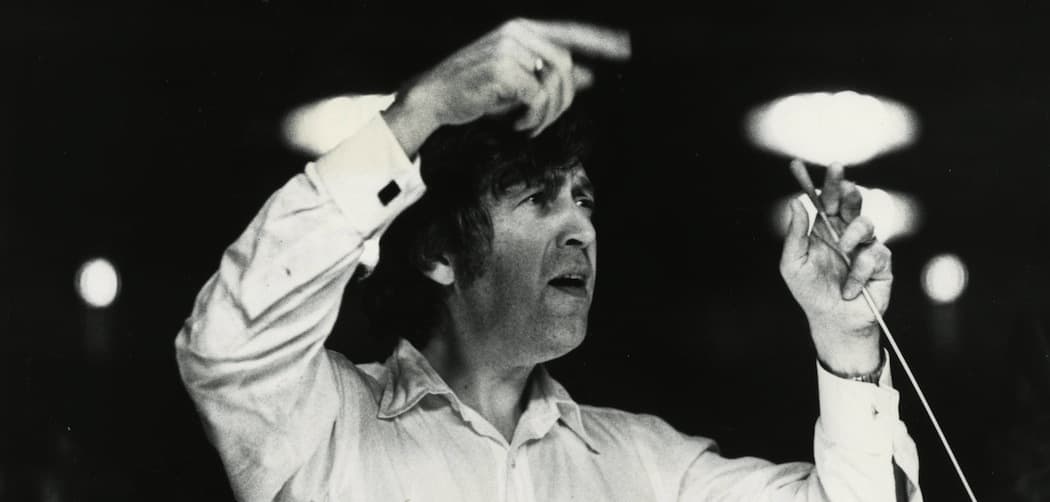 This article is more than 5 years old.
Of all the amazing facts about Gunther Schuller — and they are endless — the most astonishing is that he was a high school dropout. He never earned a degree of any kind, from any institution.
Schuller's uncanny musical intelligence came from listening, studying and playing. His father, a New York Philharmonic violinist, was his first music teacher. At age 15, Schuller played French horn in the American Ballet Theatre pit briefly, as he soon became principal horn with the Cincinnati Symphony. In a couple years he migrated to the Metropolitan Opera orchestra, where he played for 15 years.
Along the way, jazz happened. Dizzy Gillespie and the sound he made with two bass clarinets. The rhythmic freedom of jazz, the tonal stretching. All of that mesmerized Schuller, and began a fascination that dominated his compositions. And his thinking.
"You could say that everything sounds like a jazz chord in Gunther's music," says conductor Gil Rose, whose Boston Modern Orchestra Project commemorates what would have been Schuller's 90th birthday on Sunday, Nov. 22, at Jordan Hall, with a program devoted to his music. (The NEC will host its own tribute Nov. 19 at Jordan Hall, featuring a new composition, "Gunther," by pianist Ran Blake.)
Schuller played (and conducted) on the Miles Davis-Gil Evans "Birth of the Cool" sessions, and later with the Modern Jazz Quartet, while he was still playing in the Met Opera pit. Lecturing in the late '50s, he coined the phrase "Third Stream" — his own idea of furthering the two "mainstreams": the jazz and classical music traditions. As president of New England Conservatory, he initiated its first jazz department — and created a place where his ideas about blending the two genres could coalesce.
Schuller helped with the ragtime revival in the '70s. He was awarded a MacArthur Foundation grant. A Pulitzer. Lifetime achievement awards as a composer, conductor, educator. Of course, later in life there were honorary degrees too.
And he wrote. And wrote. Just a few months before his death, in June at age 89, the Boston Symphony Orchestra performed his "Dreamscape" in Boston and in Carnegie Hall. He was constantly exploring the notion that American music would be made at the confluence of the jazz and classical traditions.
"In some ways he overtly incorporated jazz, like in the 'Concertino' or the 'Variants for Jazz Quartet and Orchestra'," Rose says. "But subconsciously, he never got away from that sound. I don't think he even tried. That sound world was his, and the more you hear those sevenths or ninths, you know they are just part of his language."
Rose first met Schuller in the early BMOP years. "It was around 1997 or '98," Rose says. "We were doing a piece of his, and for some reason, I didn't invite him to rehearsals. But he showed up. He got word, somehow. He was a tough character — when it came to performances of his own pieces. Uncompromising. He thought you should do what the score says, and he wouldn't rest until he got what was on the page."
Rose isn't the only conductor who found Schuller demanding. The late opera conductor and presenter Sarah Caldwell wrote in her "Challenges: A Memoir of My Life in Opera" that "you don't work easily with Gunther Schuller. He managed to antagonize almost everybody involved in this production."
The production Caldwell was referring to was the 1970 presentation of Schuller's opera "The Fisherman and His Wife," which forms the centerpiece of this weekend's memorial concert. Taken from a Grimm fairy tale, Schuller's music was set to a libretto by none other than John Updike. Meant to be a children's work, the one-act opera can be a challenge.
"I looked into it, and I found out it had never been performed since its premiere," Rose says. "I found the whole thing interesting — Caldwell, Updike and Schuller, after all. But it is a challenge. It's a hardcore 20th century composition. But this is why BMOP is around. It's definitely Gunther at his high modernist best."
BMOP will also perform Schuller's "Journey into Jazz," an early work set for orchestra, jazz ensemble (which will include Schuller's sons Edwin and George), and narrator (Schuller himself, from the 2008 BMOP recording). A fanciful narration about a young musician who hears jazz for the first time and gets caught up in its energy (sound familiar?), the piece was championed by Leonard Bernstein when it was first written in 1962.
Schuller's 2014 composition "Games," a commission from the Boston Symphony Chamber Players, fills out the program.
Rose's personal memories of Schuller are complicated, like the man. "He was full of integrity, and totally dedicated," he says. "He was meticulous about what he wanted, but it was never a result of him wanting to show that he was pickier than anyone else. He was an expert in everything — you just had to ask him and he would tell you.
"I learned things from Gunther. One of his pet peeves was that people did not know how to play softly. He always thought you could make a piece better by improving the dynamics. That I certainly learned from him. But he could make everyone miserable from time to time — you had to work through your own frustrations."
When Schuller died in June, from complications of leukemia, the outpouring from the music world flowed from around the globe. Students remembered the teacher. Musicians remembered the composer and conductor. Scholars remembered the music historian. Players, those left from a now distant era, remembered the standmate.
Everyone made it sound like he had many laurels to rest easily on. Schuller, energetic and creative all his life, wouldn't have thought of it that way. In a brief documentary, completed a couple years ago, he spoke the most revealing words about himself: "I'm learning now, at 88, more than ever, about how incredibly beautiful the world is."
The Boston Modern Orchestra Project, in collaboration with Odyssey Opera and the New England Conservatory, commemorates Schuller's birth on Sunday, Nov. 22 at 3 p.m. with a program of his music at Jordan Hall. NEC faculty, students and friends of Schuller will speak, perform and show film clips about his life beginning at 11 a.m. that day. Those presentations are free. For tickets and information to the BMOP afternoon performance visit their website.
The New England Conservatory's "Gunther Schuller: A Musical Celebration" on Thursday, Nov. 19, will feature performances of Schuller's music by the NEC Wind Ensemble, NEC Contemporary Ensemble and the NEC Percussion Ensemble, as well as Ran Blake performing his composition, "Gunther."
---
Keith Powers, former music critic at the Boston Herald, now freelances for a number of newspapers and magazines. Follow him on Twitter at @PowersKeith.
Keith Powers Classical Music Writer
Keith Powers is a classical music critic for The ARTery.