Weekend Forecast: Seasonable Saturday, Chance Of Showers On Sunday
Heavy rain moved through the area overnight and the back edge of the showers pushes through the region early Friday morning. Depending on when you leave for work the rain will be over or ending. Most areas saw the most significant rainfall this month. Though this won't alleviate the drought, it will help.
As Friday afternoon progresses, skies will clear and solar glare will be the only problem as you drive around late this afternoon. The sun is setting at some of its earliest times of the year. The warmest part of the day is actually going to be the morning and early afternoon. Temperatures will fall a bit later this afternoon.
Saturday is my pick for the weekend. I see the most sunshine and the lightest wind. The map below shows just how mild it will be on Saturday.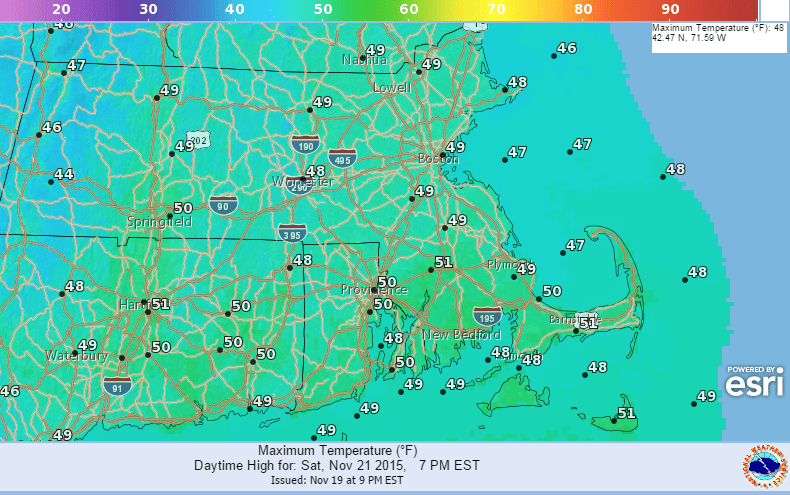 There is another weather system coming in for Sunday which will bring more clouds and the chance of a light shower. Across the higher terrain of northern New England there could be, and likely will be, some snow showers.
After this weather system goes by, it's going to become briefly quiet and cold early next week. On Monday, temperatures will be in the 30s most of the day. It might reach the low 40s for an hour or two, but overall it will feel like winter.
The rest of the week appears dry along with a warming trend. If you have plans to drive around New England next week I don't see any problems.  As a matter of fact, Thanksgiving day itself looks ideal with highs nearing 50 degrees along with abundant sunshine.
---
Friday: Any rain ending then clearing and mild. Highs in the 50s.
Friday Night: Mostly clear, with a low near freezing.
Saturday: Mostly sunny, with a high near 50.
Sunday: Morning sunshine, then building clouds with a few showers possible. Highs 46-51.
Monday: Mostly sunny, with a high around 40.
Tuesday: Sunny, with a high near 45.
Wednesday: Mostly sunny, with a high near 45.
Thanksgiving Day: Mostly sunny, with a high near 50.
You can follow David's weather updates on Twitter at @growingwisdom.